Newsletter Templates
Our free templates allow you to create your own newsletter in minutes. You can download our full set of predesigned newsletter templates or blank templates in the design program of your choice. Our templates are great because the files are already checked and have the proper format we need to print. Use our templates to help you double check your designs so that when you submit your order, your files are error free!
Newsletters are suited for many different uses. With a wide variety of templates to choose from, you can easily create a newsletter that fits your needs. Just take a look through all of the styles that we offer and pick one that's right for you.
Once you've finished your design, printing your newsletter is fast, easy, and affordable. Simply click on the 'Continue' button, log in to your account, and check out. Desktop to doorstep as fast as 3-4 days from proof approval!
Instant Pricing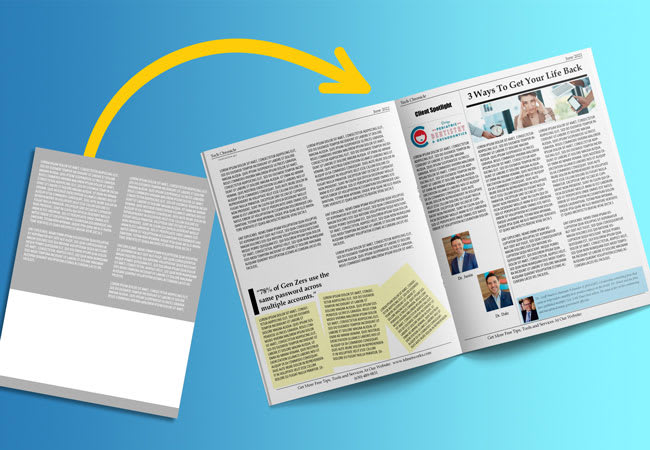 Access Your Free Blank Newsletter Templates Below
Download a free Newsletter printing template to help you with your print ready design. Use these to make sure your files are ready for submission!
8.5" x 11" Blank Booklet Template (Portrait)
8.5" x 11" Blank Booklet Template (Landscape)
5.5" x 8.5" Blank Booklet Template (Portrait)
5.5" x 8.5" Blank Booklet Template (Landscape)
6" x 9" Blank Booklet Template (Portrait)
6" x 9" Blank Booklet Template (Landscape)
6" x 6" Blank Booklet Template
8" x 8" Blank Booklet Template
4.25" x 11" Blank Booklet Template (Portrait)
4.25" x 11" Blank Booklet Template (Landscape)