Calendar printing tips for schools
Follow these important tips to get started designing your sports calendar today, for fundraising events and advertising. Calendars provide schools and universities a way to showcase their brand and at low cost, saving schools money, when budgets are shrinking each year.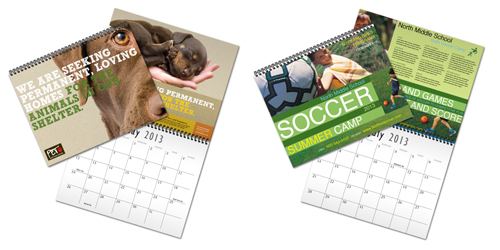 1. At least one decision will be easy. Just stick with your school colors, mascot, and motto to get a crowd-pleasing calendar!
2. Find a fun theme, slogan, or cheer to include throughout the sports calendar. This gives it focus and makes your calendar fun and memorable.
Having trouble finding a theme? Talk with the yearbook committee and tie in the theme of your calendar with their theme. If they haven't got their theme selected yet, have them throw out some ideas to get you started. Brainstorming with creative people is a great way to get you motivated and focused on your project.
3. Choose a size and style that works within your budget. But also keep in mind the number of pictures you have available and the number of ads you need to include.
4. If you need help with the design using a downloadable calendar grid or template. Designed with the correct calendar print-ready specifications for bleeds, trim area, folds, and safe zones.
5. Not good with designing and just want to stick to coaching? Ask a different department in the school to help with the design the yearbook committee, D-E-C-A or the art department. Or find a parent or student that wants to take on the task.
6. Select high-resolution photographs or images for commercial print must be at least 300 dpi (dots per inch) at the size you want the image to print.
7. Need some extra Flare? Search stock photography websites for photographs, drawings or other elements to add to your printed sports team calendar.
8. Include a game schedule to remind fans to come and support their local team.
9. Spend Extra Time Proofing! Double-check the accuracy of dates, schedules, and holidays. Make sure team players' names are spelled correctly and all ads are correct.
10. Don't overcrowd with too much text, graphics.
11. Be creative and make it personal, include as many students in the photos as possible. Not only will your students be excited to be in the calendar but also more parents will buy them if their children are pictured.
PrintingCenterUSA Newsletter
Join the newsletter to receive the latest updates in your inbox.
---