Standard Poster Sizes
Printed posters can have a number of different uses depending on what your needs are. Whether you're promoting an upcoming event, conveying health tips, or creating band merchandise for your next show, we've got the poster dimensions you need.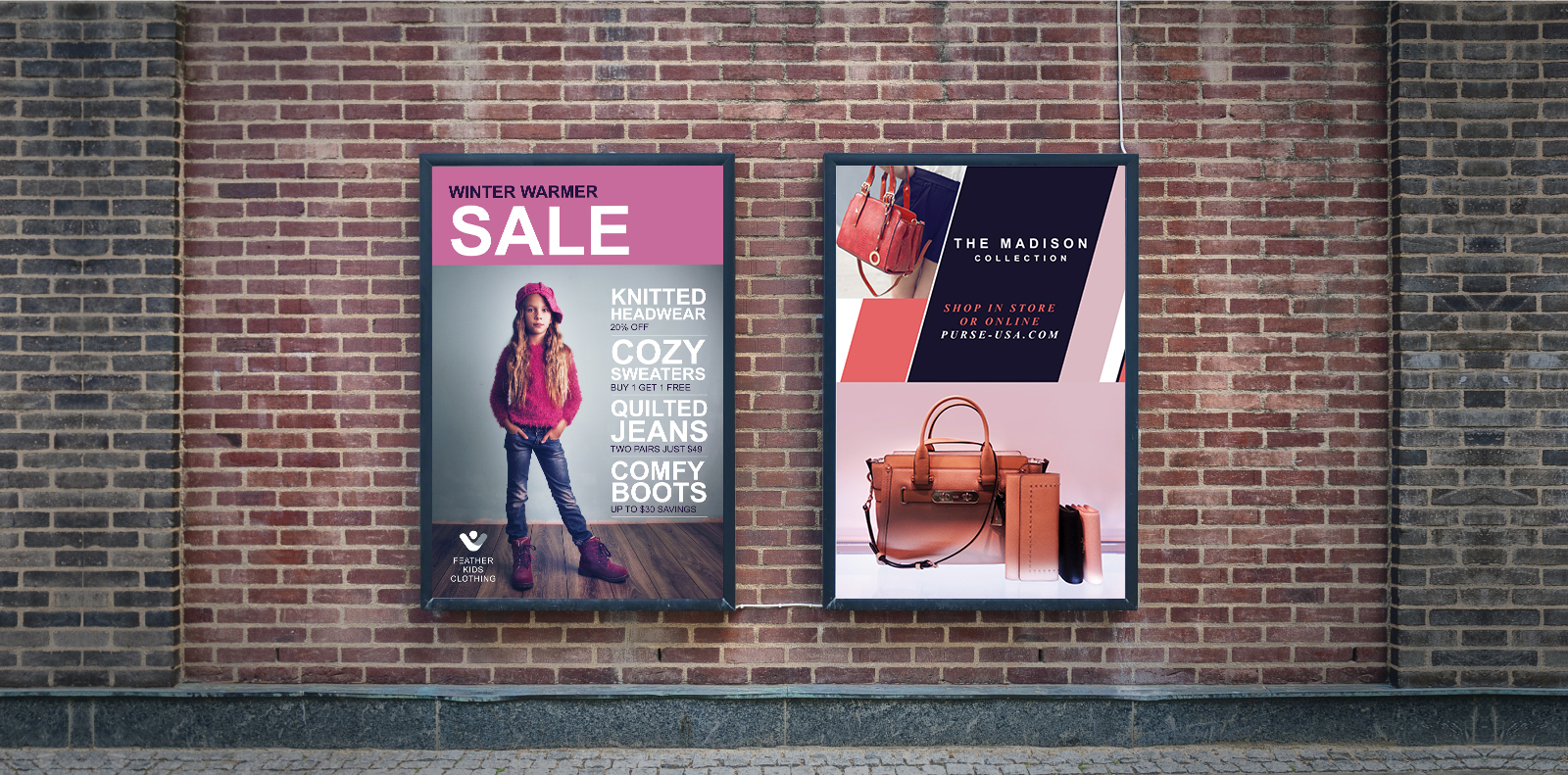 What are the standard poster sizes?
The most common poster sizes you'll see are 11×17, 18×24, 24×36 and 27×40.
If the sizes above don't quite fit your needs, sizes 12×18, 16×20 and 17×22 are also available for print through PrintingCenterUSA.
What size is right for me?
The poster size you choose depends on what you are showcasing, how many posters you need, your budget, and what your desired impact is going to be.
With small posters, since they're usually used for marketing purposes, they are most commonly printed in bulk. At PrintingCenterUSA, the higher quantity you choose, the bigger the bang for your buck. With large poster sizes, you may only need to print 10 to 20 copies to place at your different locations which is great, because they do come at a higher cost than the smaller sizes due to the larger press sheet sizes.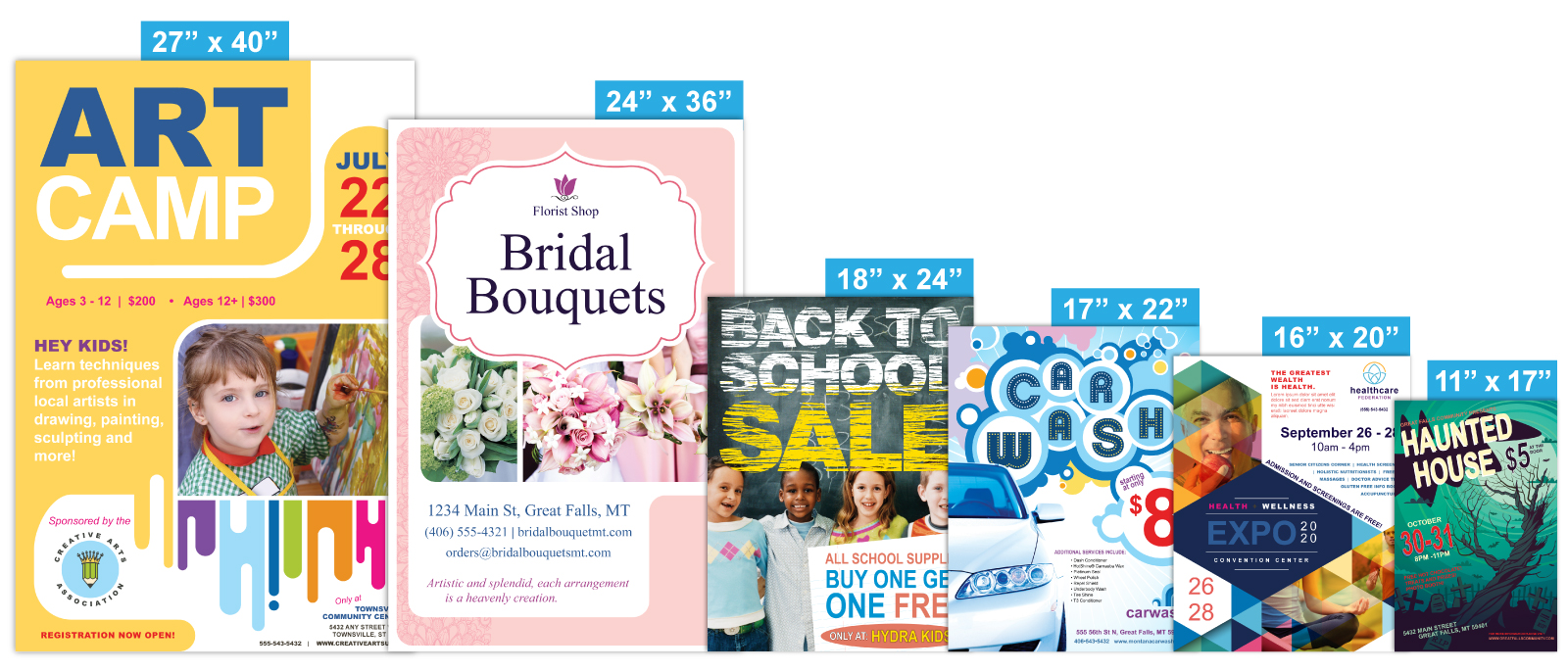 11×17
Posters designed at this size are usually event posters you would see hanging on a community board. They're usually purchased in bulk because they tend to be marketing materials and have lower costs than the larger dimension posters. If you have an upcoming concert, prom or workshop you want to promote, 11×17 posters are going to be the perfect option for you.
18 x 24 | 16 x 20 | 17 x 22
If you're looking to pass on important information (for instance, how to prevent the spread of a virus) or want to place a large image onto a poster (think back to the celebrity posters hanging on your wall in high school), these three sizes are going to be your go-to sizes. The informational posters you see in a doctor's office or clinic will most likely be one of these three sizes because there's enough space on the poster to convey all the needed information in a larger font size, making the information stand out better and be easier read from afar.
Another popular poster type at these sizes are school posters. Teams, bands, choirs, etc. showcase their club photos, schedules and local advertising as swag for their fans and supporters. The most popular poster size for school club posters is 18×24.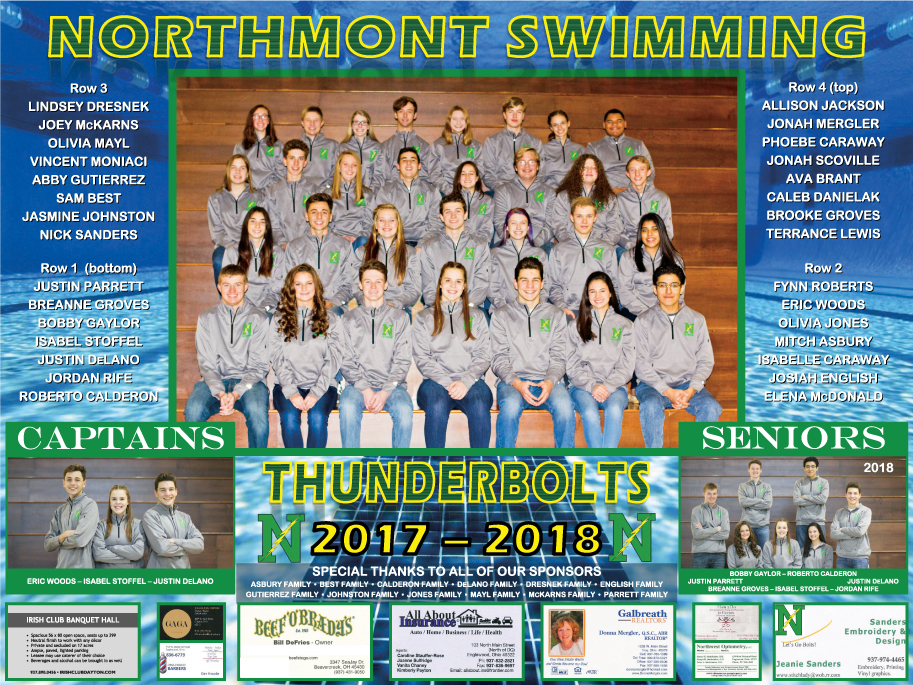 These posters do have larger costs associated with them due to their size.
24×36 | 27×40
If you're intending on placing your poster in an outdoor case or at a bus stop, these larger sizes are ideal. The large poster printing sizes allow passersby to comprehend your information at a glance. If you're looking to create a movie poster like you see at the mall or theater, 27×40 is the standard movie poster size.
If you have a specific size in mind or need to fit an odd case size, we also offer custom sizes.
Poster Design Tips
When designing your poster, it's critical that you make the important information stand out most. With the larger posters, you can make the font size very large and have more area to work with but with the smaller posters, you have to get creative.
For example, with an 11×17 event poster, you want an eye-catching title (which should be the thing that stands out most). Then, the second most important part is the date of the event, followed by the event information. Specifically, the time and location of your event. If they have to RSVP or if there are any entry costs, you'll want to show those clearly as well (or provide them with a call-to-action).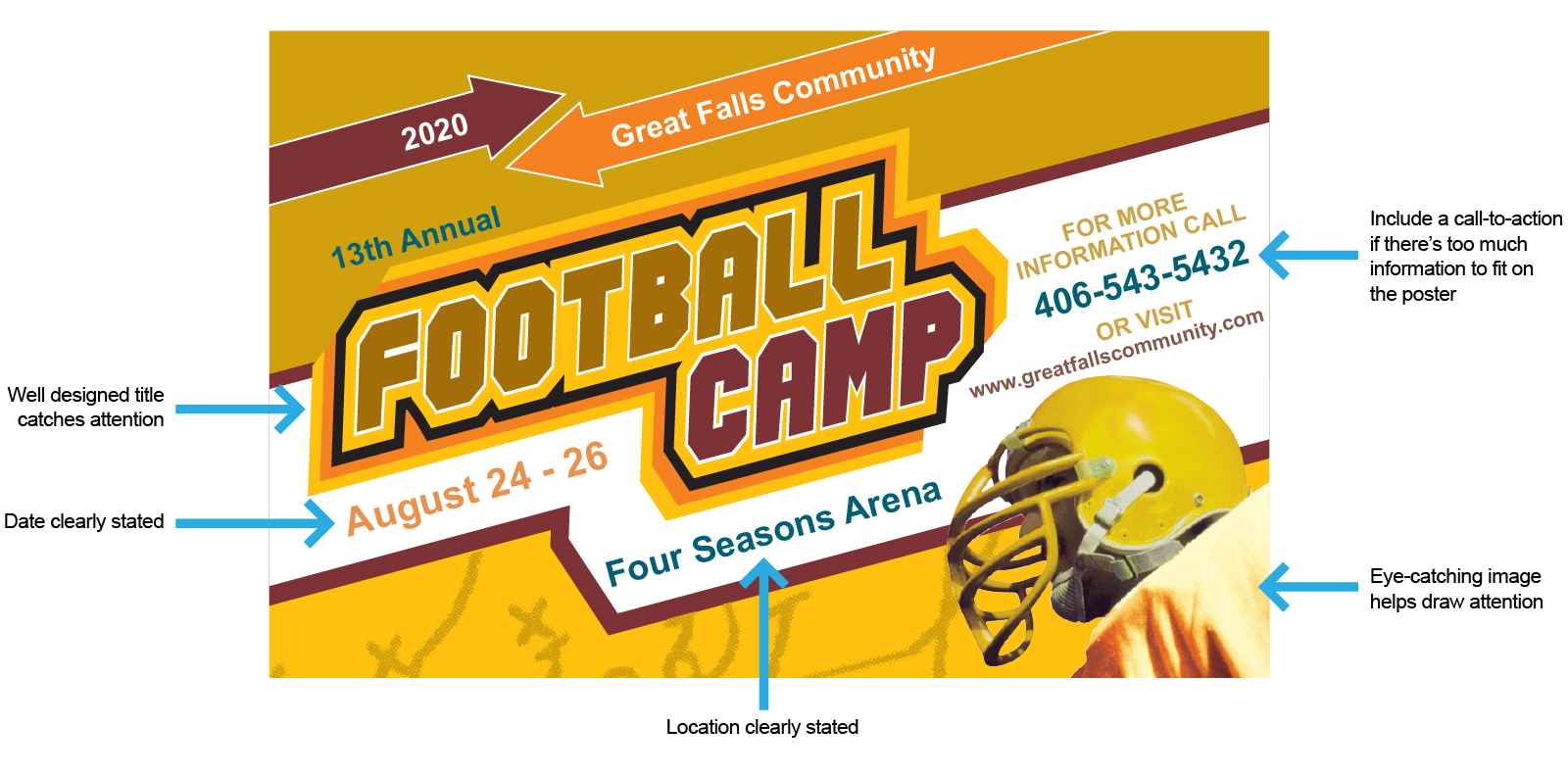 If you are designing an 18×24 informational poster for a clinic, chances are there will be a lot of text on your poster. In order to draw attention, it's important to choose an eye-catching background and title. Just make sure the background doesn't draw attention away from or make it harder to read the smaller, informational copy.
Another thing to keep in mind when designing your next poster is to add .125″ bleed around each side of your poster so there aren't any unsightly white lines around your edges after trimming. For example, an 11×17 poster's final size would be 11.25×17.25 after adding bleed. Learn more about bleed here.
The easiest way to design a poster is using an Adobe Creative Suite program such as Photoshop or Illustrator. We have free poster templates available for you to download to help jump start your design and to ensure you have the correct bleed and safety margins.