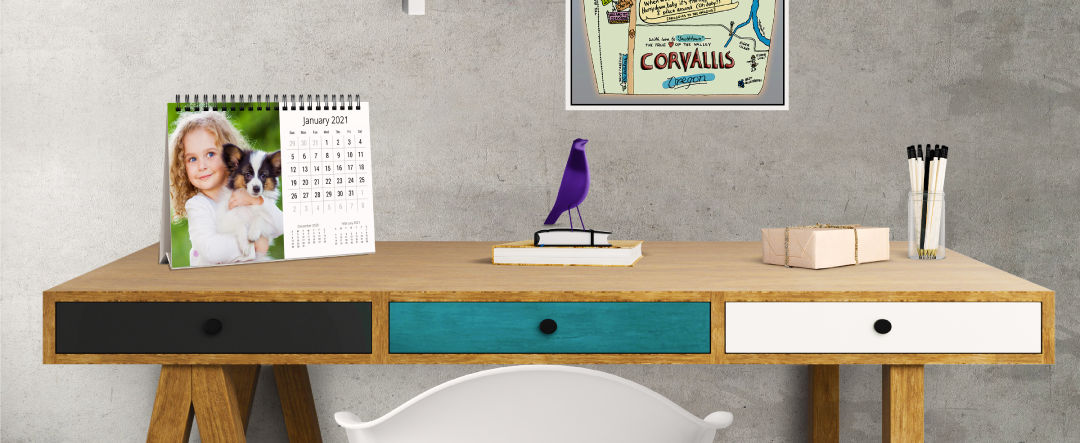 Everything to know about Desk Calendars
If you're planning your next calendar project, the thing you'll want to first consider is whether you want a Wall Calendar that you can hang up or a Desk Calendar you can place on your desk. Look no further! We just launched our new Desk Calendar products and offer free templates and design tools for both sizes offered.
Desk calendars have been used for years by real estate companies, financial institutions, insurance companies, service agencies and doctor's offices. They are perfect for those situations where you are sitting face-to-face with someone and you both need to see the month dates.
Desk Calendar Specifications
Size
We offer two sizes for our Desk Calendars: 10" x 4.5" and 8.5" x 5.5". The calendar is printed at those sizes and placed on a desk tent in order for your calendar to stand upright.
Number of Months
We offer our Desk Calendars in both 12-month (26-page) and 16-month (34-page) calendars.
Binding
We currently only offer one binding type for our Desk Calendars: Wire-O (Long Edge).
Paper
We offer four different paper types for our Desk Calendars:
100# Gloss Cover
100# Matte Cover
100# Gloss Text
100# Matte Text
Unlike the Wall Calendars we offer, you only need to choose one paper type for your entire Desk Calendar.
Free Online Design Tool
We have a FREE Online Design Tool you can use to create your 12-month Desk Calendar. You first need to choose a size, either 10" x 4.5" or 8.5" x 5.5".
Just drag and drop your images, add holidays and advertising, submit your order and we'll do the rest!
Note: Only the 10" x 4.5" calendar has space for holidays and advertising. The 8.5" x 5.5" grid only allows for the dates and images.
Free Downloadable Templates
If you have an Adobe Creative Suite program (Illustrator, InDesign, Photoshop or Acrobat), we have FREE downloadable templates you can download to help jump start your design.
Both sizes have two grid designs to choose from:
10" x 4.5" Templates
Both 10" x 4.5" Desk Calendar templates have advertising space and the ability to add holidays to the grid.
8.5" x 5.5" Templates
Due to the dimensions of this calendar, you cannot add holidays or advertising. The calendar can only feature calendar days.
Keep in mind that these are editable in the Adobe Creative Suite so you can make any adjustments you would like to the designs before submitting them to print.
Now that you've gotten a rundown on the Desk Calendar products we offer, I hope you can make the choice on what calendar will work best for you or your industry. Head to our website today to get started on your next Wall or Desk Calendar.