PrintingCenterUSA Named Winner of BBB Torch Awards for Ethics
PrintingCenterUSA honored for its dedication to integrity and ethical business practices in Montana
Great Falls, MT – Oct. 26, 2023 PrintingCenterUSA has been named as Business of the Year for the 2023 Better Business Bureau Torch Awards for the state of Montana.
The Torch Awards for Ethics is the most prestigious honor Better Business Bureau Great West + Pacific bestows on businesses operating within its eight-state service area. Winners must demonstrate a high level of personal character, meet the highest standards of ethics, and build trust with their customers and the community.
"It's extraordinary to see how each of this year's award winners went above and beyond in the marketplace and their community. They are setting the standard for what it means to be an exemplary and ethical business," said Tyler Andrew, President, and CEO of BBBGWP. "We hope this recognition can encourage others to step up in their respective businesses and build an ethical marketplace for all."
Established in Great Falls in 1970, PrintingCenterUSA illustrates their commitment by creating and building a customer advocate team environment that works for one common goal: to be the best we can be, make yours and other departments the best it can be, treat each of us and our customers like we would want to be treated and make sure our customers and fellow employees are getting the best job they can get.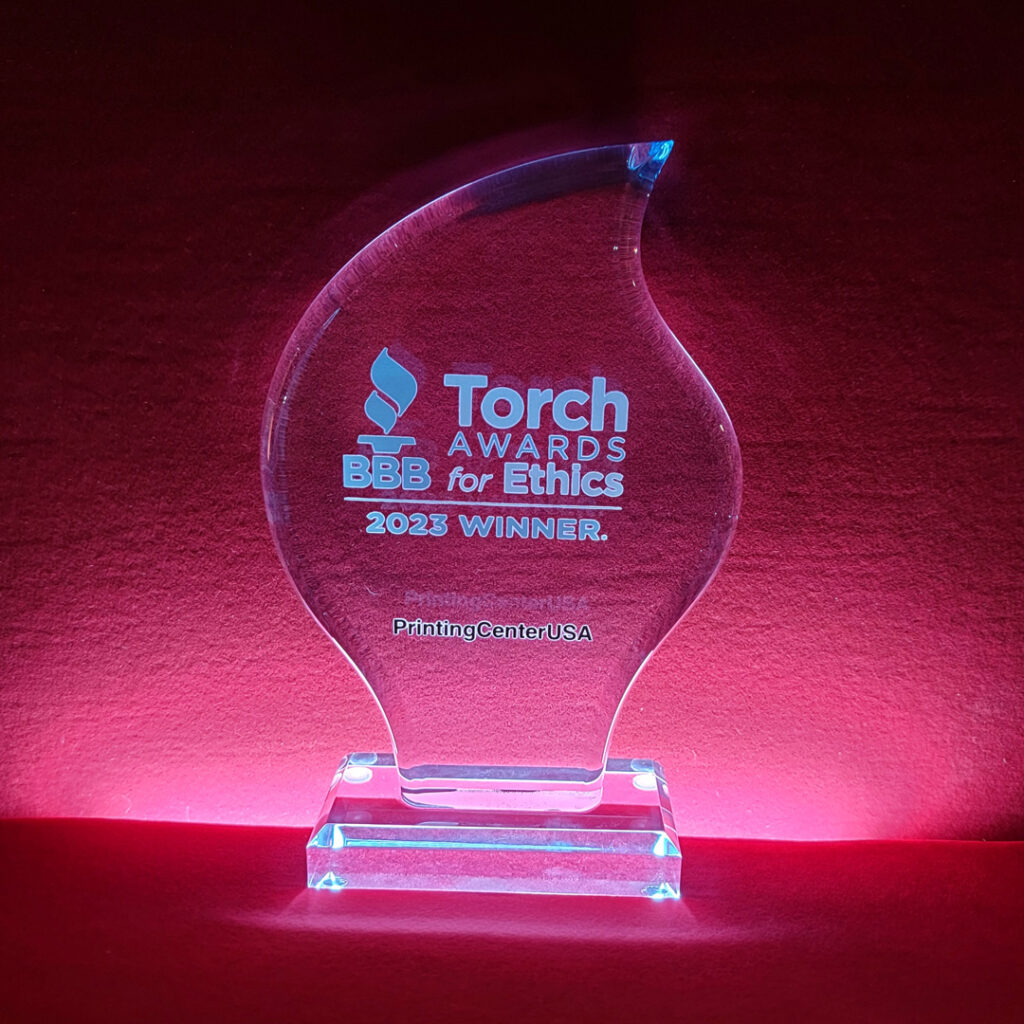 "We are proud to have received the BBB Torch Award for Ethics in 2023. This recognition serves as a testament to our employees across all aspects of our business. At PrintingCenterUSA, we firmly believe in creating a positive impact through our service to both our customers and employees. This award is a reflection of our company's culture, emphasizing our commitment to consistently providing exceptional service and being accountable. We believe that this commitment is the only way to maintain respect within our customer base and our community. Our core values as a business encompass Accountability, Respect, Communication, Quality, and Teamwork" – Kevin Evans, Account Services Director, PrintingCenterUSA
BBB Great West + Pacific serves more than 20 million consumers in Alaska, Central Colorado, Hawaii, Idaho, Montana, Oregon, Washington, and Western Wyoming. For more information, visit BBB.org/gwp. Torch Awards winners from each state were announced as part of a virtual ceremony held on October 26.
PrintingCenterUSA's mission is to provide our past, future, and current customers with a mistake free, top quality printing experience delivered on time, or sooner every time and make them want to come back, praise us, and refer us to their friends and associates. Please contact us at www.printingcenterusa.com to learn more about all we can offer.
Please feel free to contact us at support@printingcenterusa.com or 1-800-995-1555 or follow us on Facebook, Instagram, X, LinkedIn, YouTube, Pinterest, & TikTok, to learn more.