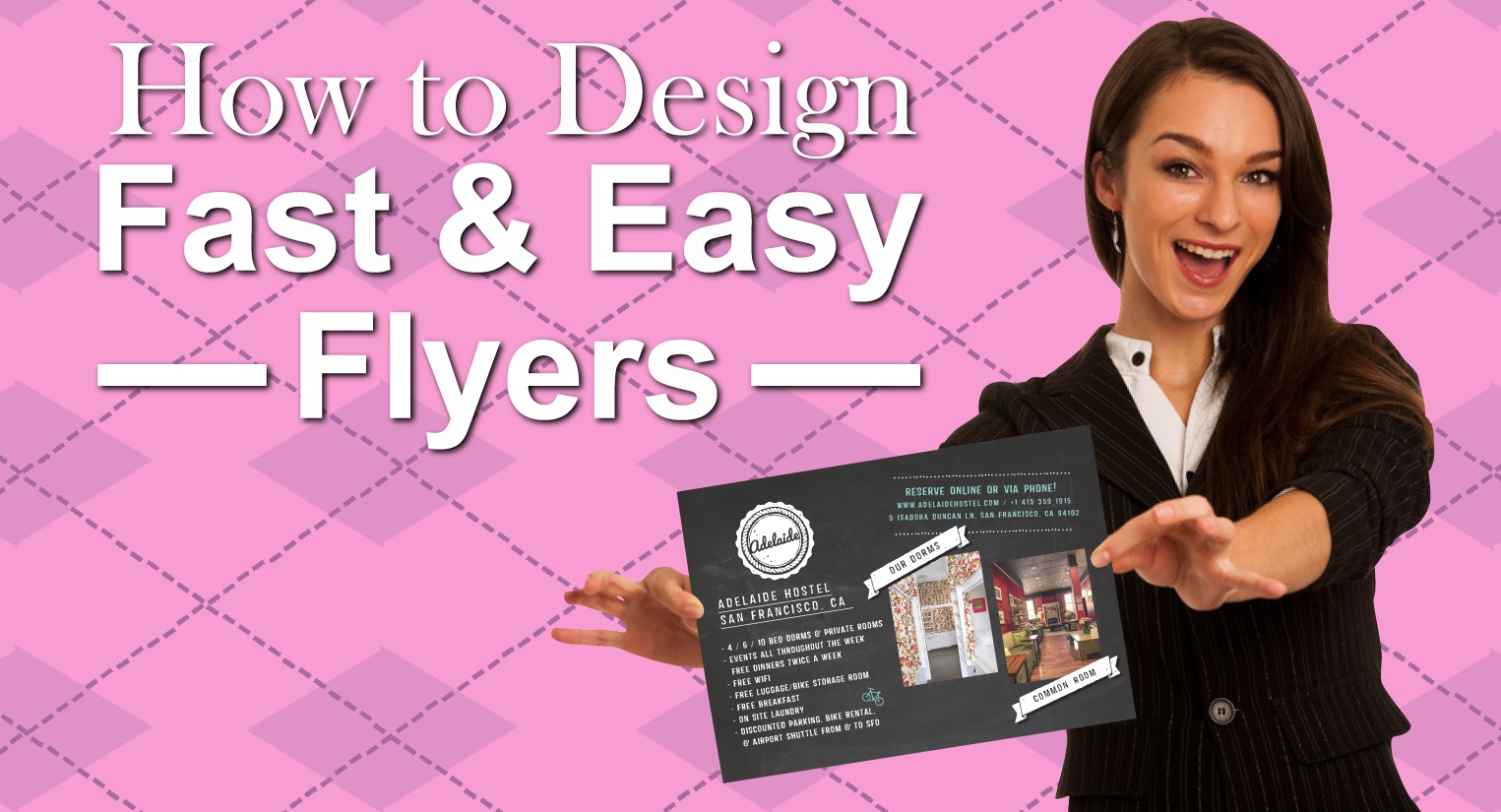 How to Design Fast and Easy Flyers
Print flyers are a fast and easy method of transferring information through the mail, at trade shows, by handing them out in your store or neighborhood, or posting them at events or around town.  Full color flyers are lightweight, compact, and portable.  Put all your design and print elements together to create a powerful marketing tool for your next advertising campaign. By following the tips below, PrintingCenterUSA can help you create an eye-catching business flyer to help boost your sales potential.

Start by figuring out what response you want from te people who see the flyers. For example, your goal could be to increase sales, raise brand awareness, direct people to your events, or target new customers. You want to incite the viewers to take action.


In order to build long lasting customer relationships, you want to use creative ways to communicate with them and use language that will draw them in. Find a voice that suites your target audience, one with a good tone and pitch.



Your wording should influence your customers and incite them to take action. Keeping sentences short and simple will have a powerful impact and leave a lasting impression.


Make your selling points strong! Build up your products and services on your print flyers and make them irresistible. One great way to do this is by adding your customer rating or customer reviews to the design.


Avoid cramming too much information onto one small flyer. You can do so by either eliminating unnecessary words and images or by selecting a larger paper size. Flyer printing sizes include 8.5×11, 8.5×14, and 11×17.

What will work best for getting your message across? Will direct mail, posting around town, or directly handing them out work best for your goal? Once you've figured out how you will distribute your materials, decide on the appropriate paper stock and folding. If you aren't sure what type of paper you want to use, you can request a free printing sample and information kit that will be directly mailed to you.

Paper Options: 80# gloss text, 80# matte text, 100# gloss text, 80# gloss cover, 100# gloss cover

Folding Options: Tri Fold, Z Fold, Half Fold, Gate Fold, or a Custom Fold
If you are passing out or mailing flyers and not posting them, you can use the back for maps, descriptive paragraphs, and less memorable material. Flyer printing options include:
One or two-sided

Full-color front with full-color back (4/4); take advantage of our low cost full-color printing prices!

Full-color front with black and white (4/1), or black and white front and back (1/1)
Choose professional full color printing with bright, attractive colors to get a look that will impress your customers. Select color combinations that compliment your subject and highlight your brand image, service, or products. Not sure where to start? View our sample flyers to help you get some design inspiration.

Triple check your details in order to catch those buried mistakes and be sure all pertinent information is included such as dates, addresses, phone number, and a link to your website.

When designing flyers, it is imperative that they look professional and that your message is clearly displayed.  Using full color images to draw attention to your flyer will help to increase the number of people who will actually read your message. Your goal is to inspire them to take action, and by using our design ideas you can create flyers that help accomplish this goal. PrintingCenterUSA provides easy to use design templates to assist with your basic print ready flyer elements, saving you time and headaches. You can also consult with a professional graphic designer from our team to help you with your design needs.
By clicking on the buttons below, you can utilize our free templates and online design tool to help get you started. Go online and order your flyers today or click here to talk with a specialist.