PAPERBACK BOOK PRINTING "GET STARTED"

So you have written a book. Whether it's a novel, trade paperback, textbook, or photo book, it's now time to think about the perfect binding type that you want. The two most common book cover types are hardcover and paperback. Below is why you should choose to print a paperback book for your next written project.
What is a Paperback Book?
But first, what is a paperback book? A paperback book, also known as a softcover, perfect bound, or softback book, is a book that is bound with a thick paper or cardstock and glued together. The cover and spine are more flexible than hardcover book. In contrast, hardcover or casebound books are bound with cardboard covered with cloth, plastic, leather, or other materials. This makes the cover very sturdy and the spine ridged.
Difference Between Paperback Books and Hardcover Books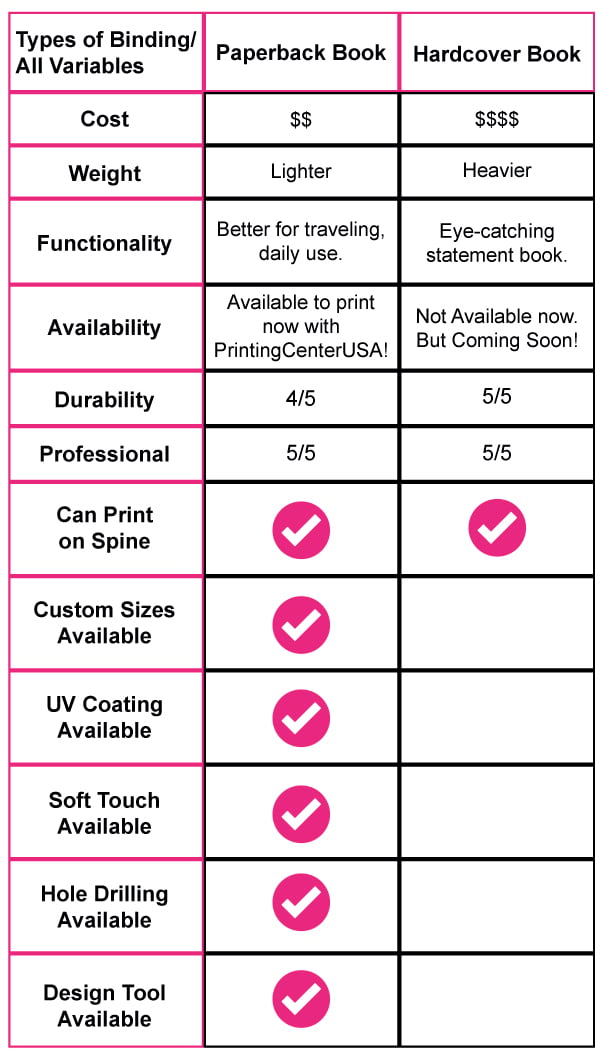 Cost
Paperback books are significantly cheaper to product, and therefore cost much less than hardcover books. Hardcover books can cost up to 5 times more than a paperback book. Paperback books, therefore, can be a much more affordable option for your customers as well, if you are planning to sell your book.

*These are examples of our everyday competitive prices.Prices are subject to change/shipping NOT included.
Weight
Paperback books weigh less than hardcover books, making them the preferred alternative when traveling. You can easily put a paperback book in a bag, purse, backpack, or suitcase and not give the book a second thought. If you want to bring a hardcover book with you, you are going to have to play a small game of Tetris to get it to fit in with the rest of your belongings.
Functionality
Depending on how you want your readers to use your book can make one type of cover better than another. For example, if your book is going to be used a lot, like a textbook, novel, or mass market book, a paperback book is the preferred option. If you are wanting your book to be more of a statement piece, like a coffee table book or art book, a hardcover is a strong and beautiful option.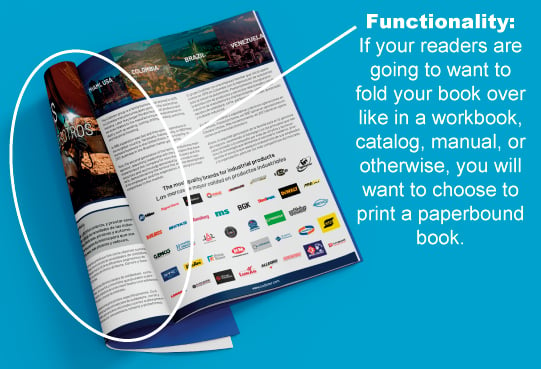 Availability
Publishing a paperback book is simply easier than publishing a hardcover book. More printers offer ways to publish paperback, and very few offer hardcover options. You can publish a larger quantity of paperback books as well to make them even more affordable.
Like what you see? Sign up for our emails to get our newsletter, exclusive promotions, and more! When you sign up we will send you an email right away to help you get started.
After that you will be added to our mailing list where you will receive our newsletter as well as notification emails for promotions or specials that we may be running.
Printing Paperback with PrintingCenterUSA
Printing a paperback book with PrintingCenterUSA is fast, easy, and affordable!
Sizes
We have a wide variety of sizes available for your book, so you are sure to find a size that works best for your project. Our most popular book size is 8.5×11. See our complete list of sizes below:
Portrait

(Bind on Long Edge)

Landscape

(Bind on Short Edge)

Square

4.25 x 11
5.5 x 8.5
6 x 9
8.5 x 11
A4 (8.27 x 11.69)
A5 (5.83 x 8.27)
A6 (4.13 x 8.83)

8.5 x 5.5
9 x 6
11 x 8.5

6 x 6
8 x 8
12 x 12
Paper
At PrintingCenterUSA you can choose to print your paperback book in matte, gloss, or uncoated paper, so let s go through what the differences are. Matte paper is better for books that are going to be more text-heavy. For example, manuals or handbooks would benefit from matte paper. Gloss paper will give your photographs a nice pop, so they are perfect for photo books! Uncoated books would be primarily used for projects that are going to be written in like coloring books or workbooks.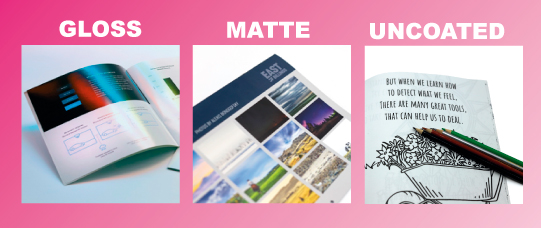 See our complete range of papers below:
Cover Paper
Inside Paper

100# Gloss Cover
100# Matte Cover
80# Gloss Cover
80# Matte Cover
80# Uncoated Cover
10 PT Gloss Cover
10 PT Matte Cover
10 PT C1S Cover
12 PT Gloss Cover
12 PT Matte Cover
12 PT C1S Cover
14 PT Gloss Cover
14 PT Matte Cover

100# Gloss Text
100# Matte Text
80# Gloss Text
80# Matte Text
70# Gloss Text
70# Matte Text
70# Uncoated Text
60# Uncoated Text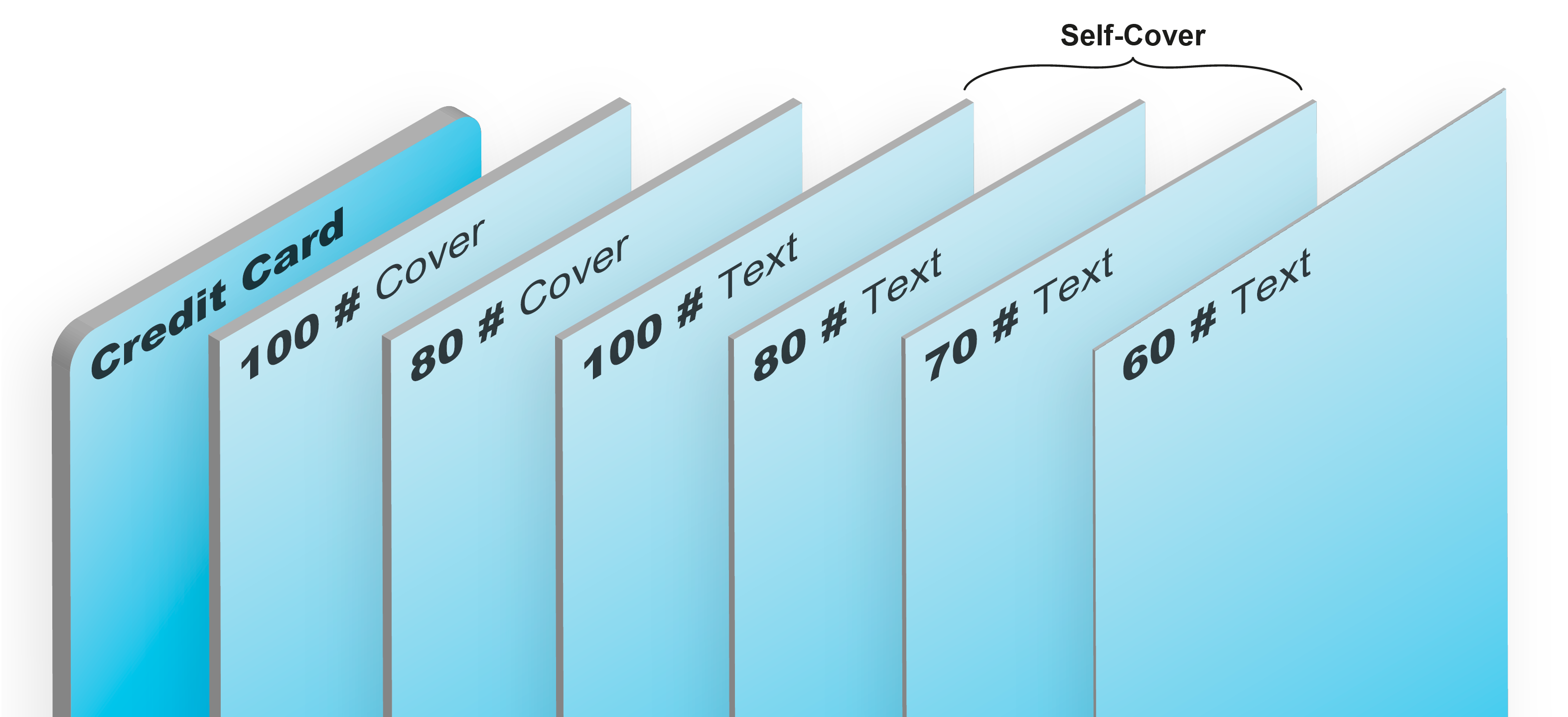 Pages
When printing a paperback book, setting up your pages in your file is very important. Paperback books go by two pages, so your total page count should be in an increment of two. The cover of the book will take up 4 pages: the front cover, inside front cover, inside back cover, and back cover. A perfect bound book has to have a minimum page count of 20 to be able to be printed. If your book has less than 20 pages, we would recommend looking at our saddle stitch binding option. Please see the image below on how to set up your pages for printing.

How to Setup Your Print-Ready PDF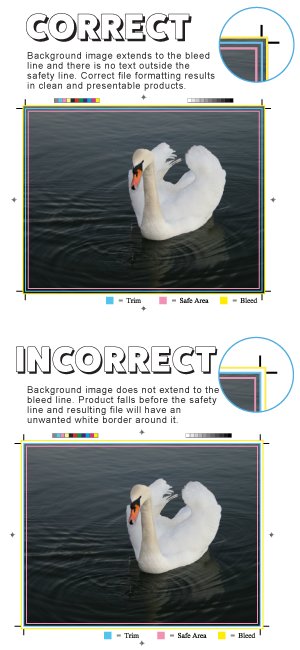 It is incredibly important to set up your PDF correctly so that you can get your books as quick as possible. An incorrect PDF can lead to re-works, delayed production, and errors, so be sure you cross your 't's and dot your 'i's.
Bleed, Trim & Safety
Bleed refers to an extra 1/8" of image that extends beyond the trim area of your printed piece. Make sure that this is set to 1/8" or .125.
Trim is where the printed sheet is going to be cut. This is the final document size.
Safety line is an inner margin that is at least 1/8" or .125" thick. It's very important to keep all important information like text and images inside the trim line so that they don't get cut off.
PLEASE NOTE: It is very important to set your safety lines for the binding margins to be 3/8" or .375" so that you don't lose any text or images in the inside gutter of your book.
Spine
Depending on the paper type that you choose to print with will determine the spine thickness of your book. If your spine is thick enough, you can print on the spine and include the title of the book, and image, a color block, and more! Click here to calculate the spine thickness of your paperbound book.
Images
Please make sure that your file or image resolution is set at 300 dpi to ensure that your images are not going to be pixelated or fuzzy when it's printed. It's very important to not judge your image by what it looks like on your computer because the standard resolution for digital is only 72dpi. If you use low-resolution images, we will print only after you consent to the quality.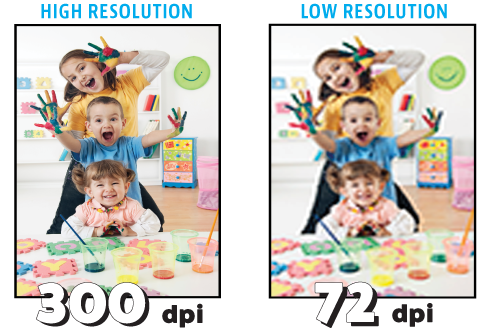 File Type
Please submit your file as a print-ready PDF document.
Production Time / Shipping Options
Depending on the quantity that you choose to order, you can choose what production speed you want your project to be printed at. If you need your project quickly, you can choose 2 business day production. If you are wanting to save some money and you don't need your books right away, choose our Wait & Save option.
We also offer a nice variety of shipping options, from UPS Ground to Next Day Air. You can choose the option that fits your speed and budget. To get an instant quote for your project, click here, go to our pricing tool, and enter your product specifications. If you would like a shipping estimate, click on the button 'Estimate Shipping & Delivery Date', enter your zip code, and click 'Show Options'.
If you are ready to self-publish your paperback book, click here to get started!