Transforming a World of Wonder into Timeless Books with Andy Marquez
A Lifetime of Crafting Narratives through the Lens
In the world of artistry, Andy Marquez stands as a luminary of relentless passion and innovation. His journey, marked by an insatiable curiosity, has led him across the globe to capture moments that are as fleeting as they are eternal. Through his lens, Andy paints a canvas broader and richer than what meets the eye, weaving a story that resonates deeply in the heart of anyone who experiences his creations. A master at translating the world's breathtaking vistas into printed legacies, his books offer a window into the stunning, transient beauty that graces our world.
The Journey
From the bustling streets of Fresh Meadows, New York, to the vibrant landscapes of Greece and Kenya, Andy Marquez's photographic journey has been nothing short of remarkable. The spark was ignited in high school with a gift from his uncle, an 8mm movie camera that ignited a world of creativity and inspired his exploration. His college years in South Carolina were accompanied by the natural blend of journalism studies and a growing talent in photography, capturing the vibrant essence of the late sixties rock scene through a newly gifted Minolta camera.
Love and destiny took him to Charlotte, where he met his wife of 41 years, Teresa. Together, they transformed a rediscovered love for photography into a thriving venture, chronicling their travels from Albuquerque's Balloon Fest to Switzerland's serene landscapes, and transforming them into fine art books and prints. Their collective vision and dedication found a permanent home in 1992 when they opened a gallery in the heart of Littleton, Colorado.
Today, Andy's story is a living testament to a rich history steeped in art and adventure, beautifully captured in a series of printed books that continue to captivate and inspire audiences around the globe.
View Andy's Gallery by clicking here.
The Path from Photography to Publishing
In the dawn of the new millennium, Andy embarked on an artistic journey that blended his love for photography and storytelling. Roaming the picturesque mountains of Colorado, he became enchanted by the weathered roadside signs that whispered stories from the past. These signs, relics from the 1900s, beckoned him to document them, a call he couldn't resist. Through the lens of his 645 Pentax camera, he began crafting narratives that seemed to spring straight from the rustic landscapes he was so keenly exploring.
2003 marked a milestone in Andy's creative expedition. His persistent ventures bore fruit in the form of his first perfect bound book, "Last Signs of the Frontier". This labor of love became a heartwarming tribute to Colorado, capturing the essence of roadside nostalgia, with vivid imagery and soul-stirring storytelling. The book found its niche, resonating with both locals and tourists, and a distributor in Boulder helped it reach a wider audience, establishing Andy as a notable name in the realm of fine art books.
Learn more about Andy and his work by clicking here.
But Andy's voyage into the world of books was just beginning. A trip to Barcelona in 2002 opened a new chapter of inspiration. The city was full of energy and performers that captivated him, especially a magnetic and unforgettable encounter with the "Blue Bubble Lady". His mind was overflowing with ideas and creativity. His expeditions expanded to include the vivid landscapes and intriguing signage of New Mexico. This period of exploration and discovery culminated in two more perfect bound books, adding rich layers to his growing library. These books were not just collections of photographs; they were a vibrant tapestry of experiences, woven with threads of curiosity and wonder. A special event at their gallery in Littleton celebrated this milestone, where the spirit of the "Blue Bubble Lady" was recreated by Andy's daughter, Leanne, marking a harmonious blend of art and familial collaboration.
As Andy's journey progressed, his portfolio of perfect bound books blossomed further, reflecting his rich travel and photography history. His fourth installment, "Colorado: A Breath Away From Heaven", became a sensation, flying off the shelves as quickly as it landed. This edition, a riveting collection of scenic vistas from Colorado, struck a chord with readers, eventually selling all of its 4,000 copies. It stood as a testament to Andy's keen eye for capturing the beauty of his home state, bringing readers a step closer to the heavenly landscapes that graced its pages.
Yet, the tale of Andy's bound books was far from over. In the Spring of 2008, a new inspiration dawned upon him, spurred by an enriching trip to Petra and Jerusalem. This journey sowed the seeds for his next masterpiece, "Dreams That Last Forever", a book that captured the essence of the world through Andy's perceptive lens. It was a breathtaking journey across borders, encapsulating Andy's experiences and visions from different corners of the world in a thousand copies, each of which found a home with eager readers, thirsty for the vibrant and rich photographic tales Andy had to share.
Andy's work has not only spanned decades but has touched the hearts of many, as is evident from the shower of compliments and affirmations he regularly receives:
"Your pictures are beautiful and timeless! Thank you!" – Kathy Sabine, 9 News
"Your photos are much more than pretty images on paper. They capture a moment in time, stir emotions and memories, and bring joy for generations." – K. Wissing
"Incredible! The way you capture the colors is amazing." – J. Nielsen
Andy's artistry goes beyond just capturing moments; it's about crafting narratives that resonate deeply with people, stirring emotions, and evoking a profound appreciation for the beauty in the ordinary.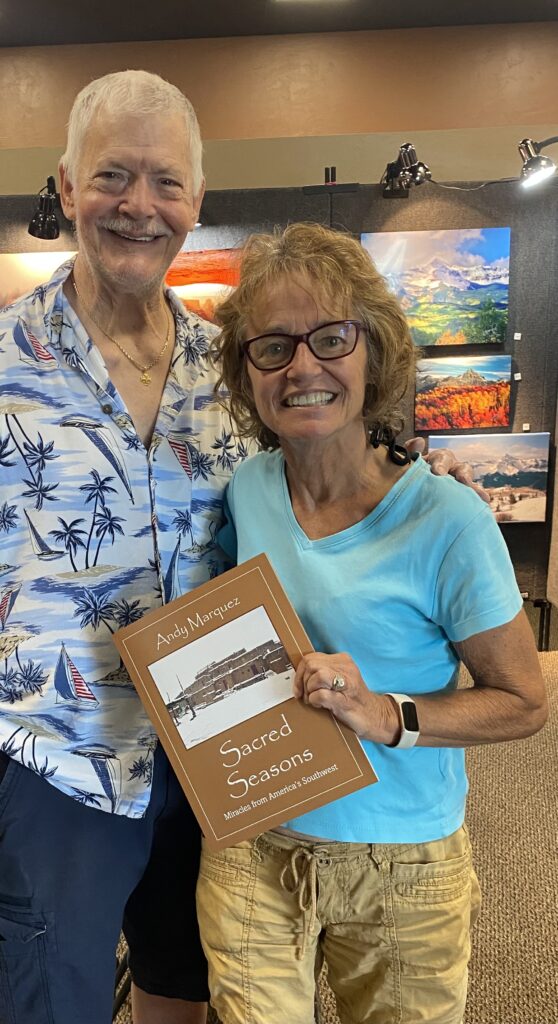 Against the Odds: A Journey to Affordable Printing and Publishing
Over the years, Andy's journey in the world of book publishing has been a test of endurance and resilience. Alongside personal health struggles, he grappled with the continual challenge of finding affordable office space to nurture his artistic creations. Yet, perhaps the most daunting obstacle was navigating the volatile landscape of the publishing industry, seeking a cost-effective yet reliable printing and publishing solution for his cherished works. Through it all, Andy's passion for sharing glimpses of beauty and history through his books never wavered, illustrating the unyielding spirit of a true artist.
During the first few years after the closing of his galleries, Andy was motivated to do a second coffee table book on Colorado, "The Magic and Wonder of Colorado".  With a new energy, the book was released in September of 2017, at the Roxborough Music Festival.  Andy sold 48 copies that day. 
In November of 2021, after a four-year hiatus, Andy launched back into the publishing world with two distinctive books: "For The Love of Chatfield" and "Roxborough: Quiet Moments". Teaming up with a new printer was a calculated and hopeful choice, influenced by years of meandering through the breathtaking landscapes of the southwest.
In 2023, recovering from surgeries and fueled with a newfound zeal, Andy breathed life into his next project. He gathered precious memories encapsulated in old negatives and handed them to Linda, his trusted designer, to weave them into a compelling narrative.
Then, it was time to make a critical choice, one that would define the quality and affordability of his venture. Andy chose PrintingCenterUSA, a decision that brought his vision to life with unmatched vibrancy and quality. With a larger format and thicker paper, yet priced at an affordable $25, this collaboration heralded a new chapter in Andy's publishing saga, marking the advent of a partnership that promised affordability without compromising on quality.
If you would like to order your own copy of Andy's newest book, "Sacred Seasons", click here to place your order.
We are delighted to spotlight Andy Marquez in our Success Series. His unyielding determination and artistic vision found a harmonious partnership at PrintingCenterUSA. Together, we have brought to life his breathtaking depictions of the world's landscapes in a format that marries quality with affordability. Celebrate with us this fruitful collaboration, showcasing the remarkable achievements possible when artistic perseverance meets the ideal support in a publishing partner.