Book Layout: 9 Easy Steps for Designing the Perfect Layout
At PrintingCenterUSA, we take it upon ourselves to make the entire process of designing, ordering, and printing your projects as simple as possible. This includes providing templates and content that help you create a print-ready PDF file. If you take advantage of our multitude of design resources, then we will be able to take your cook book, children's book, memory book, photo book, business book, etc and deliver a stunning, professional product right to your door.
Creating the layout for your book can be a daunting task, however. You have already done the extensive legwork of creating the content for your magazine, catalog, or program and now it's time to piece it together into a user-friendly visual package. We have laid out some easy steps and tips for you to follow to finish your project. Pair these tips with our downloadable templates and online design tool, and you will be 100% ready to self-publish your book.
Instant Book Pricing: Learn More
Free Book Sample Packet: Learn More
MAP IT OUT
Each book is unique and deserves its own special treatment. Map out your project outline, set up some ground rules, then plug and go! Consistency in book layout treatment is key to instilling authority, legibility, and nuance. The solution needs to be so natural and well-executed that the reader doesn't even think about the layout. The point is to showcase your content to the reader/viewer as clearly as possible—nothing should take away from your work.
1. SIZE
First, you need to understand what type of project you're working with. What are the dimensions for your layout? PrintingCenterUSA offers custom layout sizes, but that can make the cost go up. You may want to consider some of our standard sizes: 8.5×11, 6×9, 4.25×11, 6×6 and 8×8, although custom sizes are available. As an added bonus, when it comes time to upload your files, you can upload your individual pages into your book designer tool to help you visualize the entire project.
2. BINDING
Another important consideration for your book is what type of durable soft-cover binding you will be utilizing. PrintingCenterUSA offers saddle stitch, perfect bound, spiral, and wire-o binding. Selecting the binding that is right for the feel of your project is crucial! And it's good to keep this in mind throughout the entire book layout process. To learn more about our binding options, click here.

Bindery Options: Learn More
3. OUTLINE
I'm sure your project already has some sort of structure. Now take that structure and thumbnail out your project! This will help you gain perspective on the entire layout. You may see things that you didn't notice when you were in the weeds of preparing the content of your book. Think of it as a puzzle and outline the home of any written content, images, captions, table of contents, footnotes, page numbers, blank pages, etc. If you're outlining a picture book, for example, you may want to select the format you are going to present your images in. Are they full page bleeds, tiled out, single images in the middle of the page?

4. MARGINS & BLEEDS
Now that you understand the dimensions of your book and where your images, spreads, and bleeding images are, you can prepare your document template.
Margins: We're here to tell you that minimizing your margins is not recommended. It creates a poor user experience for the reader. For pages that are all text, you should consider how much your reader can handle. A combination of leading (the space between lines) and margins will help ensure you aren't making every page feel like an encyclopedia. We recommend a .5 in margin on the outer three sides and a .8 in margin for the binding edges.
Bleeds: If your book will contain images or graphics that bleed off the page, then you should set up your template with bleeds from the very beginning of the designing stage. This way you're not having to go back in at the end to adjust your images. Our recommended bleed setting is .125 in.
5. TYPOGRAPHY
Another way to make designing your book extremely easy is to select your fonts and the font size hierarchy at the beginning.
Fonts: Typically, your main header font is the only font you want to use a creative/artistic font for. BEWARE of Papyrus and Comic Sans! For your main copy, a clean font is recommended. For a more graphic and contemporary look, stick with a san serif like Arial, Helvetica, Avenir Next, or IBM Plex Sans. For a more legible body copy, don't stray from the classics like Garamond, Georgia, and Sabon Next. If you're clever, you'll pick a font family that has a variety of weights (Bold, italic, thin, etc.) This will help with consistency. Another tip is to limit your use of font types/weights within one project to 3 or 5. For a larger book this may be more difficult—but rules are meant to be broken sometimes. Just remember to not get carried away! And to break rules with intention.
Font Sizes: One tip I tend to follow myself is to set font size rules at the beginning. Similarly to the three font type rule listed above, try to stick to a 5 font size rule.

Large Headers (30 pt or above): these are excellent for adding a more graphic feel to your project while simultaneously helping your reader/viewer follow along the outline.
Primary Headers (16-24 pt): these help separate sections within your copy and help with navigation.
Sub Headers (12 pt bold): these help distinguish sections even further and break up the text.
Body Copy (10-12 pt regular): this is your primary body copy. A lot of people make the mistake of thinking 12 pt is too small—It is not. 
Footnote/Page Count (8 pt): For lesser information or page navigation, keep it small. These need to feel like they're in the background of the rest of the book.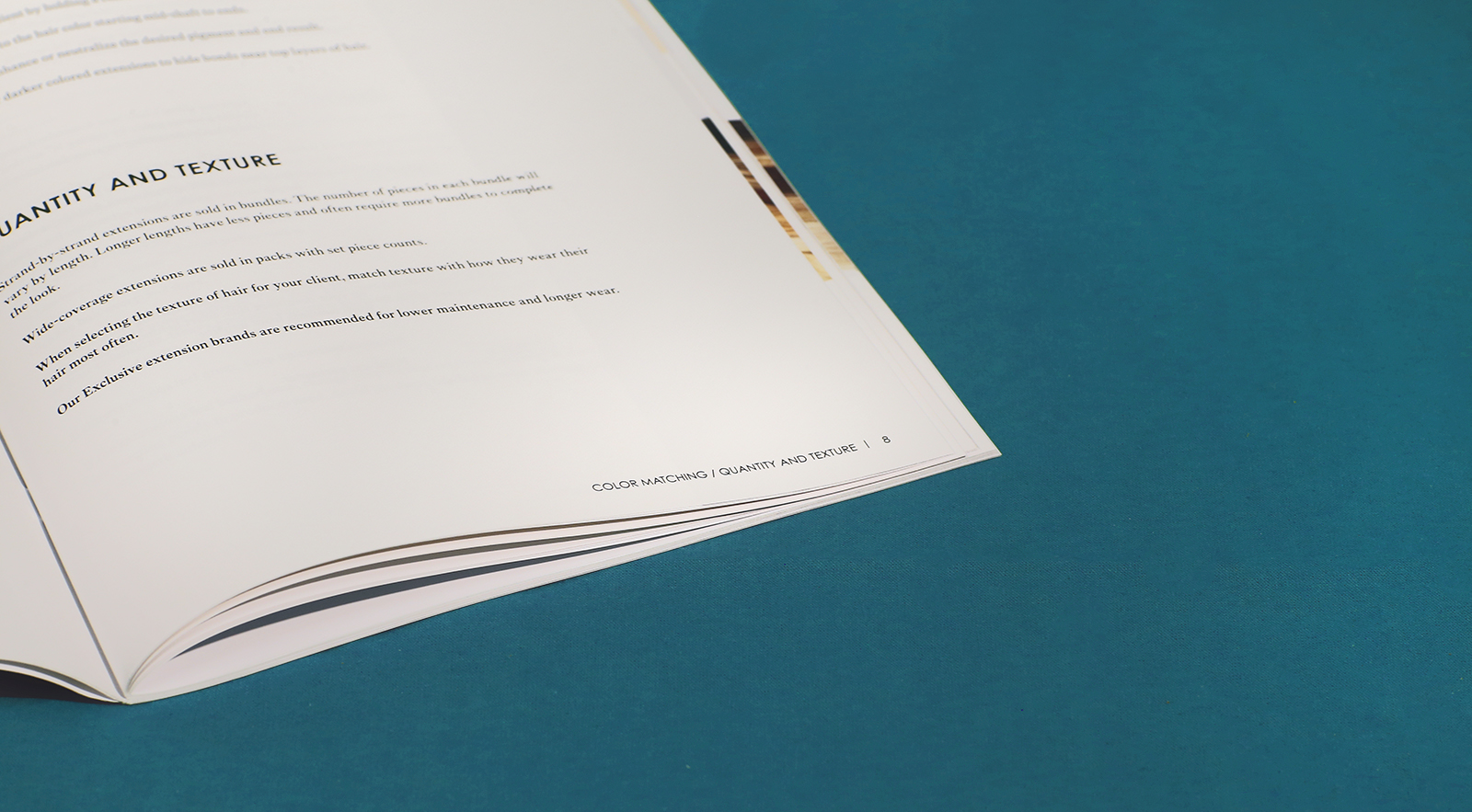 Request a Quote: Learn More
Speak to a Specialist: Learn More 
6. BODY COPY
This blog is not about giving you writing tips. But, hey, body copy deserves to be pretty, too!
Leading: This is very important! Leading is the height between two lines of type. Set your leading to have some breathing room. Nothing makes it harder to read than single-spaced body copy.
Widows & Orphans: A widow is a short line, usually one word that is "widowed" to its own line at the bottom of a paragraph. This creates an uneasy break in the copy. Orphans are similar, except the short line is "orphaned" to the next page. Stay away!
Rags: A rag refers to the shape your paragraph makes. You don't want the shape of the paragraph to be distracting, so insert manual page breaks if need be. Another option, especially for a multi-columned layout, is to justify the paragraph. Be wary though, because this can create its own iffy spacing between words and characters (kerning and tracking…but that's for another day).
7. IMAGES
When designing for print, it is absolutely crucial to have images and graphics of high quality.
DPI: The image will ideally be 300 dpi at the appropriate 

dimensions, but 200 dpi at the lowest. Web images are recommended to be saved at 72 dpi to load quickly, so be careful when saving images from the internet for a print project.

Vector: When using graphics, do your best to utilize a vector graphic (scalable) versus a raster graphic. This keeps the sharpness of your graphics top-notch and admirable by even the most nitpicky designer.

If a vector isn't possible, then follow the same rules explained above for images.
8. NAVIGATION
Make sure your project is navigable. Tips 1-6 will absolutely help this, but here are a few more to make sure your reader isn't getting lost.
Page Numbers
Chapter/Section Titles at the top of the page
Table of Contents
8. OVERALL COMPOSITION
Composition is extremely tricky. Consistency built by using all tips up to this point will help solve the problem for you, but some creative solutions will still be necessary. One thing I do to help my composition seem fully cohesive is abide by the 12 inch 12 foot rule. What I mean by this is when you've been staring at and obsessing at one page of your layout for a long time, you must remember to take a step back, zoom out, to see the entire layout, and evaluate how that page fits within the whole. Doing this regularly will keep you from merely designing individual pages and help lead to a cohesive book with an excellent user experience. If you zoom out and see that everything is kind of blending together, here are some extra tips to spice up your overall composition.
Add in a full spread! These can provide a nice break for your reader.
Don't be afraid of color. In fact, make an entire page one solid color. A good place for these is for at the beginning of a chapter/section. A nice solid page with some larger scale navigational copy (i.e. chapter number and name) can give your composition exactly what it needs.
Color scheme! Consistent color schemes or patterns help the composition of the book as well. You should have your main colors, but also have your accent colors! When your text is getting boring, add in a pop of something colorful. If it's within your color scheme and you place it with intention, then it won't seem out of place. A good tip for picking your color scheme is to sample from your cover image or a primary image from the text. And as always, be sure you're working in cmyk ;).
BOOK DESIGN RESOURCES
Free Online Book Designer
With our online design tool, it is easier than ever to design your saddle stitch, perfect bound, spiral, or wire-o book.
Predesigned Book Template Downloads
If you have the Adobe design software (Photoshop, InDesign, or Illustrator) then you can choose between one of our many free book template grid downloads to help jump start your design!
If you are starting a calendar project and would like to speak with an expert, feel free to give us a call at 800-995-1555. Ready to place your next calendar order? Visit our website to get started!