The Ultimate Guide to Digital Flipbooks
Maximize Your Publication's Impact with Digital Flipbooks and the Power of a Simple Share
In the ever-evolving digital age, the way we consume content is changing rapidly.
Revolutionize your print material into an engaging digital experience – for FREE! Digital Flipbooks are more than just digitized versions of your print materials; they are interactive experiences that connect with your audience on a new level. At PrintingCenterUSA, every customer who orders a publication product will receive a complimentary Digital Flipbook.
What Is a Digital Flipbook?
A Digital Flipbook is an e-book that simulates the appearance of a traditional paper book, magazine, catalog, brochure, or other publication with an interactive page-flipping effect. It mimics the experience of flipping through the pages of a physical book or magazine, but on your computer, laptop, tablet, or smartphone. Digital Flipbooks are created by converting PDF files, images, or other digital content into a format that can be displayed and navigated online. Users and readers can interact with the Flipbook by clicking, dragging, or swiping the pages and zooming in and out.
Digital Flipbooks transform your static print materials into dynamic, interactive digital experiences. They recreate the charm of flipping through a physical book or magazine on your digital devices. These digital replicas are derived from your PDF files, images, or other digital content, converting them into an interactive online format that your audience can engage with.
This innovative and immersive design is a boon for publishers, marketers, educators, and businesses. By converting your content into a Digital Flipbook, you can present your material in a visually appealing and engaging format that's accessible on a range of digital devices.
Check out this Flipbook Example below!
Enhancing Your Marketing with Digital Flipbooks:
Embed on Your Website: By embedding the Flipbook directly, your visitors get an interactive experience without leaving your site.
Email Marketing: Incorporate the Flipbook URL in your campaigns, giving subscribers instant access to your content.
Social Sharing: Use the unique URL to post your Flipbook on social platforms like Facebook, amplifying your content's reach.
How to Claim Your FREE Digital Flipbook
Order: Order your booklet, catalog, book, magazine, or other publication product from PrintingCenterUSA.com.
Approve your proof: If you selected "PDF Proof," you will receive an email proof to approve within six hours. If you selected "No Proof Needed – Print As Is," no other approval is necessary.
Login to Access Your Flipbooks: Within 30 minutes of proof approval, your Digital Flipbook(s) will be ready. https://www.printingcenterusa.com/user_order.php
Find the "Free Digital Flipbook" Button, Click it and follow the prompts
Title & Description: Add a title and description that will be displayed on your URL live flipbook
Agreements: Agree to our terms and conditions and optionally allow us to feature yoru publication.
You will have 2 convenient options: "Copy Embed Code" and "Share Link" (keep reading this article for more details on how to use each option)
Sharing Made Simple with "Share Link" Feature
In our mission to make your Digital Flipbook more accessible and easy to share, we've introduced a game-changing feature: the "Share Link" option. This feature generates a URL that leads directly to your Flipbook, making it easier than ever to share your publication with anyone, anywhere, anytime.
The "Share Link" option opens the Flipbook in a new window with its own unique URL. You can copy this link, paste it into an email, message, or social media post, and share your publication instantly. This feature also makes it possible to share your Flipbook directly on Facebook, allowing your followers to access your Flipbook with a single click.
This is a massive update that significantly enhances your ability to distribute and promote your publications. It provides a fast, straightforward way for your audience to access and engage with your content, helping to increase your publication's reach and impact.
Embedding Your Flipbook into Your Website
While the "Share Link" feature offers a simple way to distribute your Flipbook, the "Copy Embed Code" option remains a powerful tool for integrating your Flipbook directly into your website. By embedding your Flipbook, you can provide an interactive experience directly on your website, keeping your visitors engaged without leaving your site.
You can embed your Digital Flipbook by copying the provided HTML embed code and pasting it into your website's HTML editor. Remember, the specifics of this process can vary based on your website builder or platform. If you need assistance, consult your website builder's guide or reach out to us for support.
A Closer Look: Getting the Code and the Share Link:
Feeling a little lost? Need more details? Once you access your account and click that blue Free Digital Flipbook button, what's next?
First, you need to give a title to your Flipbook, and also give it a description. These are important and here are some basic guidelines for the Title: Your Title should be 50-60 characters long and include targeted keywords about your Flipbook. For your Description: Your Description should be 150-160 characters long, use targeted keywords, and include compelling and enticing words to describe your Flipbook.
*Note – the Title and Description will be displayed at the top of your Digital Flipbook when it is live.
Next, check the box to agree to terms and conditions, this is mandatory to receive the code and share link. When you check the additional box, you are granting PrintingCenterUSA to use your publication as an example in their marketing, this is optional. Click the gold "Get Free Digital Flipbook" button.
Next, you will see the screen change in the popup that will display your embed code iframe html block. When you click the gold "Copy" button, it will copy this code to your clipboard.
Additionally or alternatively, you can click the blue "Share Link" and the live Flipbook will open in a new tab in your current browser. This is the live URL link that can be copied from your browser and shared anywhere, anytime, and to anyone.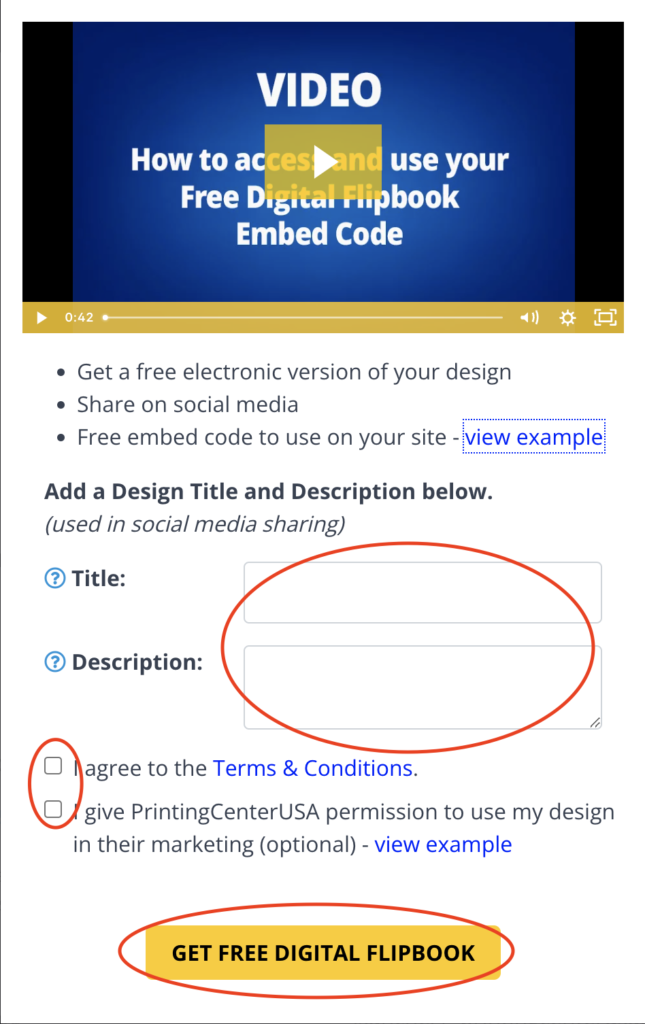 Your Questions About Digital Flipbooks, Answered
Our team at PrintingCenterUSA is always ready to help. If you have more questions about our Digital Flipbooks or the new "Share Link" feature, please don't hesitate to reach out. Contact us at 1-800-995-1555.