Catalog Design | Design Tips That Sell

| | |
| --- | --- |
| Many people don't know where to start when it comes to catalog design. This daunting task is made simple when you follow these helpful tips. Don't get overwhelmed with all of the pages and information you want to include; instead start by outlining the goal of the catalog. Figure out what you need to accomplish! There are many different types of catalogs such as wholesale product catalogs, apparel catalogs, course catalogs, jewelry catalogs, and service catalogs. Next, put yourself in the shoes of your audience. What would attract them, what information do they need, and what will keep them turning the pages. After gathering this information then start designing. | |
Keep Your Audience in Mind
Depending on what you're trying to sell in your product or service catalog, you will need to include different information based off of the answer to one simple question: who is going to buy your product? Here are a few examples of ways to keep your audience in mine.
Wholesale Catalogs
For these, you need to include wholesale pricing information along with images of all of the various products you are selling at wholesale prices. You can pack these catalogs full of information! For the higher page counts that wholesale catalogs tend to have due to the high-quantity of products, PrintingCenterUSA recommends that you choose perfect binding for your print project.


Jewelry or Apparel Catalogs
For these types of catalogs, you're most likely trying to make a powerful impression directly to the customer. In this case, you want to wow them with full-page hi-resolution images of the product that stun the viewer! It is less important to inundate the viewer with the quantity of products like you might do with a wholesale catalog. Quality images and layout design will elevate the quality of the consumer and make it easier to sell your jewelry or apparel at higher prices. Saddle Stitch is an excellent binding choice for these types of Catalogs, because they are usually lower in page count due to the seasonal aspect of jewelry and fashion lines.


Course Catalogs
The audience for educational course catalogs is different than the above options. Course Catalogs are more informational and will therefore be more text-heavy. You are trying to provide information to parents and/or students on the courses available at your institution. You should have a strong table of contents and navigation built into the table of contents. Each course should have a brief description. To break up the monotony, add in a few images of students on campus! Spiral or Wire-O would be an excellent binding choice for these types of catalogs.
Do you have the look you want?
Don't forget the catalog covers and overall catalog design and quality will make the first and most lasting impression! It doesn't matter how great your information is, if you have poor images and poor print quality, your audience may be disinterested and less likely to read.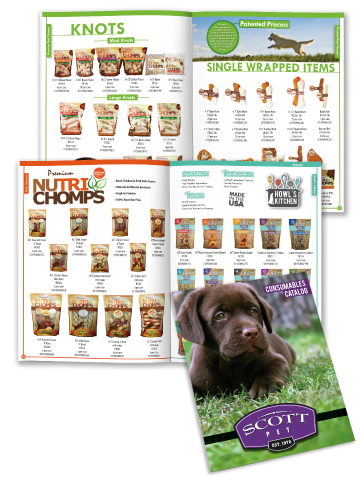 1. For your cover and design, use engaging colors, images, and design elements that represent you or your company.
2. Stick to a simple font that is easy to read. Consider size, style, and color. Make sure the emphasis is always on the product!
3. Use white space, and use your space wisely. Keep a good balance, don't use too much or too little text or images. Compare your catalog to others of its kind to see if you're on the right track.
4. Eliminate unnecessary elements or distractions. Just because you think that one image is so cute, doesn't mean that it's necessary.
5. Select the appropriate finished size and know how you will distribute: mailing, handing out, or hanging in a display…
6. Full color images with 300 dpi or more resolution are perfect for catalogs.
7. Keep a consistent style and look throughout the entire document.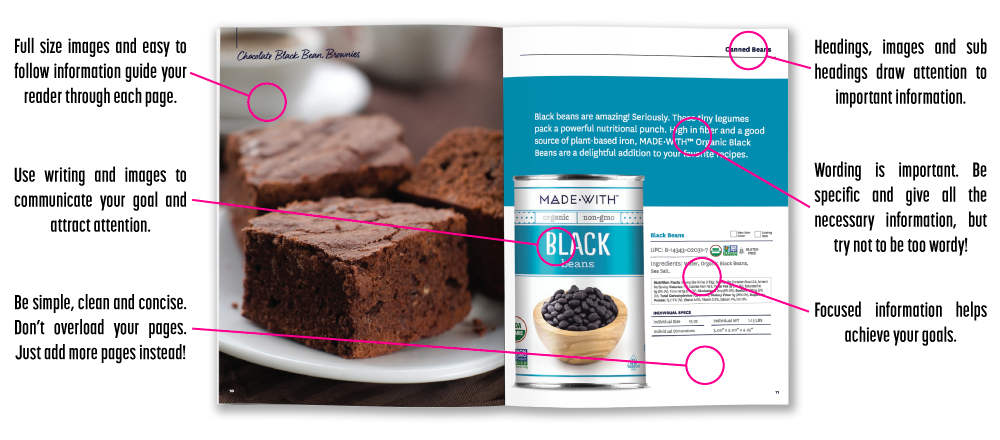 Use the Right Catalog Template
If you have an Adobe Program, you can utilize our free downloadable catalog templates to help with keeping your catalog design consistent. Not only that, but the templates will come with our PDF and Color presets to ensure your images and brand colors are exactly what you're expecting.
Not only that, but PrintingCenterUSA also provides a free online design tool for those that don't have a design program. Drag and drop your images and content to get the stunning layout design.
Recommended Pricing Tool Specifications
Aside from the recommended binding times from the various types of products listed in the "Keep Your Audience in Mind" section, most of our catalog product specifications are the same across the board.
Ink: Full Color both sides for both the cover and inside pages is highly recommended. This will make your images pop!
Paper: 80# Gloss Text and 80# Gloss cover are both recommended for a high-quality and durable paper at a low cost.
UV Coating: Add an extra UV Coating for protection of your cover. This is beneficial for catalogs that are going to be mailed.
Mailing: If you're wanting to send your catalogs directly to your customers, upload your mailing list and select address and mail on the pricing tool. You can mail extras to your business so you can have some for in-house as well.
PrintingCenterUSA can easily help you order a Catalog and have it shipped to your doorstep fast! We give you fast and free quotes, and have a knowledgeable staff and helpful customer service representatives who can help you get started.
---
Now that you've seen the best way to showcase your products, build your catalog today!
Not sure if a catalog is right for your needs? Click here to see all of our printing options.
PrintingCenterUSA Newsletter
Join the newsletter to receive the latest updates in your inbox.
---