Catalog Printing "Popular Styles 2021"

Over the last couple of years, catalog printing has seen a resurgence. This is because of a variety of factors like the over-saturation of digital marketing, the new tracking technology that makes ordering from catalogs easier, and, the most important factor, their effectiveness. A study by the DMA found that "response rates from catalogs have increased by 170% from 2003 to 2018". So, when you are looking at your 2021 marketing budget, make sure that you save some room for catalog printing. Below we are going to go over the most popular catalog types, popular sizes, marketing tips, and specifications. Get 2021 off to a great start!
Popular Types of Catalogs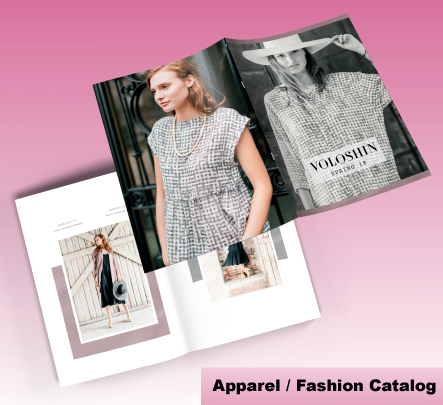 Apparel / Fashion Catalog
Apparel / Fashion is probably the first market that you thought of when thinking about catalogs. This is because the popularization of catalogs in general was due to Sears. They used their catalogs to help their customers order products while visiting their physical stores. The fashion industry has continued to use catalogs and lookbooks to advertise new collections, upcoming products, and exclusive sales.
For more information on the difference between a fashion catalog and a lookbook, see our blog post: Click to Learn More.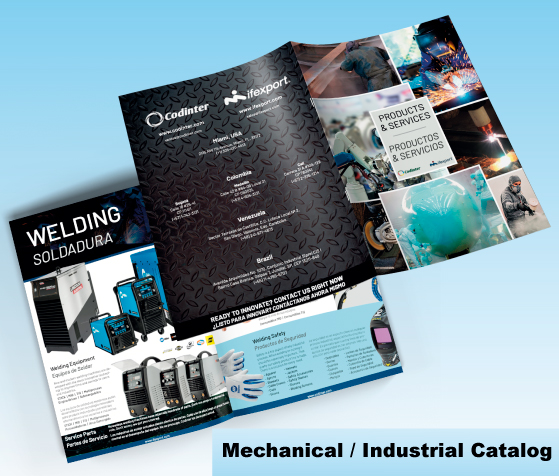 Mechanical / Industrial Catalog
Industrial businesses have found great value in using catalogs to show off their products. Catalogs make it easy for businesses to group complimentary products together so that the customer can understand exactly what they need to get their project done. Including product ID numbers, specifications, and sizes makes mechanical / industrial catalogs a great tool that clients can keep with them when making repeat orders.
For more information on how to design an effective Industrial / Manufacturing catalog, see our blog post: Click to Learn More.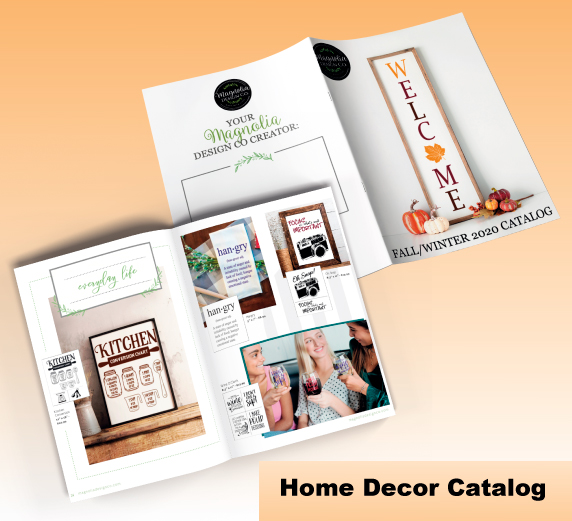 Home Décor Catalog
Ikea started a trend of the home décor catalog with their viral advertisement. Ikea stores are famously set up to display products in a very natural setting so that customers can visualize what products would look like in their own home. This display easily translates to catalogs, which are more and more focusing on the concept of creating a story. The days of bland grids of products are over, now customers are expecting to see products naturally interacting with the environment that they are going to be used in.
Jewelry Catalog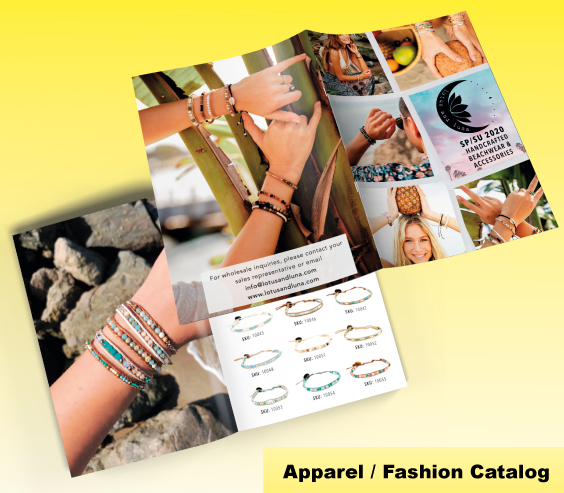 Professionally photograph your jewelry line and then drag and drop your images into our photo catalog designer to easily create a catalog to give to a potential customer. Jewelry, as well as other accessories like handbags, watches, hats, and more, can greatly benefit from being advertised through a catalog. Catalogs give people the opportunity to closely at fine details of the pieces without having to go into the store.
For more information on how catalogs can benefit your business, see our blog post: Click to Learn More.
Popular Sizes of Catalogs
8.5 x 11
The #1 most popular size for a catalog is the standard 8.5 x 11. This size gives designers enough space to fill your catalog with details and images of your products. You can include crossovers, images that span multiple pages, to create a visual break and highlight a product that you are particularly proud of.
6 x 9
This smaller catalog is great for a quick overview of your products and services. Since the smaller size has some limitations, this size is often used in more modern catalogs that take advantage of white space and large, one-page images. These catalogs are good references for customers and clients.
Other Sizes
If you choose to print your catalog with PrintingCenterUSA, you have the opportunity to create a catalog in a wide variety of sizes! Not only do we offer the most popular sizes of 8.5 x 11 and 6 x 9, we have many more portrait, landscape, and square sizes to choose from!
Portrait

4.25 x 11
5.5 x 8.5
6 x 9
8.5 x 11
A4 (8.27 x 11.69)
A5 (5.83 x 8.27)
A6 (4.13 x 5.83)

Landscape

Square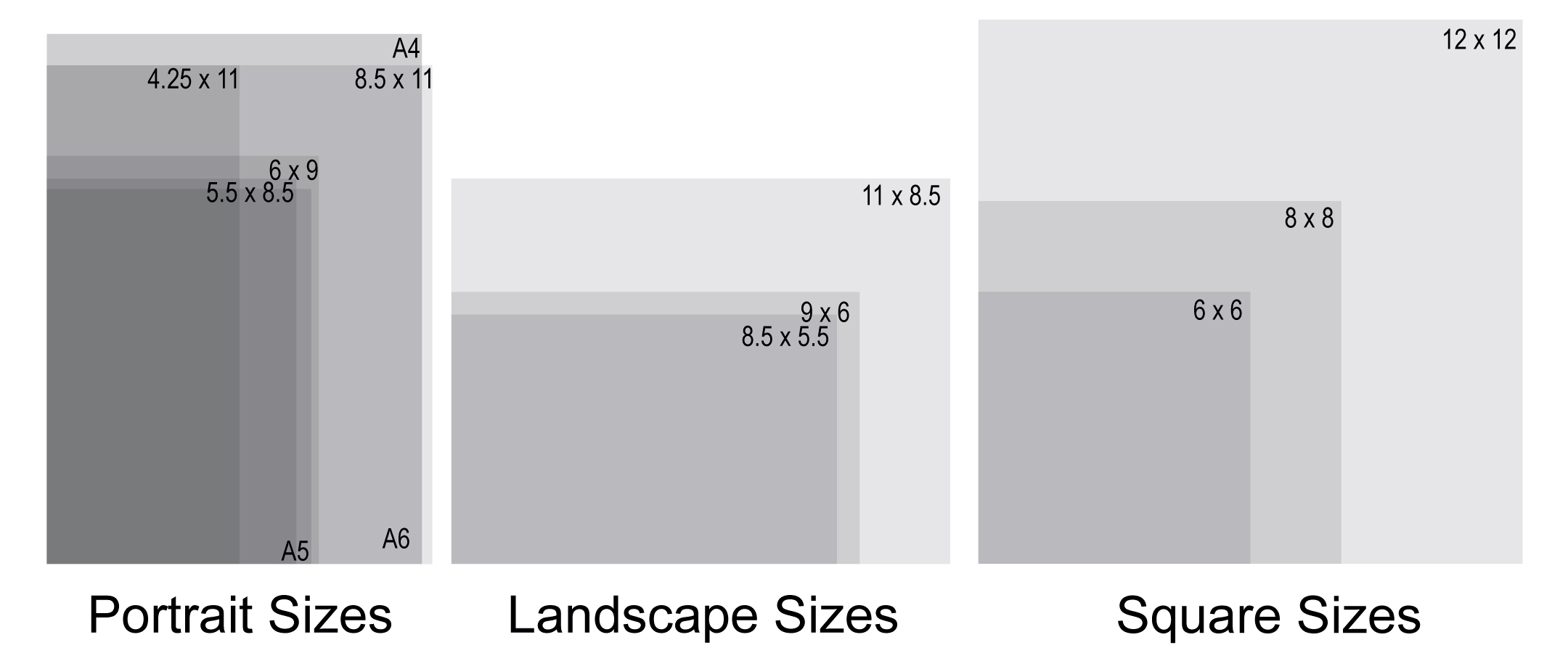 Custom Sizes
If you don't see the size that you are looking for from the sizes above, we even have a custom size option! On our pricing tool, below the Size dropdown, there is a button where you can enter your custom size. Just be sure that your height is between 4" and 9" and your width is between 5" and 12".
Popular Catalog Marketing Tips
Create a Story
We brushed on this concept briefly when talking about Home Décor catalogs, but let's go into more detail. Catalogs are known to increase a products' 'vividness', which is the ability for customers to picture using the product in their own life. If the vividness increases, then the joy that customers receive from purchasing this product also increases. How do you increase your products' vividness most effectively? Do the heavy lifting for the customer. Don't create a catalog that is just a rambling collection of product pages. Take photographs that tell a story of how the product or service could fit into your customers lives. "Focus on creating stunning imagery and creative presentation of products to evoke emotion."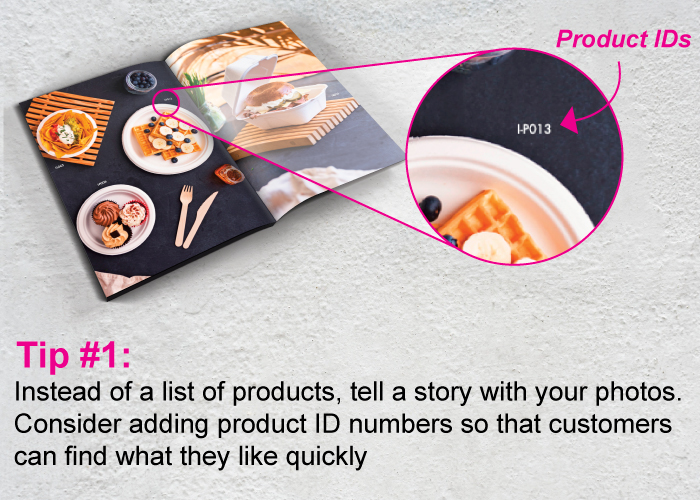 Promotions
When sending your catalogs to customers, give them an excuse to read it. Advertise an exclusive promotion on the front cover of your catalog. Then add a promo code that you can use to track the catalog's effectiveness. Displaying promotions has been shown to increase a customer's engagement with the catalog.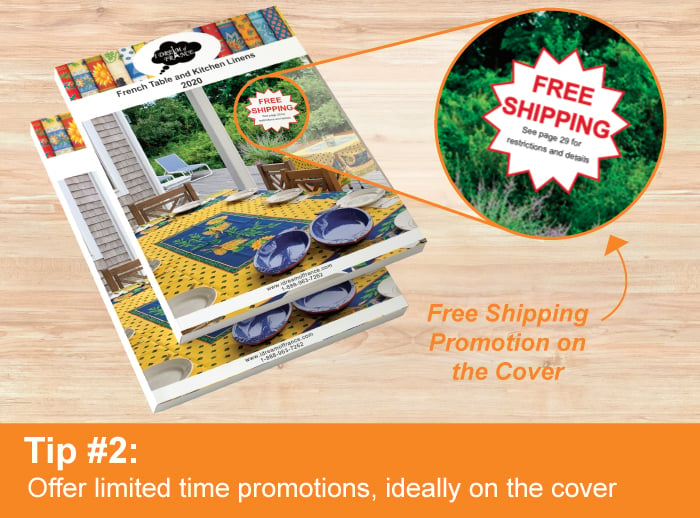 Track Conversions
One of the most important things to keep in mind when advertising with print media is, how are you planning to track its effectiveness? Using QR code, exclusive promo codes, or personalized URLS are some great ways to measure how many conversions your catalogs create. This will help for you to more accurately measure the catalog's return on investment (ROI).
Popular Pricing Tool Specifications
Ink: Full color for both the cover and inside pages is highly recommended. Customers will better connect with high-quality, vivid color photos than black-and-white.
Paper: 80# Gloss cover and 80# Gloss text are the most popular paper types for catalogs. This is because these papers are durable and high-quality, while still being affordable.
Coating: If you are creating a catalog with a glossy cover, we highly recommend adding a UV coating to increase your catalog's durability and shine. If you are opting to create a matte cover, you can't go wrong with adding a Soft Touch Lamination. This coating will give your cover a velvety smooth feel and dull matte shine.
Mailing: If you are wanting to send your catalogs directly to your customers, all you have to do is upload your mailing list and select Address & Mail on the pricing tool. You can mail the extras to your business so you can have some for in-house as well.
PrintingCenterUSA can help you easily order a catalog and have it shipped to your doorstep fast. We give you fast and free quotes with our online pricing tool, have knowledgeable staff and helpful customer service representative, and a 24/7 online help center that is the best in the printing industry. We are ready to see your catalog vision become a wonderful completed product!
PrintingCenterUSA Newsletter
Join the newsletter to receive the latest updates in your inbox.
---