A Photographer's Dance with Lake Superior
Lake Superior holds a special place for Christian Dalbec. As a wave photographer, he dives into its vastness, capturing mesmerizing images- all with his favorite red helmet. But beyond the art, the lake marks Christian's transformative journey from past struggles to newfound clarity.
A Renewed Lens on Life
Christian's journey in photography began in 2012, not just driven by the allure of waves or the deep's mysteries. Behind his newfound passion was a life-altering decision. After grappling with alcohol addiction and facing his 4th DUI, Christian embraced sobriety. As he left behind his past, he found solace in the natural beauty he had once overlooked. Sunsets, waterfalls, and the vibrant world around him became subjects worth capturing. However, he didn't want to capture nature just from the sidelines as everyone else did. He dived, quite literally, into the heart of Lake Superior, swimming with surfers, navigating around Ore Boats, and playfully dancing around ice chunks, all to bring unique shots from inside the waters. In his own words, "It's been awesome. I never knew that life could be this fun. All the beauty in the world—I missed out on all those years. Photography is an expensive addiction, but not nearly as expensive as what alcohol did to the quality of life. Life is better than it's ever been."
Diving into a Unique Perspective
In the world of photography, finding a unique perspective is challenging. But Christian found his. Swimming into potentially treacherous conditions, equipped with special gear and a rare grit, Christian captured moments most photographers would only dream of. His primary audience? "Anyone that appreciates nature, specifically Lake Superior," he says. Lake Superior has always held a nostalgic charm for many, but for Christian, the connection runs deeper. Having grown up playing on its shores, the lake has now become his muse. Each photograph is not just a picture; it's a moment of personal connection with the very waters he grew up around.
Sharing Lake Superior's Magic
Christian found more than just a business; he found a platform to connect with others. Through Fine Art photography prints, Dye-Infused Metal Prints, books, calendars, and greeting cards, he's been able to share the beauty of Lake Superior with a broader audience. If you've ever been intrigued by the idea of crafting your own photo calendar, our article on How to Create a Photo Calendar provides invaluable insights. His collaboration with us for softcover books, calendars, and other print materials ensures that the quality of the prints matches the caliber of his shots. The reception has been overwhelmingly positive, with calendars becoming especially popular amongst his customers. As Christian pointed out, the remarkable quality of his printed images has doubled his calendar sales since he started working with us. Today's art market can be challenging, with art being seen as a luxury. Yet, Christian's work strikes a chord by focusing less on the selling aspect and more on sharing. In a world increasingly driven by materialism, his works serve as a reminder that sometimes, it's the memories, experiences, and personal transformations that hold the most value.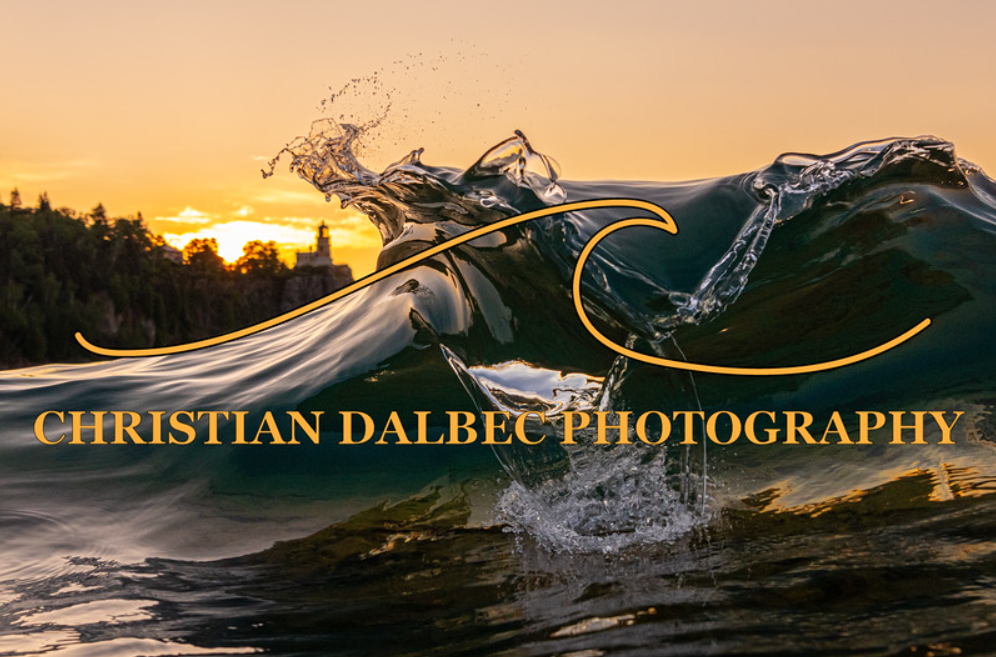 While Christian captures the wonders of Lake Superior with his lens, there's an equally essential force behind the scenes: his wife. Serving as the writer and designer for the business, her talent resonates in every word and design that accompanies Christian's photographs. Together, they form a formidable team, with each complementing the other's strengths. Even though she often remains in the background, her influence is undeniable, playing a pivotal role in shaping the narrative and aesthetic of their collaborative endeavor. Her modesty might lead her to downplay her contribution, but without her, the tapestry of their business would be incomplete.
To stay updated on his latest captures and him & his wives adventures, you can follow him on his social media at instagram and facebook
A Partnership Reflecting Support
For Christian Dalbec, the collaboration with PrintingCenterUSA became the bridge between his artistic vision and its tangible manifestation. The unwavering customer support, exceptional print quality, and competitive pricing positioned PrintingCenterUSA as his go-to printing ally. Each printed piece not only reflects the high standards of our partnership but also resonates deeply with Christian's love for Lake Superior and his transformative journey.
With ambitious plans on the horizon, Christian envisions broadening his print endeavors. He aspires for a hardcover book edition, aims to amplify his calendar sales, and is passionate about amplifying the allure of Lake Superior to a wider audience. Christian underscores the importance of "Price Point, quality, and customer service" — pillars that he proudly finds with us. His tale, from the mesmerizing waves of Lake Superior to the profound impact of his images on admirers, showcases a journey of grit, healing, and reconnection. With PrintingCenterUSA by his side, every photograph is not just an art piece but a testament to life's enduring beauty and rebirth.
If you would like to order one of Christian's 2024 Calendar click here to place your order
Success Spotlight
Christian Dalbec's transformation, from the depths of Lake Superior to the vibrancy of print, shines in our Success Series. As a featured artist, he demonstrates the magic of capturing nature's wonders and bringing them to life in print.
Ready to share your story? Become the next highlight in our series. Let's turn your vision into a tangible masterpiece, creating a legacy as impactful as Christian's. To join and share your journey, check out our Free Marketing Programs page.