Create a Brand Book | Tips and Examples for your Style Guide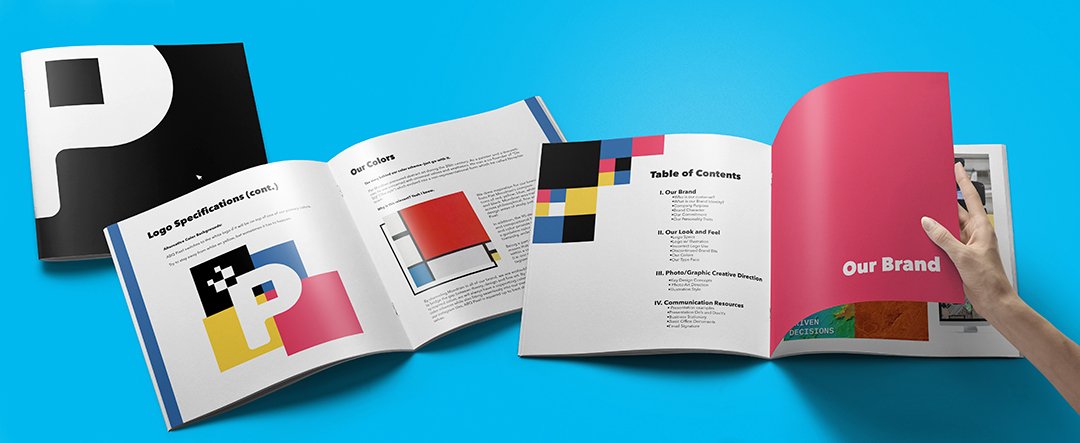 Every business owner, marketing employee, and graphic designer should understand that when it comes to brand recognition, consistency is key to generating loyalty in a customer. This means that following well-established brand identity, i.e. fonts, colors, imagery, tone, etc, could increase your revenue growth by up to 30% at a rate 3x faster than a company with inconsistent branding.
Seems worthwhile, right?
Well, surprisingly enough, less than a quarter of businesses have a formalized branding style guide or brand book that is enforced. If you're one of these businesses lagging behind, don't worry, we're here to help you develop, design, print, and enforce your brand.
Get an Instant Quote: Click Here
Request a Sample Packet: Click Here
First off, what is a brand style guide?
A brand style guide is a set of detailed guidelines on a business's visual and communication identity. It explains the rules to be followed when it comes to brand colors, fonts, imagery, tone, and much more. Contrary to popular belief, brand guidelines for a company do not just apply to the marketing team. They apply to every email, phone call, comment on social media, and every single interaction with a customer. In turn, the brand identity is something that should be a part of the basic training for all incoming employees.
Why should your business create a brand book?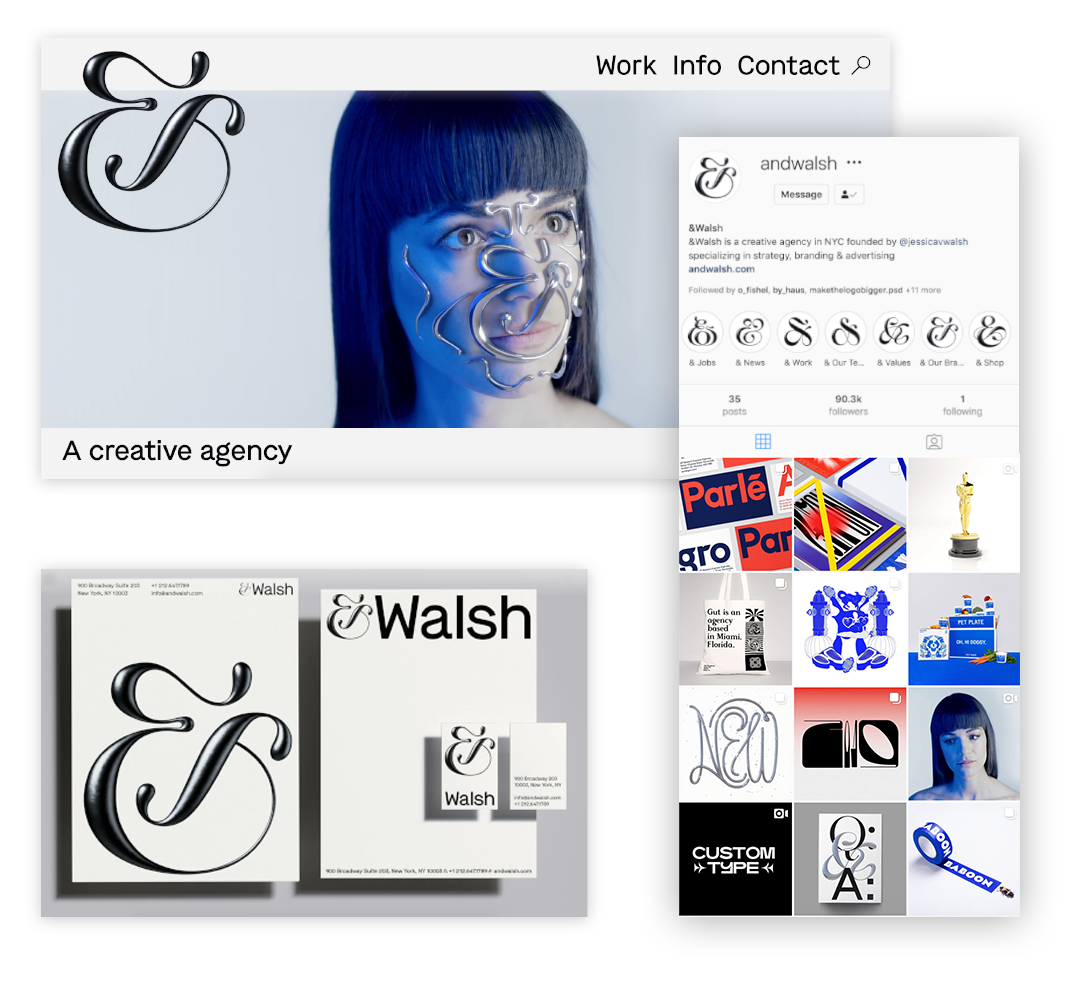 Brand consistency is a long game that never ends. Over time, consistent usage of brand identity across all platforms will build recognition and loyalty with your audience. Your customers are quietly/subconsciously making judgments about your company and whether or not you are worthy of their trust. Even minor deviations in consistency can throw off your target market's impression of the business. In the example on your right, you can see the brand of the creative agency &Walsh successfully stay consistent across three platforms – web, social media, and print.
It's not all about the customers, though. A well-executed style guide will also establish a uniform culture for your employees. Setting the expectation of the work environment from the very beginning will help ensure employee retention and happiness.
What are the key elements of a brand guide?
Who you are
Who you are centers around your company's vision, mission, and values. If you define these areas clearly, then your employees will have a clear direction and truth in every interaction between fellow employees as well as your customers.

Goal / Vision – The goal and/or vision of the company is critical to spark initiative in employees. Tell them where the company is going. What is the five year plan? This gives employees something to latch onto and align their personal growth goals with in order to grow with the business.

Mission – The mission of the company is slightly different than the vision as it is more focused on what you offer the end consumer. For example, PrintingCetnerUSA's mission or vision statement is:

"Our mission is to provide our past, future, and current customers with a mistake-free, top quality printing experience on time, every time."

Here you see that it's more about the day-to-day bottom line of your business as opposed to the vision where you're dreaming about the future.

Values – The values of a company are more or less the personality traits. How would you describe your business? Use PrintingCenterUSA's values as an example. Here, we detail the core values that all employees must have. If an employee were caught being rude to a customer over the phone, they would be in direct violation of our "Respect" and "Communication" values. If an employee went out of their way to provide resources to the customer and personally ensure the perfection of the finished product, then they would be in line with the "Expertise," "Excellence," and "Quality" core values.

Who is your customer?
It is critical to also breakdown your target audience using user personas. These user personas are personifications of the types of customers you have or want. Give your four key types of customers names, photos, personal mottos, demographics, short bios, personality traits, motivations, goals, and frustrations. If you do this well and really get to know your customer, then you will be able to constantly grow with them in mind.
For example, let's create a quick PrintingCenterUSA persona. Let's call her Sarah Shopsalot.
Sarah's personal motto is "It's always cheaper on the other side." She has a large family and her own startup business, so budgets are tight and closely maintained. She's cautious, never making impulse purchases, and she will research and learn whatever it takes to save time or money. Her frustrations are not knowing how to do something right the first time. Her motivations are to grow her business and be a successful role model for her children.

While that might have seemed like a silly exercise, it allows you to think out of the box on the who's, what's, and why's that motivate your customer to choose your business. With this information you can better predict Sarah Shopsalot's behavior, provide her the resources she desires, and therefore tailor your marketing efforts to generate a reliable return.




What do you look like?


This section clearly defines the usage guidelines for key visual brand elements.

Logo
In the logo section you will introduce all versions of your logo. You will explain and demonstrate clear space guidelines, when and where a certain version is appropriate, and the do's and don'ts of the logo usage.

Colors
This is where you breakdown your brand colors, acceptable pairings, gradients, and example scenarios for color usage. Be sure to include the RGB, CMYK, and Hex code versions of the colors (and Pantone codes if necessary) so employees can easily stay on brand at a glance.

Fonts & Typography
List the company fonts, acceptable variations, and examples of when and where to utilize them. For example, PrintingCenterUSA's brand font is Arial, but for a project where a script font is applicable, we will use Parkside.

Imagery
This one can be slightly trickier. It is best to use examples of photos and imagery that are on-brand and as well as examples of a photo that would be off-brand. This can be in image content (i.e. the image is inappropriate) or in image usage (i.e. the image is pixelated or skewed).

Click through the flipbook above for a full example of a brand style guide.

What do you sound like?


Tone of voice is very important for a company to get right, especially one in customer service. What tone refers to is the type of language that is used when dealing with a customer, writing copy, posting on social media, or even sending an email. The tone of your company should reflect your core values as well. For example, if a company has a core value of being straightforward, then a customer service representative should be able to be clear and concise in the communication with a customer instead of beating around the bush. Here are some questions to ask yourself when determining the tone of your company:

Are you more professional?
Are you more emotional?
Which generation(s) are a part of your target audience?
Do you utilize humor?

One thing that is always important with tone is to utilize good grammar and readability. There isn't a single company out there that can use poor grammar to their advantage.
Brand Style Guide Examples
Creating a brand book can definitely be overwhelming, so it's absolutely necessary to look at real-life examples to get you started. We have gathered some of our favorite real-world examples below to get you started.
Netflix
We all know, love, and recognize our favorite movie streaming service. Their brand has been very consistent throughout the years which has certainly kept consumers like you (and me) coming back month after month after year after year.

Take a peek at their logo guidelines here

to see some of the subtleties that have kept you addicted for so long.

Netflix not only has clear visual asset guidelines, but they also take it a step further with a Netflix Culture Guide for employees. Here you'll see how serious they take their brand and how they diligently integrate it into every facet of their company.

Walmart
Oh, Walmart. You wouldn't think that a retail store born out of Arkansas would be SO thorough, but Walmart truly has their brand painstakingly figured out more than any company I have ever seen.

Take a look at theirstyle guide here.

Yes, it actually is 54 pages. Every single detail has intention behind it, from the secondary spark logo to the tone used by customer service representatives. If you're looking for an in-depth example to pull from for your brand guide, look no further. This document will definitely serve as a model for your book.

This is an example of Walmart's "clear space" rule in their logo usage guidelines. It utilizes elements from within the logo so it can be applied at any scale.

Asana
One of the prettiest brands on this list, the Asana brand is a great example of a contemporary digital company showcasing themselves right. It's clean. It's fun. It's versatile. This brand will 100% be able to grow and evolve with the company.

Take a look at the designer's case study on the brand creation here

to get a feel for the company and a first-hand look at the ideation process behind it.
About halfway down the page, you'll see that this was actually published into a physical book, something we highly recommend your company does too.
When brainstorming and designing your book, we also recommend starting the actual design of the book from a template if you cannot afford to hire a designer. Template websites like Envato will surely get your project off on the right foot.
To Print or Not to Print – That is the Question
Yes, yes, 1,000 times YES. Many companies make the mistake of only publishing their brand guidelines digitally. This simply won't cut it! For your employees to eat, breathe, and live by your brand, we highly recommend that you print physical copies. Designers and employees should be able to quickly refer to the book as if it were a standard operating procedure— because it is. Plus, let's be real, it's a lot harder to ignore a physical book than a link buried somewhere in your email that you forgot to bookmark.
Here's what we recommend:
Print a perfect bound brand book. This will reiterate to your employees that your company means business. The professional and stylish appeal of a perfect bound book reinforce the seriousness of the contents. It is a physical example of how to use your brand and is therefore the greatest way to train an employee on usage. The perfect binding option will also allow you to print on the spine, which makes it easy to identify on a shelf for quick reference.
Print brand materials as well. Business cards, letterheads, presentation folders, etc. This will help keep your company consistent throughout any form of communication.
While the majority of advertising is done digitally nowadays, print will never die. Consumers still respond to physical advertisements such as postcards, flyers, catalogs, and much more at a ROI that is impossible to ignore. These printed materials are also excellent ways to add yet another reinforcement of brand to your target audience.
Set your business up for success by establishing a brand style manual! If you don't have the design software to do it, try out our photo book maker by clicking the link below.
PrintingCenterUSA Newsletter
Join the newsletter to receive the latest updates in your inbox.
---