Empowering Nonprofit Missions: Economic Literacy Colorado's Success Story
What is the power of print in driving a nonprofit's mission forward? In an era where digital platforms dominate the communication landscape, one might question the relevance of traditional printed materials. Yet, for nonprofit organizations like Economic Literacy Colorado, print isn't just a tool—it's a cornerstone of their outreach, amplifying their voice and extending their impact. Discover their inspiring success story and learn how printed materials continue to play an indispensable role in empowering their missions, one page at a time.
Economic Literacy Colorado: The Vision and the Mission
Established over half a century ago, Economic Literacy Colorado stands as an emblem of dedication in K-12 education. Their mission is profound: prepare the young minds of Colorado for a future grounded in personal financial stability and robust economic understanding. However, like every nonprofit endeavor, this mission requires more than just passion. It demands tools, resources, and partnerships that amplify its impact.
"Economics and personal finance is about more than just money. The students of our community are a part of our economic system. No matter what they do when they grow up, these students will make choices every day – both financial and economic – that will affect their lives and the lives of those around them. Through our unique approach of arming educators with the resources they need to better teach students, we create a ripple effect of knowledge and skill that fills the gap of economic literacy in the current education system. Together, we will train, raise, and grow a financially literate community and push for economic prosperity of local communities, the state of Colorado and the nation." – Cheryl Haggard, Director of Operations, ELC
OUR MISSION STATEMENT: "Empower Colorado's students to achieve a lifetime of economic understanding and financial security."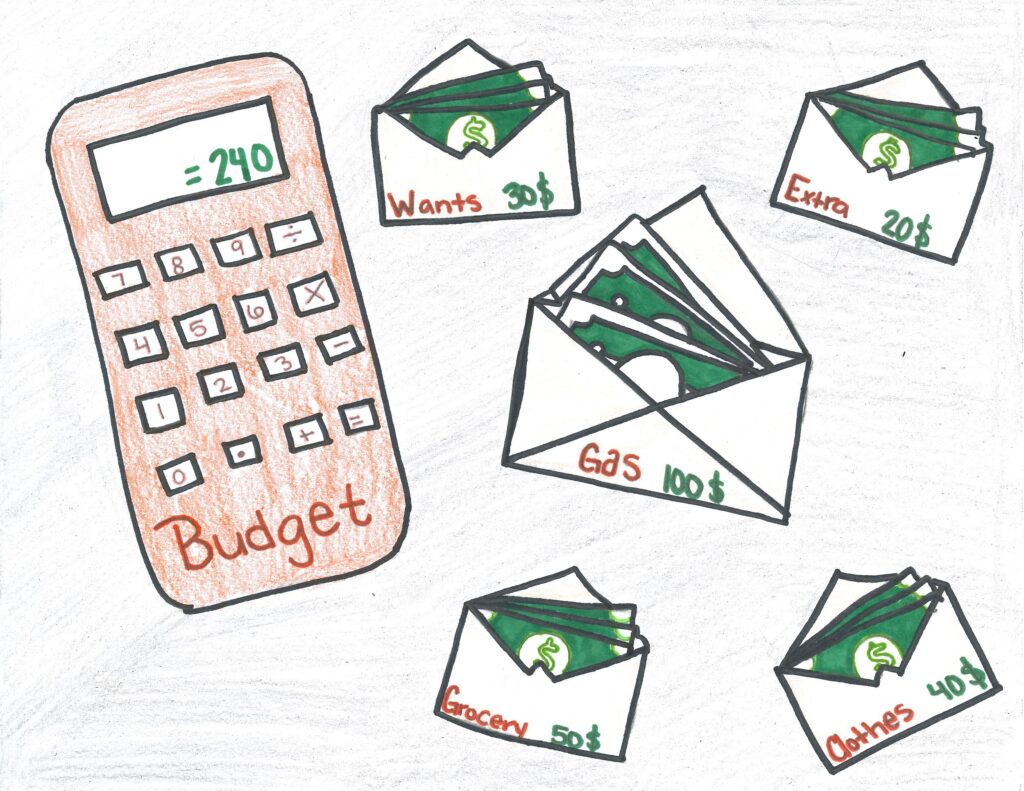 2024 Calendar Contest entries from K-8 students
Empowering Educators: ELC's Unique Approach
Setting themselves apart from other initiatives, Economic Literacy Colorado believes in the core idea that economics and personal finance transcend mere monetary matters. Recognizing that every student is an integral part of the economic fabric, ELC ensures that the youth are equipped to make informed financial decisions throughout their lives. By channeling their efforts towards empowering educators, ELC ensures a cascading effect of knowledge and skill, filling the current educational gap in economic literacy. Their vision is to collaboratively forge a financially literate community, fostering the economic prosperity of local communities, Colorado, and the nation at large.
The Role of Printing in Their Journey
In their mission-driven journey, Economic Literacy Colorado found a steadfast ally in PrintingCenterUSA (PCUSA). What drew ELC towards this partnership was not just the promise of high-quality printing but also the assurance that quality wouldn't come at an exorbitant price. ELC's periodic brochures, unique student-illustrated calendars, and financial literacy workbooks are tangible proof of PCUSA's commitment to delivering impeccable quality within a nonprofit-friendly budget.
"As a nonprofit, saving money is paramount. Without PrintingCenterUSA, we would have to cut back on the number of brochures and calendars we are able to print, thereby limiting the reach of our message." – Cheryl Haggard, Director of Operations, ELC
A. Products Printed:
B. Value Addition:
These printed materials are not just vessels of information; they serve as powerful marketing tools. While they ensure continuous engagement with existing stakeholders, they also play a pivotal role in spreading awareness about the organization's work during conferences and other events. The superior quality of the print products has often piqued the interest of many, leading them to inquire about the printer. Donors, in particular, cherish the calendars.
C. Lessons Learned:
As with every nonprofit organization on a growth path, ELC too had its share of learnings. ELC learned the benefits of initiating PCUSA's Free File Review process as early as possible, as it helps pinpoint any necessary image replacements. This powerful PDF analyzer tool proved to be an integral process in finishing their projects.
"With PrintingCenterUSA's new process of analyzing our PDF's right away, I learned that I should start that process sooner, so it can identify any images that may need to be replaced. This way I can make adjustments and still get my artwork uploaded on time." – Cheryl Haggard, Director of Operations, ELC
D. Creative Process:
At ELC, creativity is a collaborative effort to produce their printed materials. While one individual champions the creative front, the rest of the team pitches in with content development and proofreading.
A Glimpse of the Future for this Nonprofit
Economic Literacy Colorado has grand ambitions. They are not just looking to expand within Colorado but beyond its borders. Their goal is to revolutionize the teaching of financial literacy and economics, ensuring that all students, regardless of location, benefit. For ELC, every brochure, workbook, and calendar is a step toward that mission.
With aspirations to scale their impact, not just within the boundaries of Colorado but beyond, ELC knows that every brochure, every workbook, and every calendar counts.
Why Choose PrintingCenterUSA?
For organizations like ELC, budget considerations are paramount. With PCUSA, not only do they get value for money, but they also enjoy top-notch quality, swift delivery, and competitive prices. Their message to others? If you are seeking quality printing solutions, look no further.
"We use Printing Center due to their low (honestly untouchable) prices while still providing high quality printing." – Cheryl Haggard, Director of Operations, ELC
Ready to Make an Impact?
Your mission deserves to be seen and heard. Elevate your nonprofit's outreach with top-notch, affordable printing solutions from PrintingCenterUSA. Inquire today and let your story shine, one print at a time.
Conclusion
Economic Literacy Colorado is more than just an organization; it is a beacon of hope and knowledge for the future generation, illuminating the path to financial wisdom and economic prosperity. Their unwavering dedication and unique approach have not only impacted the lives of many students but have also set a standard for nonprofits everywhere.
Take Action
Inspired by ELC's mission and want to be part of this transformative journey? Reach out directly to the dedicated team at Economic Literacy Colorado to discover how you can collaborate or benefit from their services.