What is the Difference Between a Book and a Booklet?
Do you have an important project you need printed but aren't really sure what the difference is between book vs booklet? We've got you covered. There are varied views on what constitutes a book versus a booklet. Though the words are very similar, in the printing world, these items are very different. The difference between them boils down to number of page, binding, and function of the product.
We're going to break down what a booklet and a book actually are so that you can understand the differences between and get started on ordering the one that fits your needs and stays within your budget.
Get an Instant Book Printing Price: Learn More
Get an Instant Booklet Printing Price: Learn More
Book vs Booklet Overview
| | |
| --- | --- |
| BOOK | BOOKLET |
| According to Cambridge Dictionary, a book is "a set of pages that have been fastened together inside a cover to be read or written in." | According to Cambridge Dictionary, a booklet is "a very thin book with a small number of pages and a paper cover, giving information about something." |
| | |
| --- | --- |
| Book covers can be either a hard cover (like an encyclopedia) or a thick cardstock paper cover. | Booklets are always made with a paper cover. This paper cover can be a thinner text weight (self cover) or a thicker cover weight (soft cover). |
| | |
| --- | --- |
| Books have a substantial number of pages (usually 36 or more). | Booklets have a small page count (usually 8-36) |
| | |
| --- | --- |
| The standard book size is 8.5 in x 11 in. | The standard Booklet size is 5.5 in x 8.5 in or 6 in x 9 in. |
| | |
| --- | --- |
| Photo Books, Cookbooks, Memoirs, Yearbooks, etc. | Programs, marketing/promotional booklet, brochure, etc. |
Order a Free Sample Packet: Learn More
What Is A Booklet?
We understand that a booklet can be quite ambiguous, and sometimes people use the term in different ways. Generally, though, a booklet is accepted to be a "little book" (usually 5.5 in x 8.5 in) with a lower page count (usually up to 36 pages) and is most commonly saddle stitched. So you can define a booklet primarily by its physical attributes. Since booklets are smaller, they tend to make excellent candidates for mailing.
Saddle stitching is the most popular binding method for booklets, but perfect bound, spiral bound, and wire-o bound multi-page projects can also be considered a booklet. They can be either self-cover, where the inside paper and the cover paper are the same weight, or soft-cover, where the cover is printed on a thicker cover cardstock than the inside text-weight pages. So, really, booklets are open for interpretation! Having both self-cover and softcover options is what makes saddle stitch able to become less expensive.
Brochure Printing vs Booklet Printing: Learn More
Booklet Printing Basics: Learn More
Types of Booklets
A booklet usually contains promotional material like a brochure does, just more of it! Booklets are a resource for your potential or existing customers. Booklets are popular booklet option because they are the least expensive to print and have a the versatility to be used for a variety of products. Booklets can be magazines, catalogs, multi-page brochure booklets, and more. If you want an economical option to print your information that also looks great, then our saddle stitched booklets are the way to go.
While booklets come in all shapes, sizes, and binding types, the following are examples of common types of booklets that we print.
Marketing / Promotional Booklet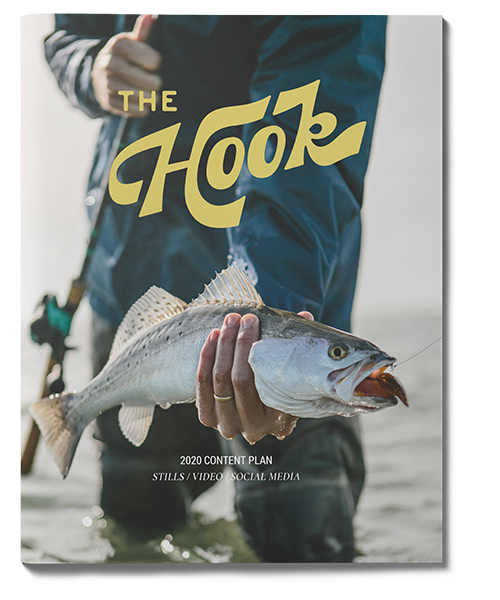 Marketing and promotional booklets are commonly used by businesses to announce a new product line, new service, or promote sale items. You can mail these booklets out directly to your clients if you can provide a mailing list and you design your booklet with mailing guidelines. Click here for mailing booklet templates. Another popular purpose for marketing / promotional booklets is to insert a booklet with more available products or service into a package when someone orders from you. This helps keep your products in front of the customer and keeps them interested in coming back as a repeat buyer. There are tons of creative options that businesses use with their marketing booklets.
Event Booklet
Event booklets are an effective way of spreading the word about an event such as a kids summer camp, workshop, festival, or fundraiser.  The most common event booklet size is a portrait 5.5 in x 8.5 in. You can use these to recruit event attendees, or you can use them as a hand-out at the event with more helpful information. Think about how many times you've gone to an event and come home with a bunch of booklets! It's used so frequently as a tool because it works.
Popular Booklet Sizes
The most common booklet sizes are portrait 5.5 in x 8.5 in., landscape 8.5 in x 5.5 in, and portrait 6 in x 9 in. We do see a lot of customers ordering 8.5 in x 11 in booklets, but those are more commonly book sizes.
What Is A Book?
A book, on the other hand, is usually a full-sized 8.5 in x 11 in perfect bound book, spiral bound book, or wire-o bound book with a considerable number of pages. Saddle stitching is still available, though and works extremely well for projects such as coloring books. Books are usually a bigger project than a booklet so the product specification decisions are made to increase the level of professionalism as much as possible.
The page counts of a book are usually higher than a booklet, ranging from 28 pages up to 2" thick. PrintingCenterUSA's most common book binding type is a soft-cover perfect bound book, which is like a paper back novel. The cover is made with a cover cardstock, usually 100# cover, that is thicker than the inside pages.
Books can take digital form as an e-book and they can also be printed and bound with a hard cover. Hard Cover books and e-books are never referred to as booklets. PrintingCenterUSA cannot print hard cover books.
Types of Books
Art Book Printing
Create gallery-quality art books with quality reproduction for artists, photographers, illustrators, and more. Art books are a great way to showcase your portfolio in an impressive way! You will likely steal the show and make a big impression with gallery owners and potential buyers, especially since most people solely displaying their art on the internet or social media these days. You just can't beat the impact of a well-designed art book!
How to Self-Publish a Gallery-Quality Art Book: Learn More
Cookbook Printing
Cookbook Printing not only allows you to preserve your recipes, but you can also sell them! Spiral Binding is the most common binding type for cookbook projects, because it allows you to flip the pages around and the pages can lay flat
Popular Book Sizes
Books are usually a much higher page count than booklets. Perfect binding requires a 28 page minimum. The most common book size is portrait 8.5 in x 11 in. Square books are also becoming more popular, and we offer standard square sizes of 6 in x 6 in and 8 in x 8 in.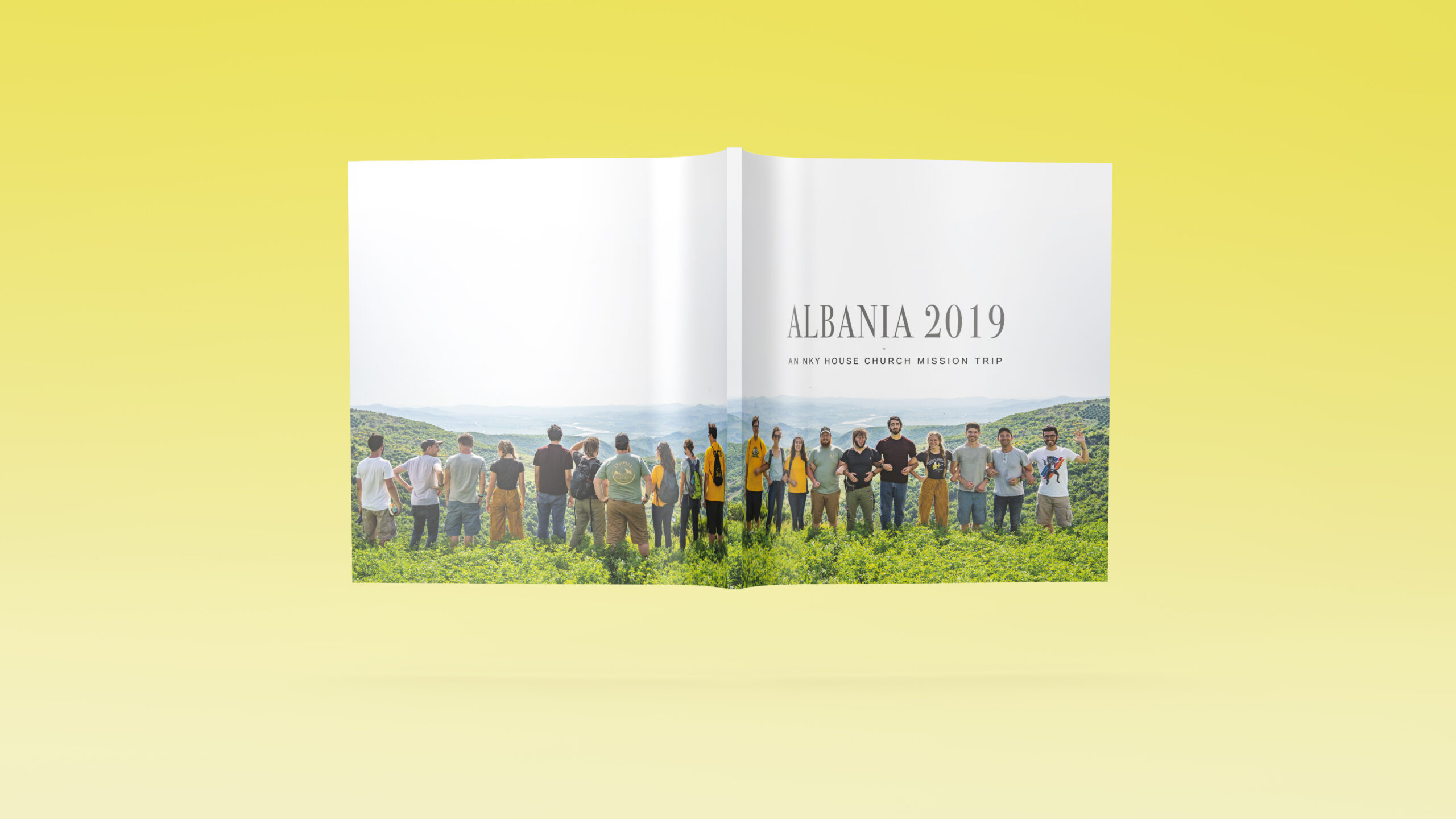 Similarities
Size: We offer the same sizes for booklet and book printing as well as custom sizes. See image below for all available sizes.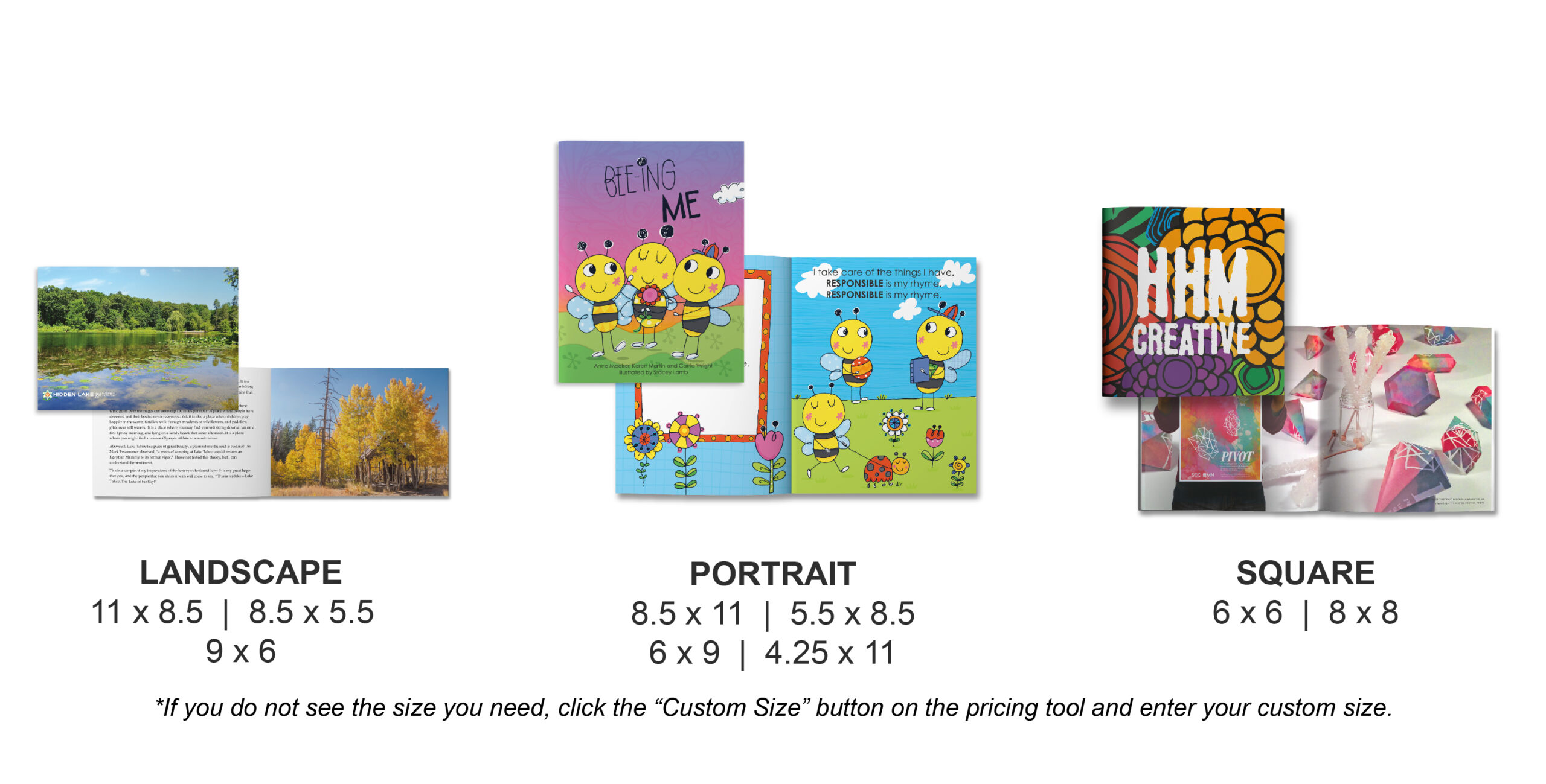 Binding: We offer all four binding types for both books and booklets. Perfect Binding, Saddle Stitch Binding, Spiral Binding, and Wire-O Binding.
Ink: Both books and booklets can be printed in full vibrant color or solid black ink.
Turn To Printing Center USA, Your Go-To Booklet and Book Printer
Though the differences are subtle between book vs booklet, each one serves a different and unique purpose. Typically, a book is more formal and professional, while businesses use booklets as vital marketing materials to help boost their business and increase sales.
Hopefully you have a better understanding about the differences between the two and have a better idea for your next printing project. We hope we've been able to define the benefits of each so that you can choose your product wisely. Let us know if you have any questions about ordering either your book or your booklet, we'd love to help you get your project up and running and stay within your budget.