How to Design an Effective Industrial / Manufacturing Catalog

Industrial or manufacturing businesses use both digital "flipbooks" and paper catalogs to advertise their products. Many companies prefer the digital method, but there is still a lot of value in printing physical catalogs. Many customers and store owners prefer physical catalogs for an easy reference in the merchandise-planning phase. Physical catalogs allow for customers to keep a record of your products in their homes, offices, or otherwise. They can circle images, dog-ear pages, and easily see pricing. Not only that, but consumers have been proven to trust print advertising more than digital advertising. For more information on the phycological and financial benefits of catalogs, see our Catalogs are a Marketing Gold Mine blog post.
In this blog, you will see the 5 considerations the you have to take into account to design an effective Industrial / Manufacturing catalog. Many of these tips can also be used for other marketing materials like brochures.
Layout
Consumers should be able to easily navigate your catalog, even if they are newly exposed to your brand. Similar products or products that relate to each other should be grouped together. In the example below, they have a page for Sand Blasting Machines. To the right of the main section, they have a smaller area called Accessories where they advertise that, not only do they have the large Sand Blasting Machines, but they also have the tools that you will need to use it effectively. Come up with a plan on how all of your products are going to fit together into a catalog, then break that into sections. Again, looking at the example below, this segment or chapter is called Surface Prep. Having chapters will also make it easier for you to create a table of contents for your customers or clients to easily reference.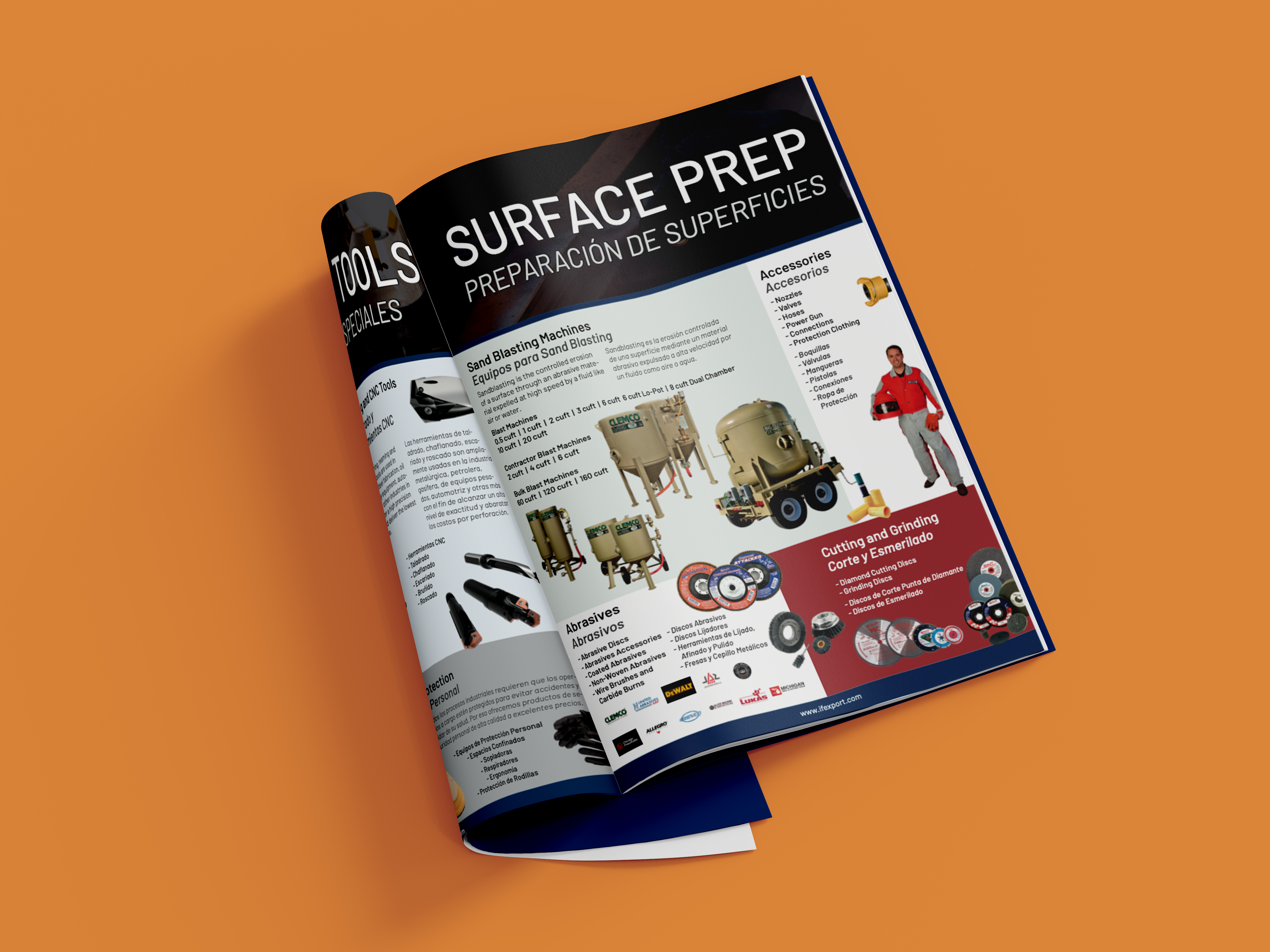 Introduce Yourself
Although you are probably going to be giving catalogs to established customers, you may be wanting to give catalogs to interested clients or people who are interested in your business. This is why it's important to include an About Us section at the beginning of the catalog. This can include a small blurb about your business, if you have any other locations and where they are, and what brands trust you. In the catalog below, you can see that they have locations in Miami, Columbia, Brazil, and Venezuela and that they are trusted by many notable brands for industrial products. This can add legitimacy to your business as well!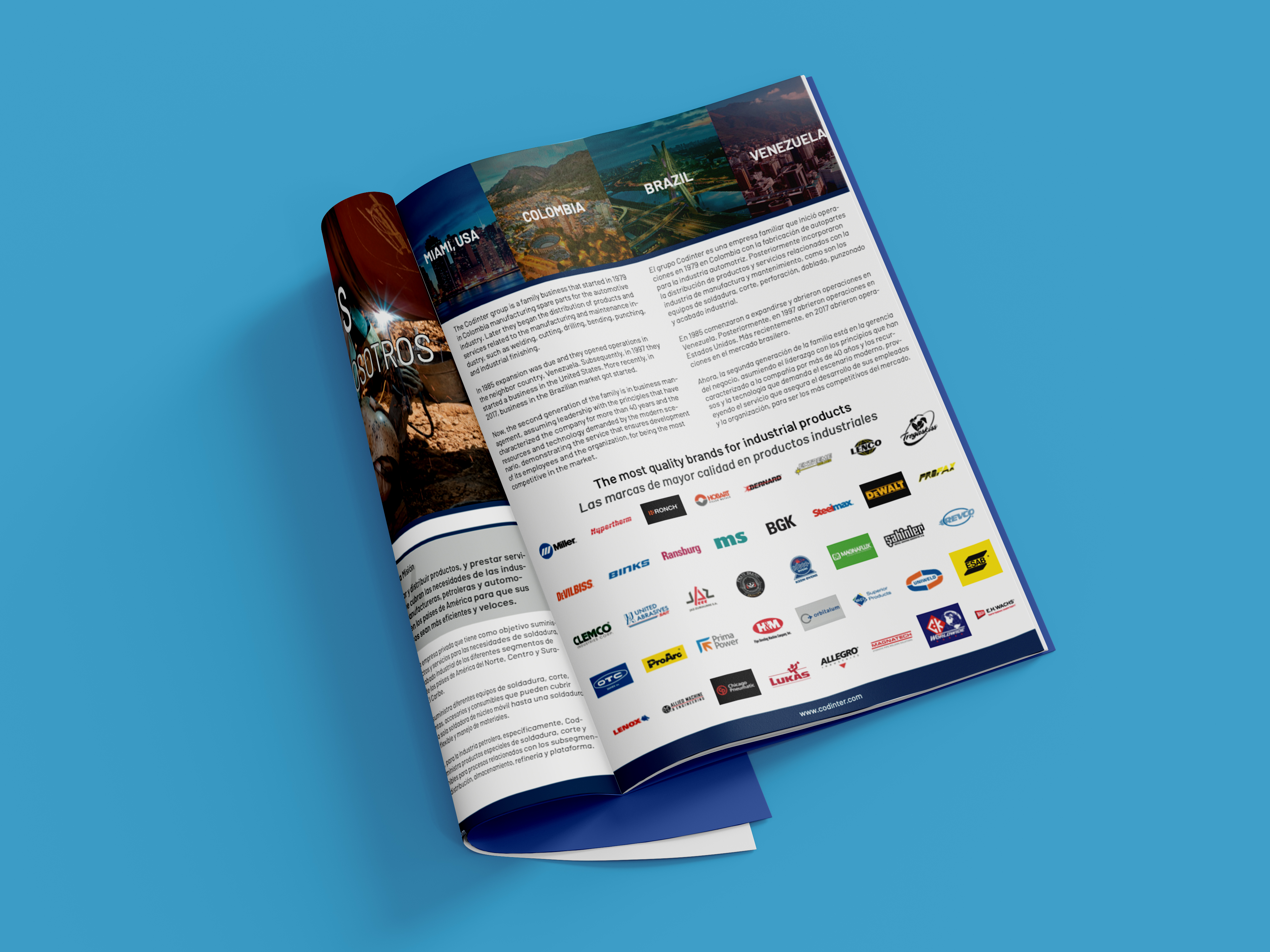 Include Basic Information for your Products
If you have a lot of products, like many industrial or manufacturing brands, you may be wondering how to include all of them into a clean, concise catalog. What information will your customers want? Don't worry, stick to the basics. For example, the catalog in the image below has a bulleted list for their products descriptions instead of a paragraph. This gives customers the ability to quickly see what the most important information is. They also grouped their products together so that they were able to create a chart for the size of the products and list their model numbers. This is a great idea! It's clean and easy for customers to know what model they are going to reference when they order.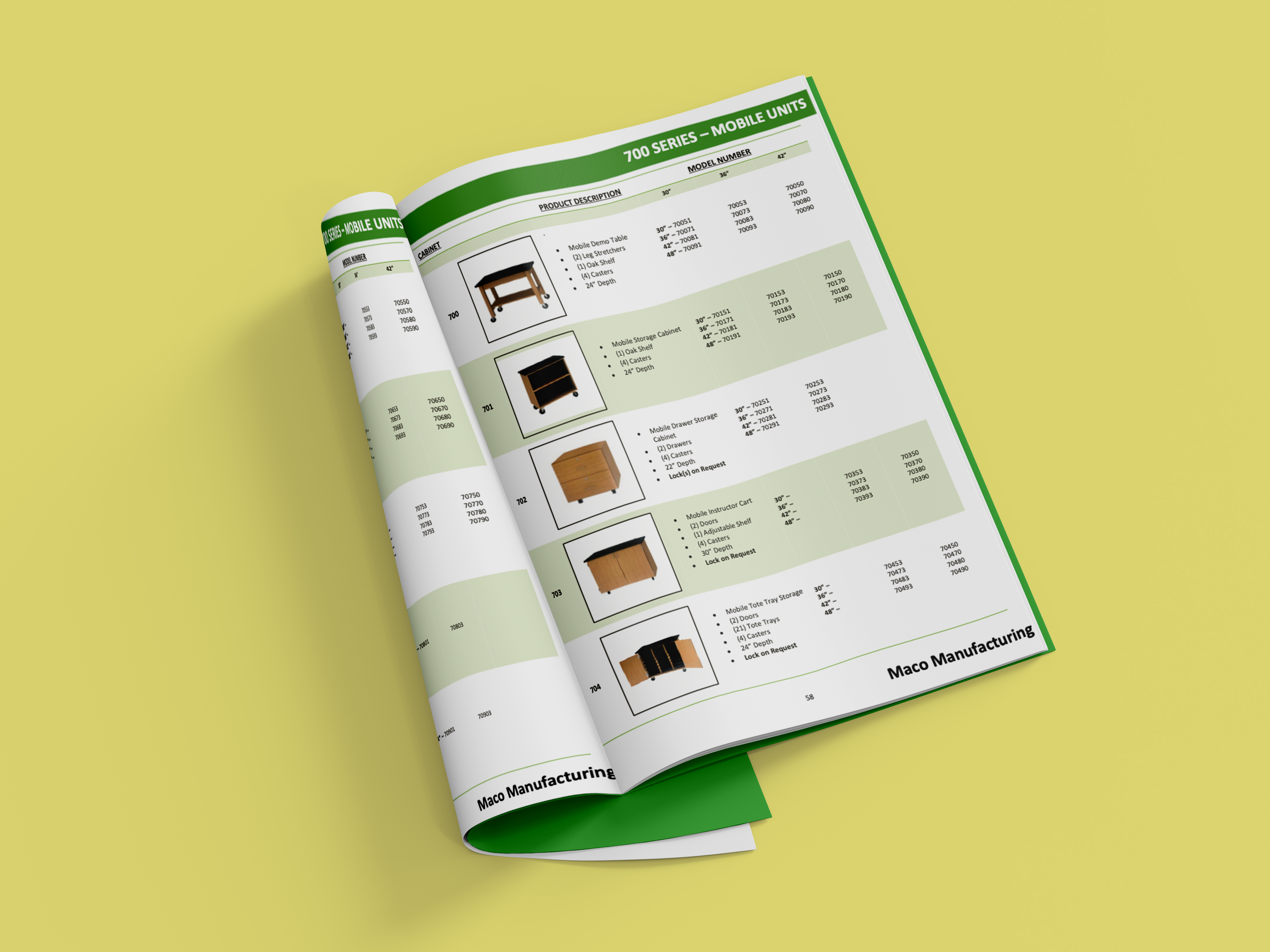 Have Fun with Your Visuals
Don't get trapped into thinking that industrial catalogs are boring looking. That is simply not true. Have fun and highlight important features of your products with graphics. Create an image that illustrates different ways to use your products. Take the example catalog below. They highlighted the gripper and magnet in their products with an eye-catching graphic. Additionally, they showed the different ways the Tooling can be used at the bottom of the page with the robot man. The page is clean, effective, and interesting. All this will cause your customers to reflect on it more!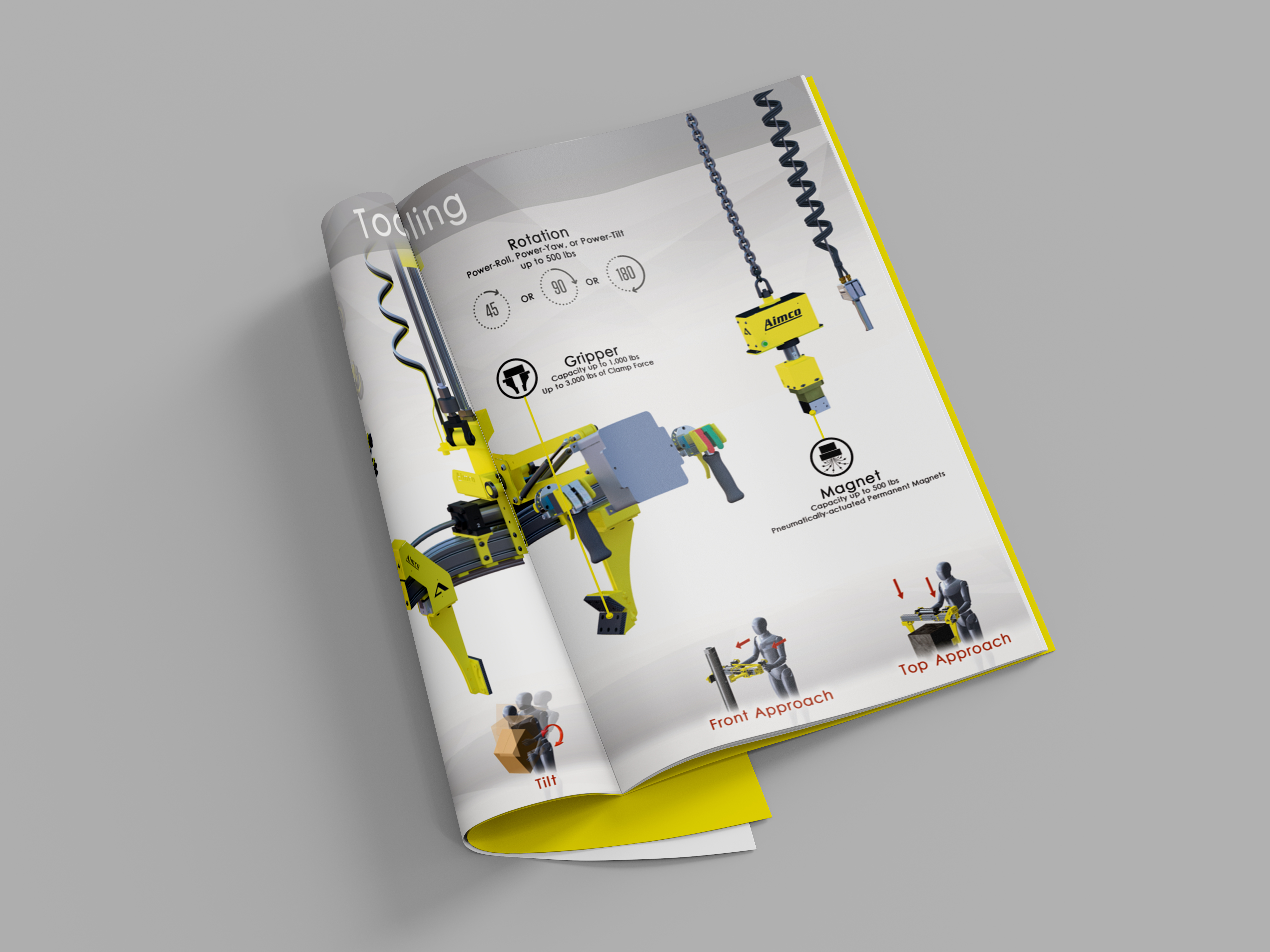 Remember Basic Design Principles
This can really be applied to any industry, not just industrial, but it is worth repeating. To create a high-quality catalog, you need to have a good designer. This catalog is going to be a reflection of your brand, so you want to make sure that it looks great.
Use engaging colors, images, and graphics that represent your business
Make sure all of your images are 300 dpi or more
Choose a legible font for the bulk of your text
Use white space to keep a good balance between text and images
Keep a consistent style throughout your catalog
For more information on Catalog Design, see our blog post: Learn More!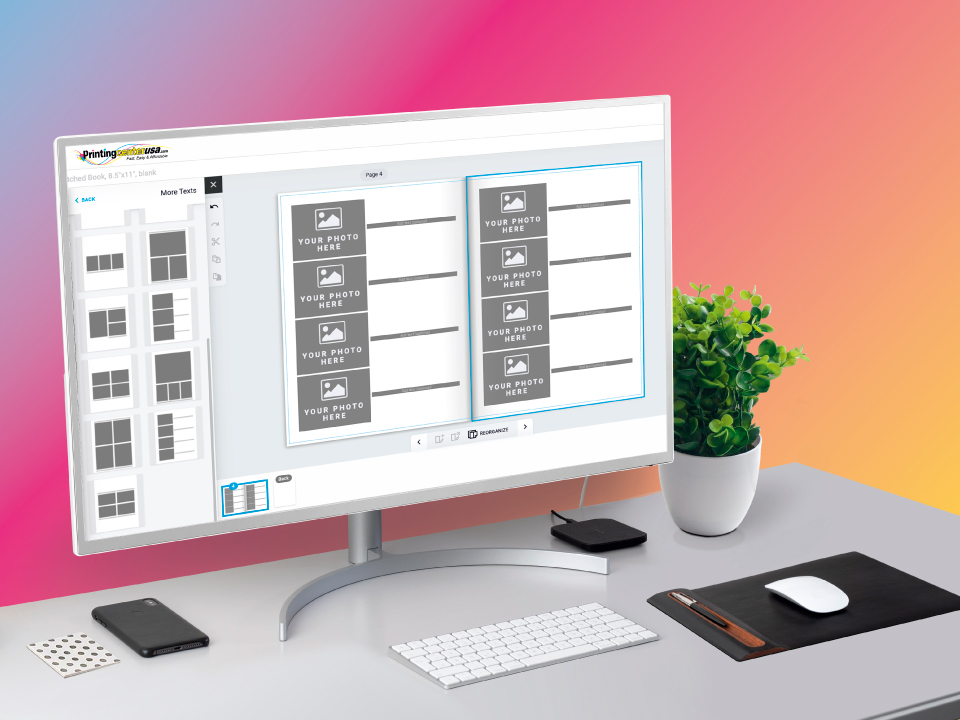 Thankfully, when printing with PrintingCenterUSA, creating a manufacturing catalog is easy. We offer free downloadable templates so that you don't have to worry about your file specifications; they are already built into the template. These are good for Adobe creative products like Illustrator, Photoshop, InDesign, and Acrobat.
If you don't have a design program, you can use our free online design tool! The easy-to-use drag and drop technology means that all you have to worry about it uploading your images and dragging them where you want them to go. We have many designs that you can fill in, or you can start with a blank page. Once you're done with your design, you can add your design to your cart and check out.
Recommended Industrial Catalog Specifications
Binding: The most popular binding types for catalogs are saddle stitch and perfect bound. Saddle stitch binding is great for catalogs that are between 8 and 92 pages. Perfect binging is great for catalogs that are between 28 pages and 2 inches thick. Perfect binding also gives you that professional looking square spine.
Ink: Full color for both your cover and inside pages is highly recommended. Show off your products in all of their glory.
Paper: 80# gloss text and 80# gloss cover are recommended for a high-quality and durable paper at a more affordable price.
UV Coating and Soft Touch Lamination: To add extra protection against scuffs and scratches, add UV Coating or Soft Touch Lamination to your cover. An added bonus of UV Coating is that this coating is going to make your cover pop! Soft Touch Lamination is going to make your cover velvety-smooth.
Mailing: PrintingCenterUSA does offer mailing services. If you want to send your catalogs directly to your customers, all you have to do is upload a mailing list and select Address and Mail on the pricing tool. You can mail any extras to your business so that you can have some for in-house as well.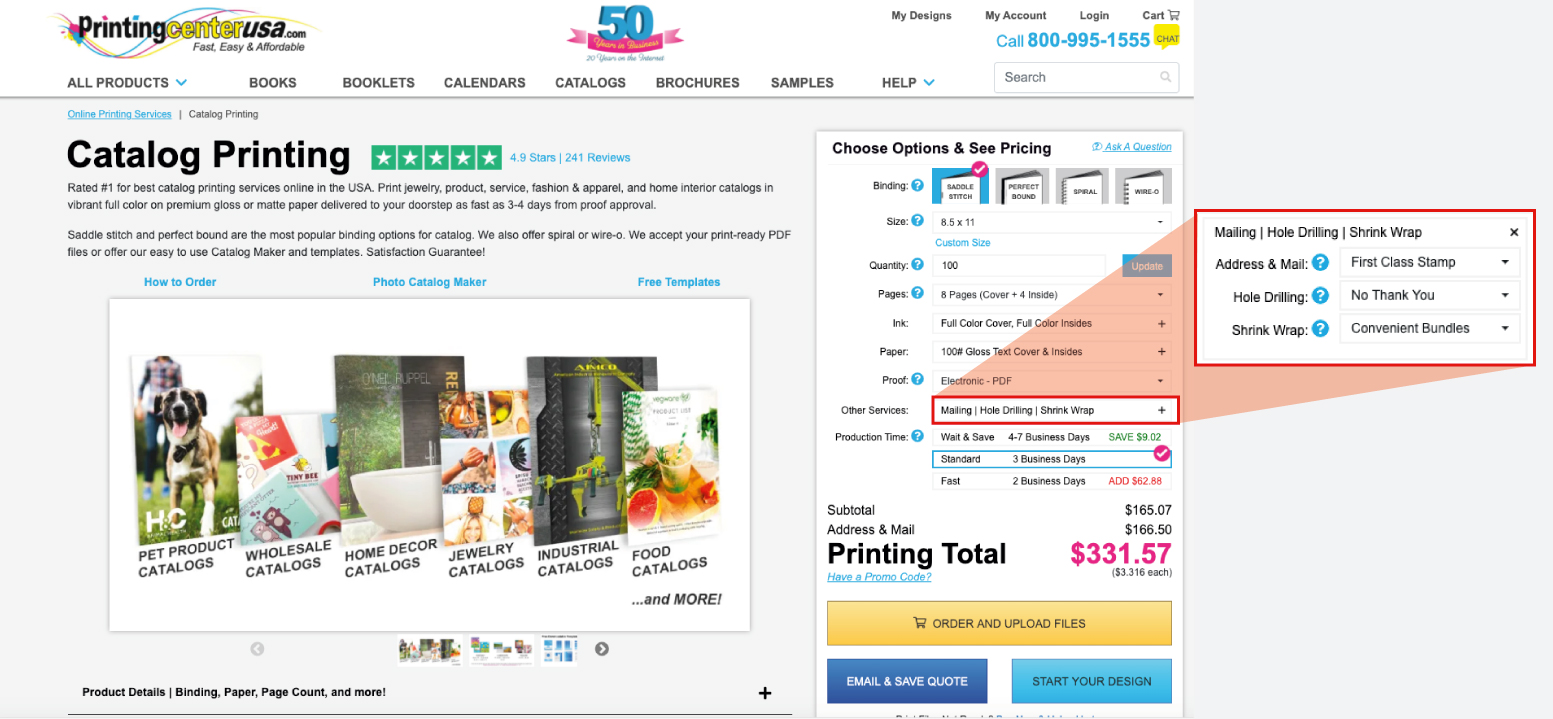 When ordering with PrintingCenterUSA, you can easily get your catalog from your desktop to your doorstep fast. We give you fast and free quotes and excellent customer service representatives that can help you with any questions you have!
---