Page Count: Spiral
Spiral Bound Printing
Spiral bound printing is a coil of a plastic continuous loop passing through a row of punched holes at the edge of the printed piece in a spiral. The binding can be on the left or top of the project depending on how the project is designed. Spiral bound coils are available in different colors and sizes. You cannot print on the spine or add or remove pages. Spiral bound book printing is great for manuals, directories, annual reports, calendars and many other types of products. Spiral binding can be up to 2 3⁄4" thick.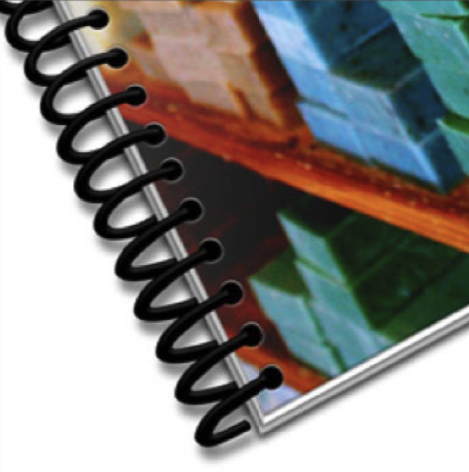 Number of Pages Accepted
We can print spiral orders that have 8 pages - 800 pages (or up to 2 3/4" inches thick) and we require them be in 2 page increments.
Design Tips
You must leave extra space for the hole driling on the binding-side of your Spiral booklet. Set your binding-side margins to be 7/8". Refer to our free downloadable templates for a design guide.
While bleeding images are fully acceptable, PrintingCenterUSA does not recommend crossover images due to the substantial gap between pages.