Answers to Frequently Asked Questions
PrintingCenterUSA is an online commercial color printing company, located in Great Falls, Montana, offering full color offset and digital printing services nationwide with cheap printing prices.
www.printingcenterusa.com
support@printingcenterusa.com
117 9th Street North,
Great Falls, MT 59401
CUSTOM QUOTING
If you do not see the options that you want on the website you can still submit a custom quote request. A representative will contact you in regards to your request and help you get started. You will receive contact from the customer service group as quickly as possible.  In some cases certain options aren't available. We will make sure that you are notified when certain products do fit our capability. The order, when placed, will be processed manually and you will not have access to it through our website.
PrintingCenterUSA's sample packets are great for new customers!  We offer customized sample packets assembled with products and idea-generating examples for you to see and feel. Simply click on the "Samples" button on the menu bar at the top of the website's home page and enter your information or Click Here to get your sample pack.
PrintingCenterUSA offers a wide variety of products that you can design and edit. You can use our online design tools to create your project, or you can submit your custom files. In addition, we have resources to help you find a graphic designer if you need professional design help. Get all of your printing needs from your desktop to your doorstep in 4 to 7 days with a 100% guarantee.
BOOKMARKS, BROCHURES, BOOKLETS, BUSINESS CARDS, CALENDARS, CATALOGS, COLORING BOOKS, DOOR HANGERS, DVD COVERS, ENVELOPES, FLYERS, GREETING CARDS, LETTERHEAD, LOOKBOOKS, MAGAZINES, MANUALS, NEWSLETTERS, NOTE CARDS, NOTEPADS, PHOTO BOOKS, POST CARDS, POSTERS, PRESENTATION FOLDERS, PROGRAMS, RACK BROCHURES, RACK CARDS, RIP CARDS, SELL SHEETS, YEARBOOKS & MORE!
The first thing we recommend if you are unsure about your paper options is to request a sample packet. Included in the sample packet is our Paper Sample Guide. It has each of our different papers and finishes so you can see and feel exactly what you are getting. To request a sample, !

1. 80# TEXT
A lighter weight material, similar to the weight of a standard tri-fold brochure, or an internal catalog page.
2. 100# TEXT
A slightly heavier stock than 80# Text, it is a higher grade sheet, and is recommended for brochures, or internal pages for a catalog.
3. 80# COVER
The lighter weight cover paper. Not usually used for postcards, this cardstock is used for nicer Catalog Covers, or for folding Rack Brochures.
4. 100# COVER
A very common weight of paper for EDDM Postcards, or more affordable Postcard mailers.  Also used for Calendar Covers, and Catalog Covers.
5. 12PT. C1S COVER
Coated on one side used primarily for Greeting Cards or anything where you need to easily write on one side.
6. 14PT. COVER
Great Cover weight material used for Postcards, Business Cards, Rack Cards, Rip Cards or any product that needs a thicker paper option.
1. GLOSS UV
The most common type of coating, Gloss UV creates the highest printable overall gloss coating.  This type of coating does not diminish image and graphics, but rather makes them stand out. This makes Gloss UV coating perfect for photographs and company logos.   
2. MATTE AQUEOUS
A scuff resistant matte coating that is generally applied overall. This coating is applied in-line on the press and dries quickly. Aqueous coatings are less likely to yellow, which makes them a good option for your printing needs. However, like a matte varnish, it will soften and flatten images slightly. Matte AQ coating is available only for larger projects that are run on our offset equipment. 
3. GLOSS AQUEOUS
If you are thinking about offset printing, gloss aqueous is a good coating for you. Usually applied as an overall coating, gloss aqueous offers better protection than gloss varnish.  It is sometimes applied to a spot area however, this requires cutting an expensive press blanket. Aqueous coatings help disguise surface flaws and roughness in the non-print areas of inexpensive papers.  The gloss finish improves the apparent saturation of ink but somewhat reduces the readability of text.  
Files off the Internet usually don't provide a good quality image for printing. Images from the Internet or web sites are generally 72 dpi and are in a GIF or JPEG format. Color and resolution are removed from these images to allow for rapid transfer on the Internet. These images will appear fuzzy and dull when printed commercially. Image resolution should be set at 300 dpi.  Enlarging an image will lower the resolution while reducing an image will increase the resolution.  Enlarging an image in a layout program is not recommended. Images less than 300 dpi can reproduce poorly and look fuzzy or pixilated.   Saving a low resolution file at 300 dpi will not correct the file image problem.  It will also prevent PrintingCenterUSA from detecting the low resolution image.  We will do everything we can to notify you of any problems we notice during the proofing process but PrintingCenterUSA is not responsible for any poor quality images, misspelled words, or any other problems that are part of the original file. Please be sure to check your proofs carefully.
PrintingCenterUSA prefers PDF files. We can also accept TIFF, JPEG, PSD and EPS files.   
We can accept native files from Photoshop, Indesign and Illustrator. If you design in a differnt program such as Microsoft Word, please send PDF files.
BLEED LINE
Bleed is an extension of an image or ink outside the final trim area that will prevent any white edge showing in your final product. You will need to include 1/8th inch of extra image or ink outside the trim area. This will be trimmed off in final production.
TRIM LINE
Trim marks and trim lines on the templates indicate where the product will be trimmed in final production.  Some processes have slight movements in the final trim area, which is why bleeds are needed.
FOLD LINE
Templates also include fold marks that indicate where the fold will be.  It is best to line up your panels with the folding marks to ensure the fold being in the correct spot on the panel in final production.
SAFETY LINE
Because there is slight movement in the final production functions of any product, we recommend that you keep any type or image that you do not want to be trimmed off 1/8th of an inch away from the trim line.  This is referred to as the safe area.

BORDERS
When using a border on your artwork we recommend that you make the border at least ¼" thick inside the trim line. An 1/8th inch of bleed will be trimmed off in final production. Any borders less than this can look uneven due to movement in final production. Thin borders can look distorted or uneven during final production due to movements in the final production steps. You can use any of our free downloadable templates to check for proper bleed, trim, fold and the safety area. Using our tools will help you get the best product and avoid delays and extra fees during file preparation.
We accept American Express, Discover, MasterCard, Visa and PayPal for online ordering. Payment is made online during the order process.  Your credit card will be charged or funds held at the time the order is placed. Credit terms are available only after a history of work has been established (3-6 months). Government organizations or schools can order with a verified purchase order. Please call (800) 995 – 1555 for help in setting this up. For special circumstances you can always email support@printingcenterusa.com to request more information. 
We will send you whichever type of proof you requested when you placed your order, either an electronic pdf proof or a hardcopy proof. Business card proofs are only sent if requested. Online Design orders are approved at the time of order. During pricing and checkout you can add an option for additional proofs for a small fee. Be sure to double check your proof for any errors. Are the pages, including blanks in the right order? Do all bleeds extend to the edge? Are borders correct? Are there any typos? Are your photographs the correct resolution?
PROOF APPROVAL OR REJECTIONS
When approving your project, the production will start on the following business day (excluding holidays).  Any rejected files or corrections will be charged at a minimum of $15.00 and $75.00 per billable hour worked pro-rated to the minute.
An electronic proof is a PDF that shows your document with the bleed, trim, and safety zones.  Proofs for multiple page documents will be proofed in single page spreads with page 1 being the front cover and the last page being the back cover. Carefully check over your proof before rejecting or approving.
Uploading your files is the LAST step of the ordering process. When you place an order and upload files our Prepress department reviews them for accurate size, proper bleed, embedded fonts and art to ensure the proof we send back to you is printable on our equipment. If there are any printing problems with your files your CSR will contact you to let you know what needs attention.  Uploading files prior to placing an order will not save any time because without the order details we cannot assess the files thoroughly.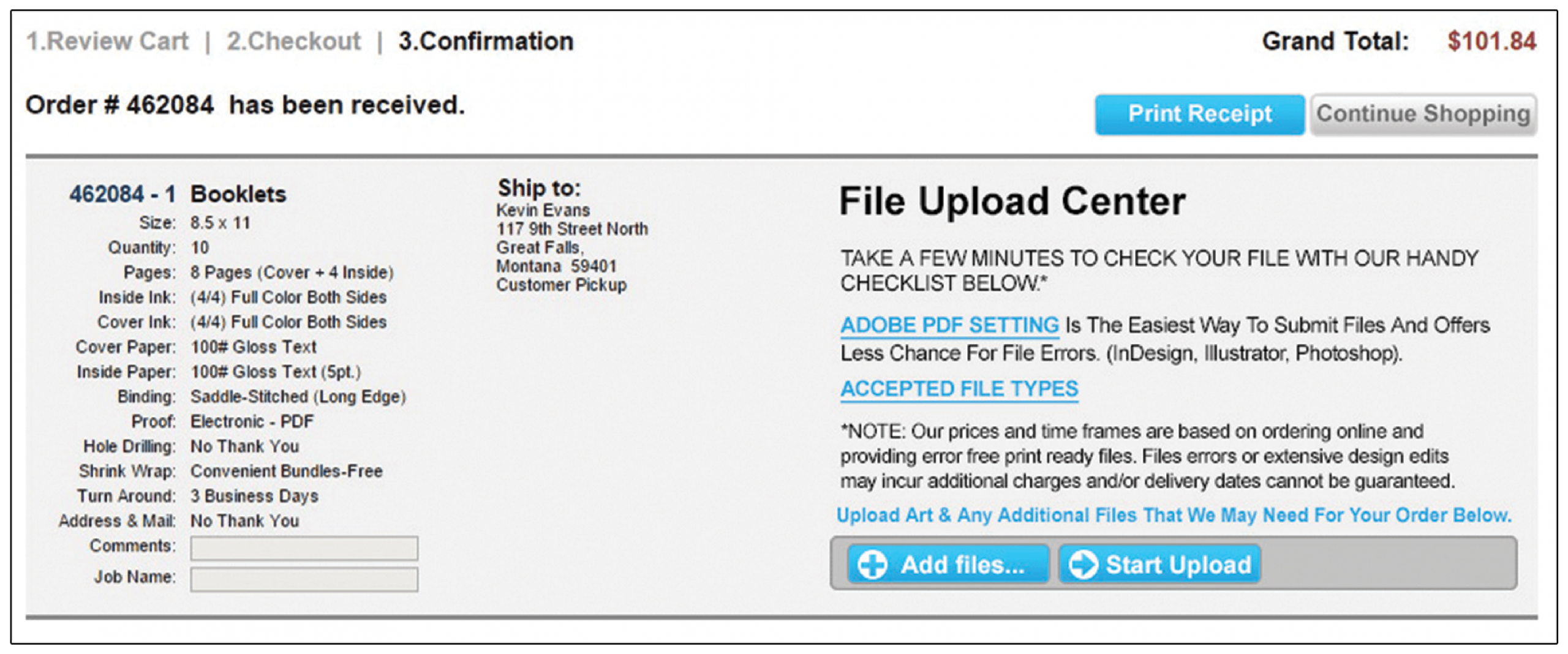 NEED HELP ORDERING OR UPLOADING?
Call our Customer Service Representatives for help uploading and ordering at (800) 995 – 1555. We will walk you through the process!

The instant pricing tool has a radio button selection so you can select your production turn around time. When you input your shipping zip code and click Get Rates, shipping options (with transit times) are shown.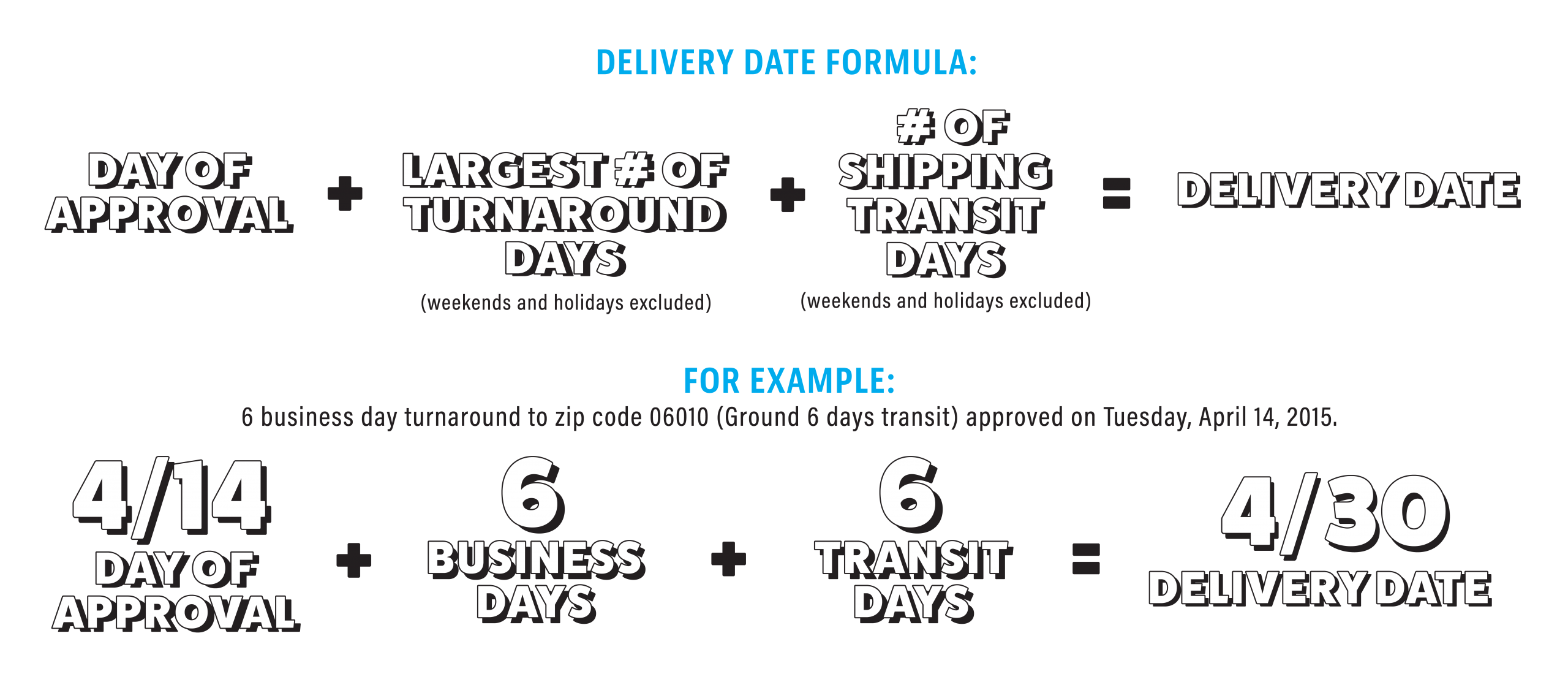 Turnaround time refers to the time it takes to produce an order after approval is received. Prepress has reviewed and assessed your file to be print-ready. With your approval Prepress imposes your file for the press, the job is printed and goes to bindery where any number of additional processes take place (UV Coating, Binding, Folding, Trimming, Diecutting, Hand Assembly, Inserting, Drilling, etc.) Once your job is complete it moves to the Shipping (or Mailing) department where it is prepped to ship (or mail). Turnaround time begins the following day from the day you approve your project and will be determined from what you selected when you place your order. 
There are three important stages to keep in mind when determining your time frame – Proofing, Production Time and Shipping. Remember, if you need something in a rush, call us and we can help you calculate when you need to have your order placed by.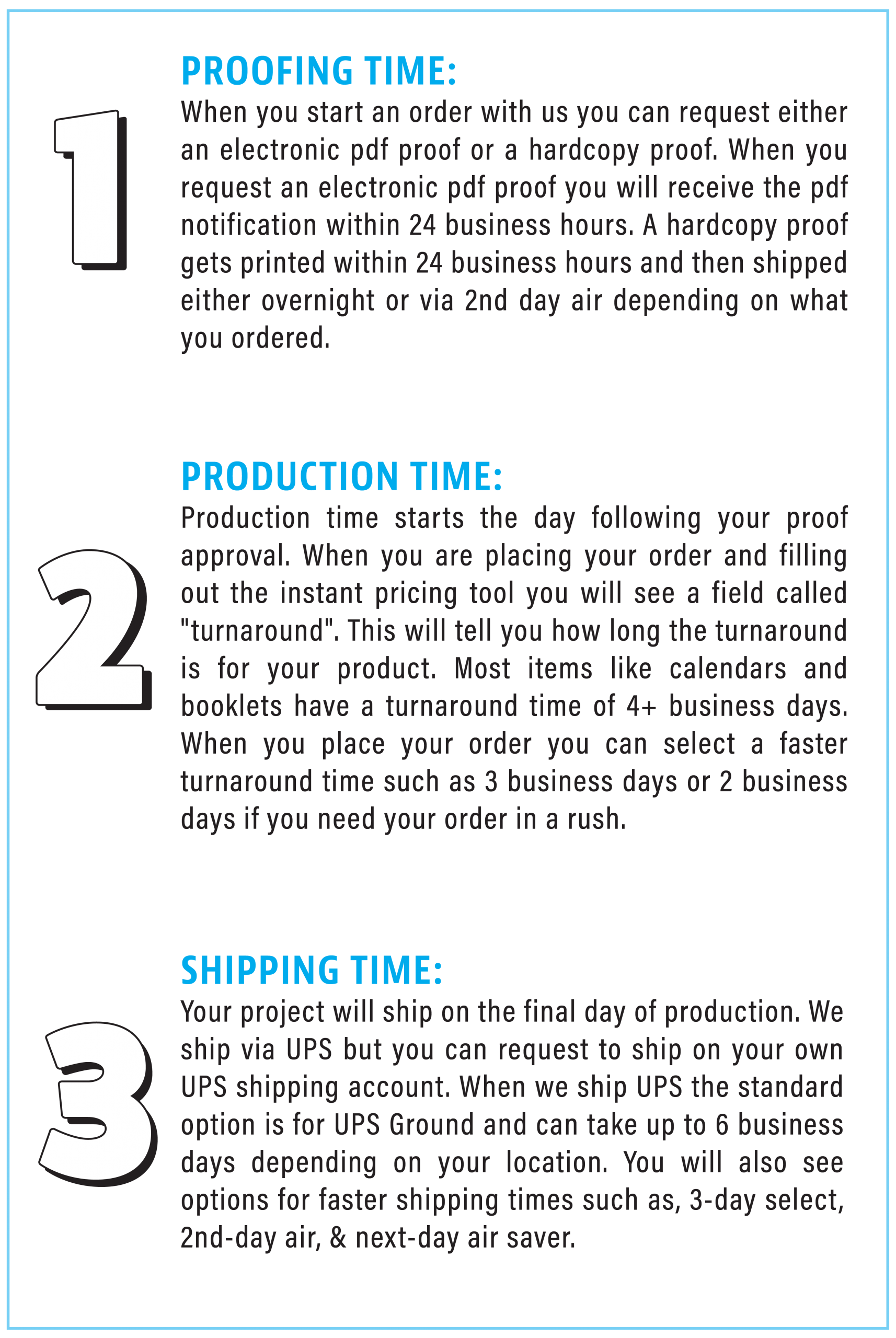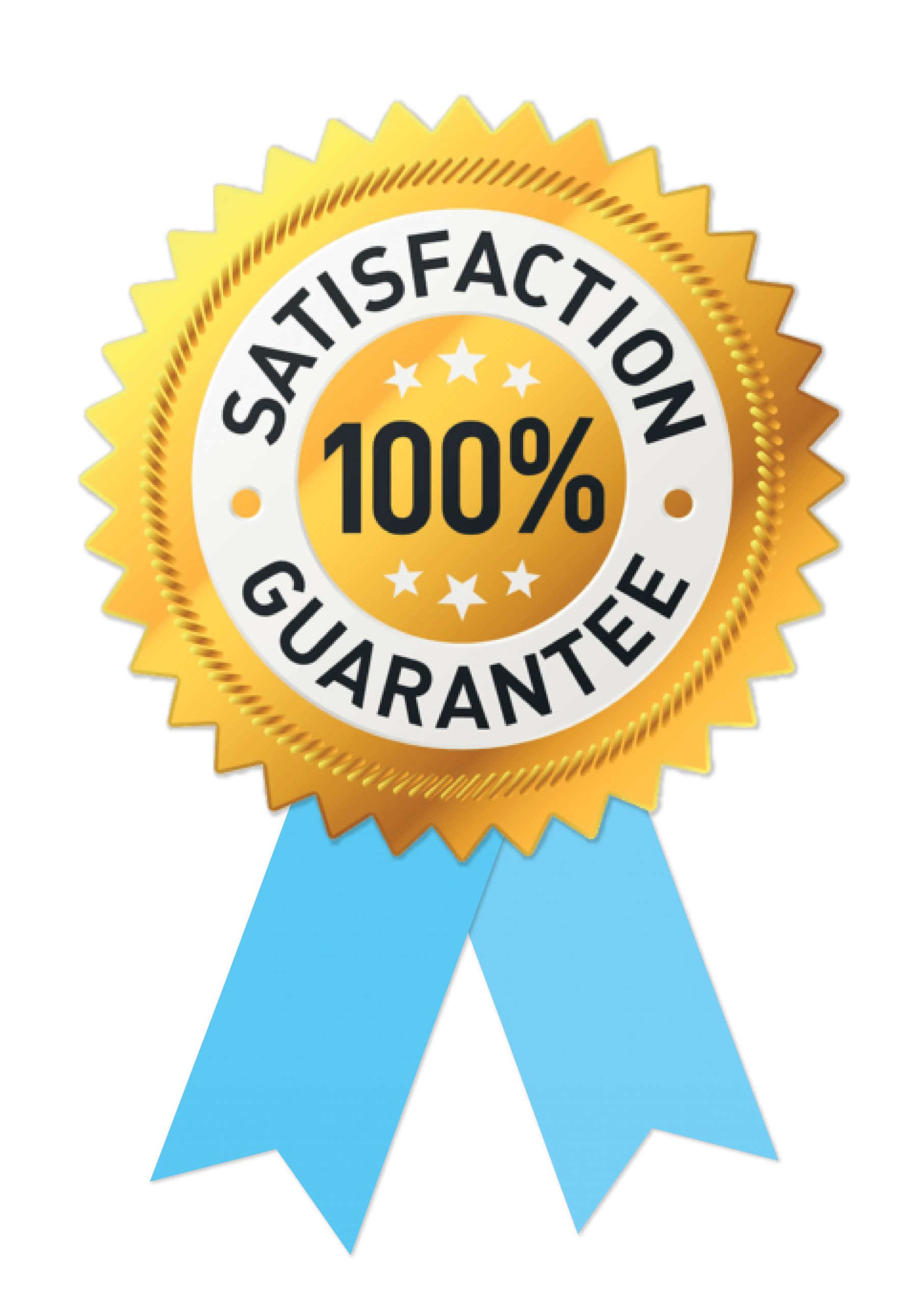 PrintingCenterUSA wants you to be completely satisfied with your custom printing order! Our printing company guarantees a top quality product offered at a fair price, with the highest level of customer service. See here for full terms and conditions.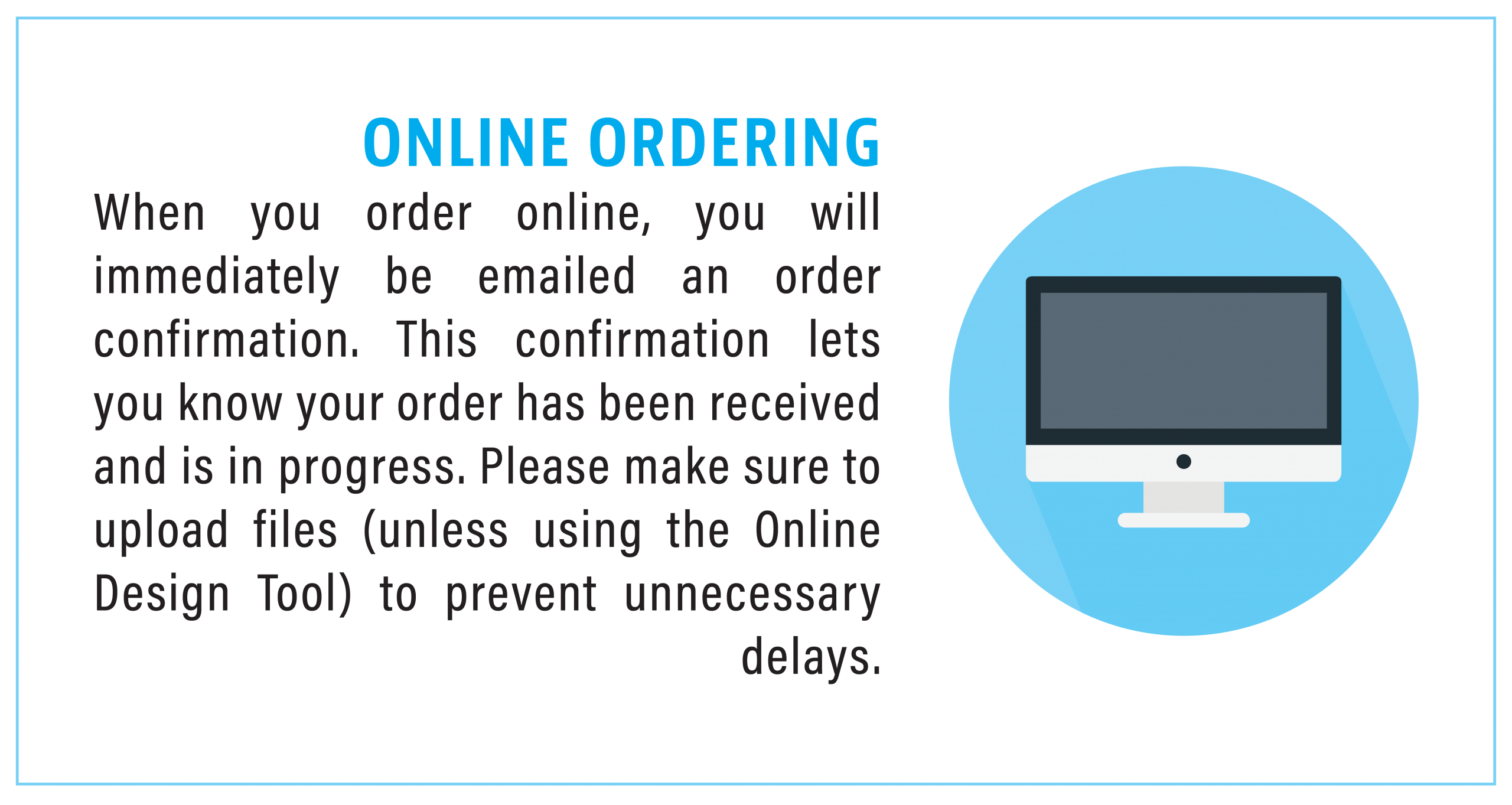 STAY UPDATED
During your products initial stages through shipping you will be notified with up to date information via email.  For all online orders you can always go to the site and your orders to see an update to your projects current status.  Once your product is shipped you will receive the tracking information along with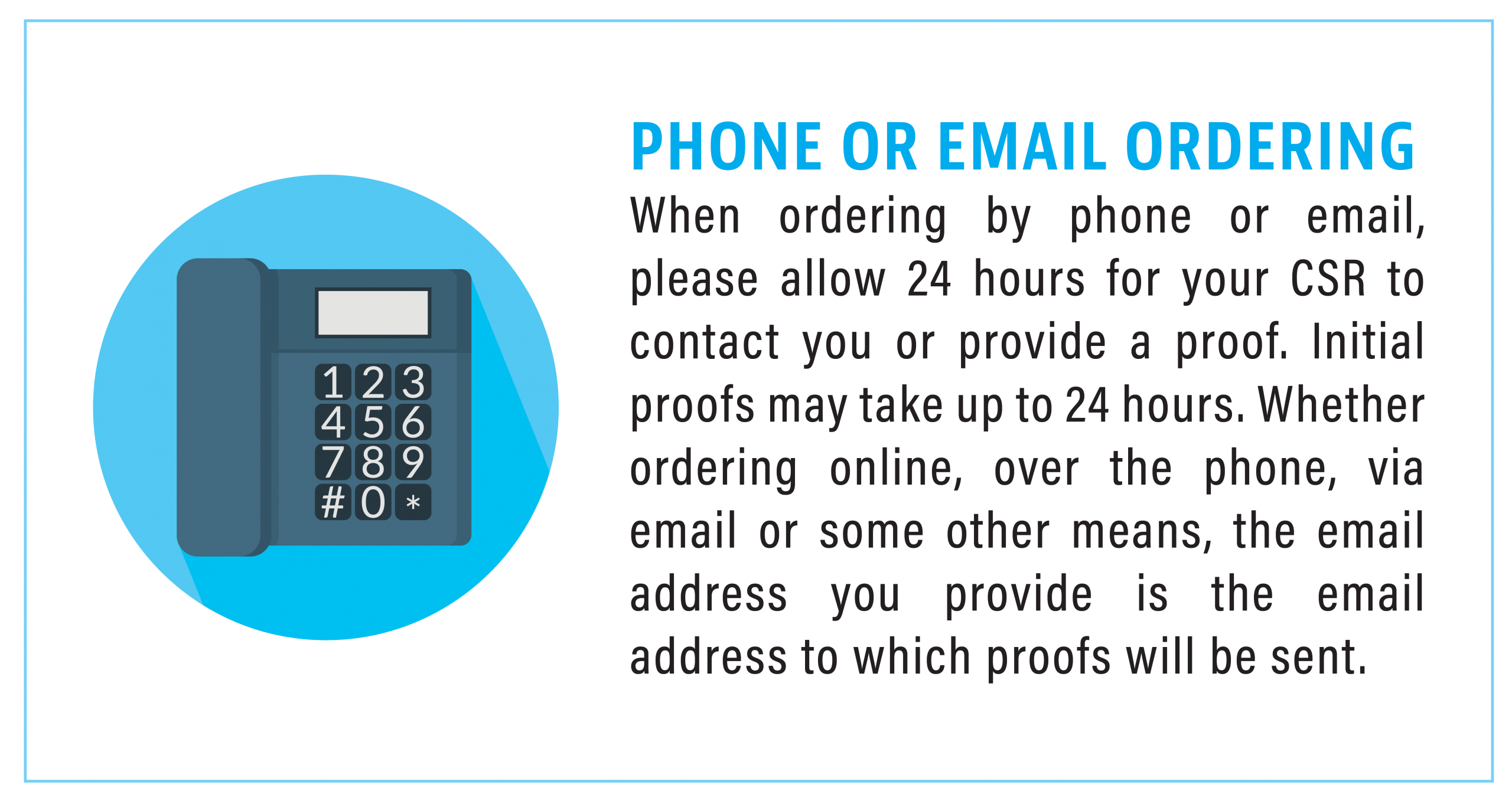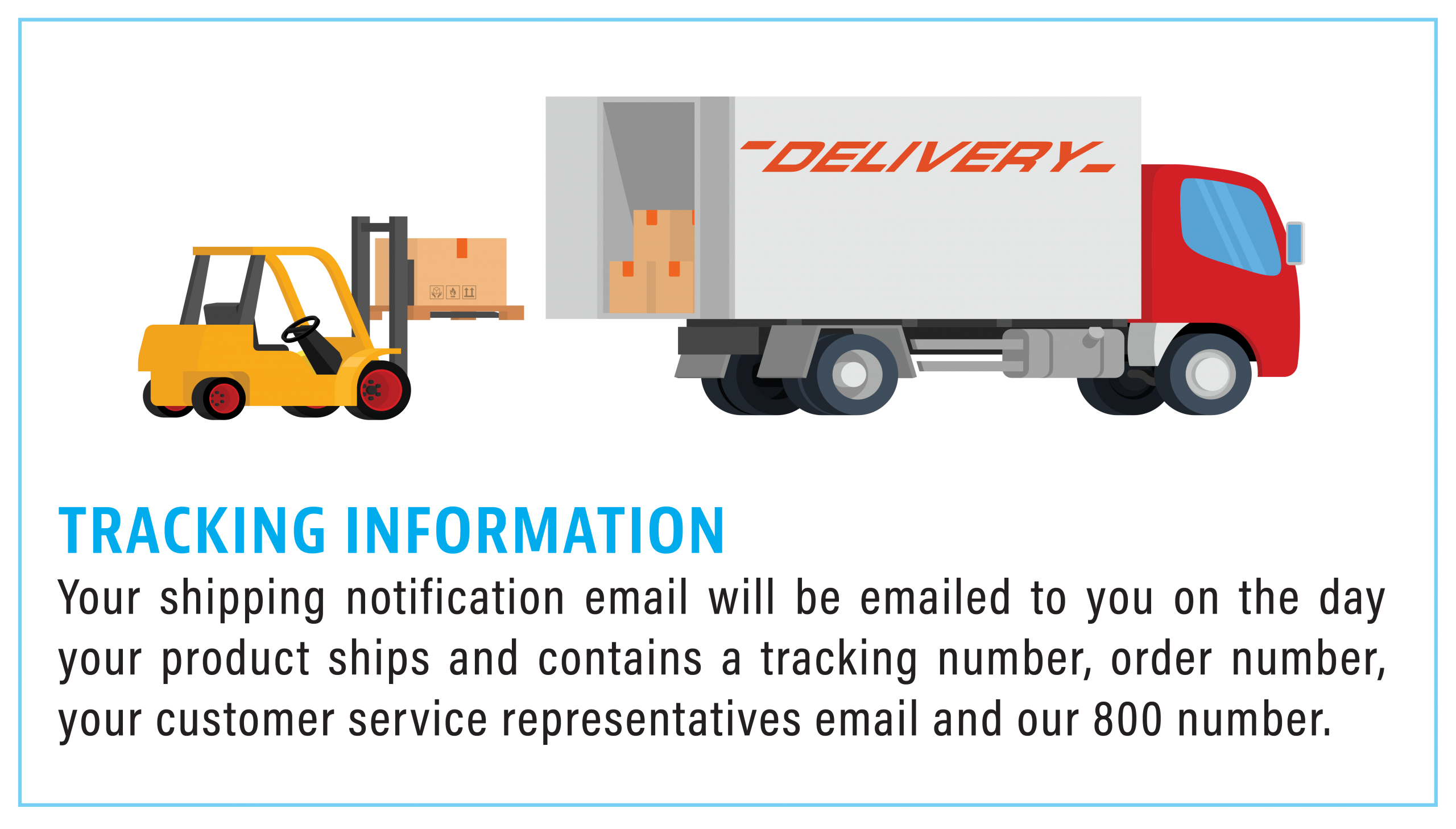 other information on the same day.  Any questions or concerns should be immediately addressed.  Contact your customer service representative to help you with any concerns.
PROOF APPROVAL
We do require documented proof approvals via email or through our website for online orders.  When you place your order we will review your files and send you a proof via email, or an email letting you know that a proof is ready for your review online. Once you have approved your proof the production time will start the next day.  Shipping and transit time starts the day following the shipment date.  Quickly approving Proofs for rush projects and projects with tight deadlines are essential to meet your required in hand date.  Any delays in the approval process will also delay your production and in hand date.  If there are delays in the approval process upgrading your production time and shipping services may be required to accommodate your deadline.
PRODUCTION SCHEDULE
Your turnaround time starts the day following your proof approval for all approvals sent in to us by 5:00 PM EST.  All approvals after that will start a day later. Quickly approving Proofs for rush projects and projects with tight deadlines are essential to meet your required in hand date.  Any delays in the approval process will also delay your production and in hand date.  If there are delays in the approval process upgrading your production time and shipping services may be required to accommodate your deadline.
SHIPPING NOTIFICATION
On the day your project ships you will receive a shipping notification via email.  This will have the tracking information in regards to your order along with your order # and any PO number you had sent in that is associated with that particular order.  PrintingCenterUSA.com does everything it can to make sure you receive your product in time.  From time to time there can be delays in your shipment due to bad weather, or any other random act of god.  While we cannot be responsible for any delays after your product has been transferred to the shipping carrier, we can help you receive a refund on shipping costs associated with the order if you had shipped using upgraded services such as 3 day, 2nd day or Next Day Air.  Shipping for ground services are not guaranteed by any carrier.  There is no way to get refunded for your shipping services for any delays on Ground services.
---
 As always, if you have any questions, give us a call at 800.995.1555 and one of our customer service representatives would be happy to assist you.