Design Tips for Door Hangers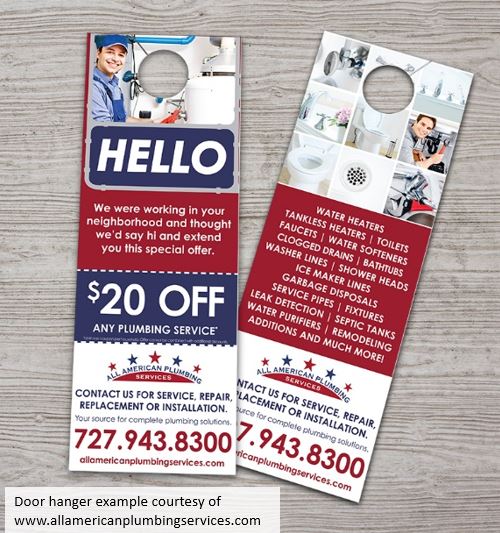 Door hangers are a unique marketing opportunity. When I get home and see something attached to my door I immediately want to know what it is and I want to remove it from the front of my door. This means, even if for a brief moment, that your door hanger will be in the hands of your customer. At this point it is important for the door hanger design to stand out and compel your customer to look closer.
The front of the door hanger should be eye-catching and ideally have something of value to the recipient. This could be a coupon or discount of some kind. If your customer finds your discount valuable, there is a good chance that they will hold onto the door hanger. It may even cause them to take action by going to your website or calling your company for more information. Including a specific promotional discount on your door hanger is also a good way to track the effectiveness of your campaign. If you see a lot of people specifically asking for the discount you offered on your door hanger you know that it is working.
You caught their attention with the discount, now it's time to get them thinking about what you can do for them. Usually you can accomplish this by including a list of your products and/or services. For example, if you are a cleaning company it's a good idea to inform your customer about the type of cleaning services that you offer. Lists, organized with bullet points, are a great way to quickly convey a lot of information quickly. This is important if your customer is only going to glance at the door hanger. They might see one item on that lists that compels them to look further.
A good habit to get into when you start any design project is to have a checklist of things your door hanger needs to have when it is completed. I spoke with one designer who had removed a phone number, intending to move it to another place at a later time. Luckily during the review process, the missing phone number was noticed and they were able to fix the design before it went to print. Your checklist should include a note about every element that goes on the door hanger. This could include things like, "promotional discount code", "phone number" or "website". By using a checklist, you can catch errors before they become a problem.
There isn't an exact formula for successful door hanger design, but there are steps you can take to give your door hanger campaign a higher success rate. Start with a bright, eye-catching design and provide your customer with something of value. Make sure that the design is clean and easy to understand at a glance. Door hangers stand out from other forms of marketing and can be an effective method of getting your name and business out to new clients.
The door hanger example you see above is one that we had printed for All American Plumbing Services. Their door hanger includes many of the elements that we discussed in this article such as a promotional discount on the front side and a list of services on the back.
PrintingCenterUSA Newsletter
Join the newsletter to receive the latest updates in your inbox.
---