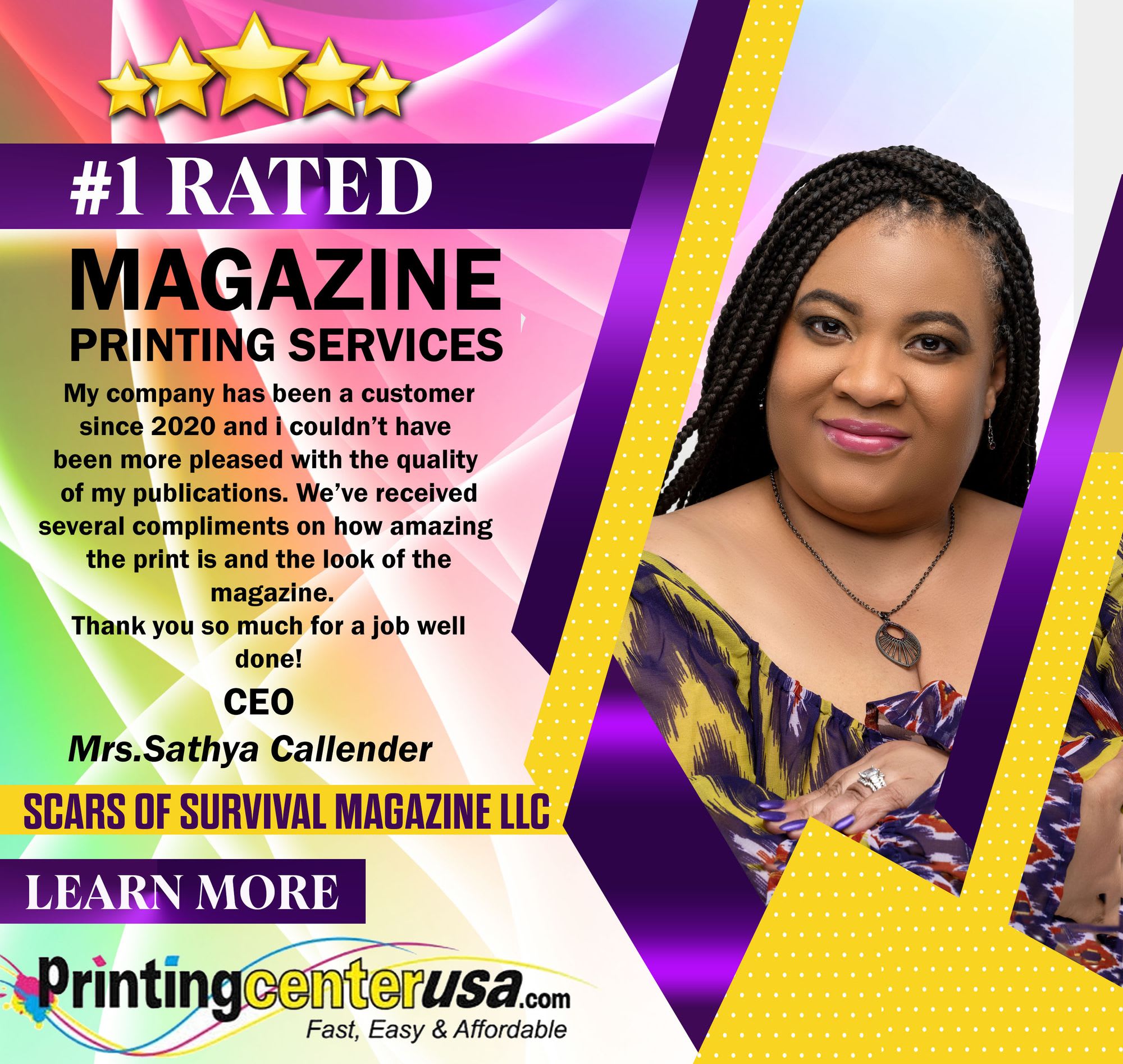 From Trauma to Triumph: The Journey of a Magazine Founder
As an introduction to her success with the magazine Scars of Survival, founder Sathya Callender recounts a story of her own early abuse, beginning at six years of age when she was abused by a babysitter's boyfriend, the beginning of her experiences with domestic violence. Sathya, who sees herself as a survivor and fighter, also witnessed her mother being abused for almost 6 years.
Later, as a 16-year-old, she got involved with a man 12 years her senior who became abusive. Her father had moved on and started another family by that time, leaving Sathya without a father figure in her life and with no idea that abuse was not the norm. This new relationship with a man she saw as the father figure in her life eventually came to an end due to abuse, and Sathya moved on.
As a single parent with many struggles, spending time in shelters and moving from Brooklyn, New York, to North Carolina where the struggles just increased, she ended up on social services. After prompting from a case worker, Sathya got her driver's license and was referred for a job at Cingular Wireless (now AT&T). With four kids at the time, she was hired at $9 an hour (quite a lot in those days) and was quite excited with the job, since all she wanted was to be off social services. Also at this time, an organization named "Operation Blessing" blessed her with her first car! Sathya was now self-sufficient and off of social services!
Thinking she didn't want to be alone, she allowed her previous abuser back into her life and became pregnant once again. Things were okay for a while, but then the abuse started again. In the beginning, it was emotional, mental, and verbal abuse. It then became physical. We'll let her describe it in her words: "[b]eing knocked unconscious. I've had busted lips; a busted nose; black, purple, and blue eyes. I've been thrown into walls. I've been choked nearly to death. I'll say it until this day that it was nobody but God that stopped him, because if it wasn't for God, I wouldn't even be here today!"
After repeatedly letting this man back in her life after periods of abuse, followed by apologies and promises, the turning point came when Sathya discovered her children were sleeping with knives under their pillows as they plotted to "do something to him" to stop the abuse. At this point, after appealing to God for help and wisdom, Sathya called upon a friend to help them get out of the relationship, and that decision started the path to her healing.
Unfortunately, Sathya did not allow enough healing time before starting another relationship, this time with the same friend who helped her out of the previous one. She always tells people, "If you are in a toxic relationship, give yourself time to heal once you get out of it, because if not, you will become toxic." This military man was a good man, and they got married, but now she was toxic, still trying to heal, to love and receive love, thinking it was too good to be true, and it just didn't work out. After five years, he walked out.
The significance of Sathya's journey from trauma to triumph became apparent when the idea came to her to start a support magazine for victims of abuse and domestic violence. The original challenge was to search the internet to see if such a magazine already existed. Following many Google searches, it took quite a while for her to accept that this idea was what God had given her. With all of that in mind, she was motivated to create Scars of Survival and seek help to learn how to make this project happen. As a result, Scars of Survival was launched and will be celebrating three years this June.
The purpose of this article is to tell her story and let people know that there is a way out and "Triumph is Possible!" Sathya learned that keeping quiet about her story was not the best plan, that sharing her story was a vital part of the healing and recovery process. Through the publishing of the magazine, Sathya says "mutual healing" takes place: healing for the person sharing their story and healing for the reader who may have had similar experiences. Her mission, and that of the magazine, is to provide a vehicle for survivors of abuse and domestic violence to share their stories of triumph and inspiration.
From the outset, one of Sathya's major challenges was to be able to print something of very high quality. Before she discovered Printing Center USA (PCUSA), Sathya wondered how in the world she would be able to get her magazine published to a high-quality standard! Once she discovered PCUSA in 2020 through a Google search, she was ready to go and has been with them ever since. She has stayed with PCUSA because of the quality of the printed magazine. That quality has been the source of so many compliments and so much positive feedback that Sathya sees it as better than most magazines she comes across, even in the stores!
Many of the readers and contributors to Scars of Survival have shared what a positive impact the magazine has had on their lives. One of the most common responses is the freedom gained through the sharing of their stories. The release of the story brings freedom!
While being interviewed for this article Sathya shared this story from one of her connections:
"We interviewed a young lady in November, and to make a long story short, she got married, and at the beginning of her marriage, everything was fine. He then became abusive. He plotted to take her life and almost did. What happened was, he ended up pulling the trigger of the weapon he had put in her mouth. He pulled the trigger, but it jammed, and she had a weapon in her hand, and she shot him and killed him. She didn't go to prison or do any time because they had cameras around their property. He had taken down every camera except for one, and that one camera is what showed the police and the detectives what he had done.
"Before she shared her story, she said she was in a dark place, and she did not know her purpose. She felt like giving up, and I talked to her, and I still talk to her to this day. We interviewed her, and this woman—after sharing her story—found a sense of relief. She is now living her best life in the Virgin Islands. She has left the home where all of that took place. She is now doing exactly what it was that she wanted to do and that was to cook. She's over there now, and when I see her, it brings tears to my eyes. We talked on the phone one day and I said to her, 'You only need faith the size of a mustard seed.' She called me the next day in tears, and she said, 'Miss Sathya, there's a coin that I had been looking for the last several years, and when you told me I only needed faith the size of a mustard seed, I found that coin.' She said, 'On the coin is written "the mustard seed." She said to me, 'You don't know what you've done for me.'"
Plans for future expansion and growth include new editions to be printed by PCUSA. These editions being SOSM Global, SOSM International, and SOSM Fashion & Beauty all to launch by the end of the year. Whatever the future brings, Sathya is adamant that God has to show her what she needs to be doing, whether it is starting a scholarship fund; putting magazines in stores, schools, hospitals, and businesses; or offering employment across the United States. Steps have already been taken to make Scars of Survival a company.
In closing, we notice that this article showcases not only Sathya's personal story of healing and recovery but also her business story and Printing Center USA with whom Scars of Survival is committed to a permanent partnership. The journey from trauma continues in triumph as Sathya married the love of her life, Tony Wilson, on January 12. As she shares, "I had given up on dating and that's when we met. He's everything I prayed for if it was God's desire for me to be married."
Congratulations Sathya!
PrintingCenterUSA Newsletter
Join the newsletter to receive the latest updates in your inbox.
---